HTC is hosting an event this morning in New York City and while the topic of conversation is still a bit of a mystery, we can safely assume whatever the Taiwan-based smartphone vendor unveils today will be stylish. Invitations sent to press earlier this month invited us to "come celebrate in style," and while Fashion Week officially ended last Thursday, it looks like HTC is having trouble letting go. Live coverage of the event begins in just a few hours around 9:00 a.m., and all of the live action can be followed after the break!
10:24AM:Demo time! We're done!
10:24AM:Can't wait for people to experience the HTC Rhyme. It gives people a smart, sophisticated design and experience, crafted from scratch. A new approach that integrates the phone and accessories like no other product before.
10:24AM:Very happy to be working with HTC. Scott from HTC is back up.
10:23AM:The HTC Rhyme is for customers who want the latest technology, style, fashion-forward design, and ones that want accessories to be part of the total package on the most advanced and reliable network. It will be available on September 29th for $199 with three accessories, the docking station, the charm, and the headset. It will also be available at all Target stores.
10:22AM:Sources of information, directions, breaking news, even a sale. They reflect upon who we are and how we want the world to see us. The Rhyme is smart, elegant, and sleek and it's integrated in a very unique way.
10:22AM:Why is it important? Offers us the opportunity to give consumers the very best in wireless. Smartphones serve as reminders, calendars, assistants, link us to our social networks.
10:21AM:We're very proud to be the exclusive U.S. carrier for the launch of the HTC Rhyme.
10:21AM:HTC VP is introducing Marni Walden, CMO of Verizon Wireless.
10:20AM:HTC Rhyme gives you Watch, to download your favorite movies and TV shows.
10:20AM:Made it really simple to share photos to Facebook and Twitter, new feature called auto-upload let's you upload photos with no button. You dedicate an album and each photo you take from there on out will upload to that Facebook album. Lots of ways to capture your action.
10:19AM:Struggling with backlighting is no longer an issue. Action mode lets you take 5 shots in 2.5 seconds.
10:19AM:No more missing the shots. Shortcut on homescreen. Focus, automatic face detection so family and friends always look their best.
10:19AM:Let's talk about some of the HTC Rhyme's features. Taking photos and sharing moments and capturing them. Finding the camera app takes too long, can't focus on the subject.
10:17AM:Flipclock has been updated with a fresh modern look.
10:17AM:There are 10 new wallpapers.
10:16AM:A change to enable that was to redesign the HTC flip clock and the postion.
10:16AM:I'm super excited to talk to you about the HTC Rhyme user experience. We want users to feel an instant connection to the phone as soon as you turn it on.
10:15AM:One of the founding principles of HTC's design is how you want the phone to be. It's got a new look and feel for Sense. Nicole Coddington Senior User Experience Designer at HTC.
10:15AM:We've listened to all the things people want in a phone and we've put it all in one box to take and go.
10:13AM:Here's a short video of the HTC design team talking about the HTC Rhyme.
10:12AM:Never miss a call and never lose your phone.
10:12AM:You can just pull out the phone and quickly find your phone. Ships with every HTC Rhyme. We've created a family of stylish accessories designed together to complete the experience for the entire day. Docking station for waking you up and to sleep, wireless headset and speaker, and charm for notifications that you can actually see.
10:12AM:He's talking about this charm that uses the headset jack and will notify you of missed events and calls, more respectful than a ring and more noticeable than vibrate. You can clip the cable to your bag to make it easy to find the phone.
10:11AM:Bluetooth headsets, wireless speaker that clips to the visor of your car, it fades away and is always there (huh?)
10:10AM:How many of us have grabbed our phone and headset out of the bag and dealt with that tangled mess. We've removed the hassle with headphones and tangleness.
10:09AM:Connects to speakers connected to the dock.
10:09AM:Over the last few years phones have replaced lots of things, now you can add clock radio to the list. What do you do with your phone by the bed, and when it's not there? A cable lying around? We've combined these functions, no cables or fumbling, you just drop the phone into the cradle and it reduced the clutter by your bed. It feels appropriate.
10:08AM:A new approach that treats the phone as part of your day,
10:08AM:Many people keep their phone by their bed. To check Facebook, or charge it, or use it as an alarm clock. The phone compliments your daily life and we wanted to make it more useful through accessories to make it a more natural part of your life. There's a docking station in the box, tangle-free headphones, and a charm. The whole design works together.
10:07AM:When you go into a store and pick up a watch, wallet or shirt, you immediately know if it's quality or not. Same with the HTC Rhyme.
10:07AM:Approachable design that's sophisticated. The curves and dimensions, how you hold it and want to keep holding it.
10:07AM:The phone has clean simple lines. We want to focus on what's important. Friends, colleges, music. It's elegant and refined, and it has a three-toned gradient, inspired by fashion. Looks great and feels great. Feels great in your hand.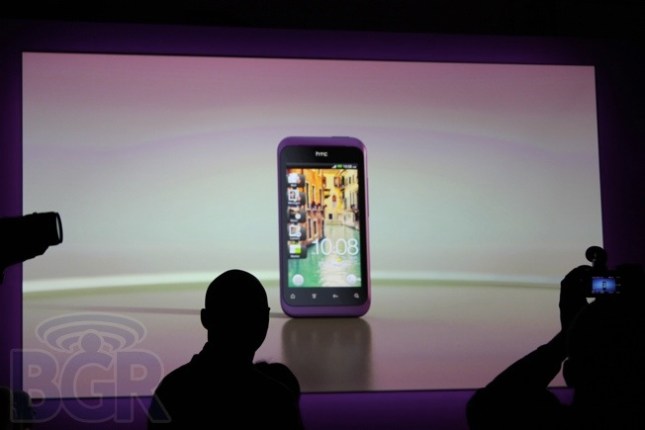 10:06AM:The phone looks almost identical to the HTC Radar, though in purple, and obviously Android.
10:06AM:And loud.
10:06AM:And purple.
10:05AM:It's very rhymy.
10:05AM:Video is playing on the HTC Rhyme now…
10:05AM:We started from scratch. The phone. The homescreen. The experience. Here's the result, the HTC Rhyme.
10:05AM:Talking about essential, it doesn't mean we're cutting down on features or dumbing down the phone. Making it easy to do what you want to do.
10:05AM:The specs are important, the specs are a given, it's in our DNA. You want a phone that's hand-crafted with style and intuitive. Less of a device and more of a companion. Stylish. Essential. And intuitive.
10:04AM:We're inspired by how people use phones. We saw an opportunity for a brand new experience.
10:04AM:For this phone we want to think about it from the time you wake up until you go to bed. Whether you want to watch a movie, a TV show, stay in touch with your family and friends. It's part entertainment center, it's part office. Your phone expresses who you are as an individual.
10:03AM:We're here to show you a special new phone. It's stylish. As HTC grows we're thinking about growing as a brand, how we change people's lives, their work people, to do things they like.
10:02AM:HTC's VP of Design, Scott Croyle is taking the stage.
10:01AM:It's looking quite blissful in here…
9:59AM:5-minute warning has been announced!
9:55AM:Still waiting for things to get started, though most of us have funneled in at this point. Should be any minute.
9:51AM:While we're waiting to get things started, enjoy this lovely floral HTC logo we passed on the way in. Not sure what's in store at this stylish event, but I think we can all wager a pretty good guess…
9:49AM:Ok guys – things got started a little late but we're inside and getting settled.