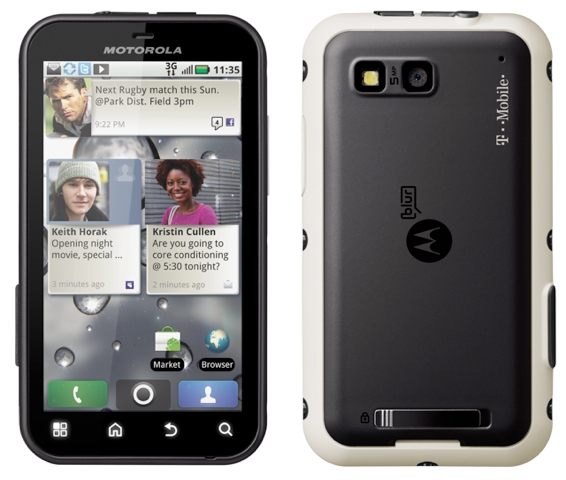 Something people have been waiting for since the first T-Mobile, Android handset was launched is finally going to be available… Yes, Wi-Fi calling is hitting Android devices on T-Mobile. We have reached out to T-Mobile for clarification, as this doesn't seem to be a normal UMA implementation (as rumored); it's powered by a new application and we don't think Wi-Fi to cellular handoffs will work. With that said, T-Mobile's Wi-Fi calling capability is a great feature nonethenless, letting you make calls over a Wi-Fi signal when there is no cell service, and even making international calls abroad for free. The service will roll out on the new T-Mobile myTouch when the device is released later this year as well as support the Motorola DEFY. Full press release after the break!
T-Mobile Extends Wi-Fi Calling to Android Smartphones

Wi-Fi Calling To Be Available on New T-Mobile myTouch, Motorola DEFY and More

BELLEVUE, Wash. — Oct. 6, 2010 — T-Mobile USA, Inc. today announced its continued innovation of Wi-Fi Calling technology with the upcoming availability of built-in Wi-Fi Calling solutions planned for a wide selection of Android™-powered smartphones, including the recently announced new T-Mobile® myTouch® and Motorola DEFY™ with MOTOBLUR™.

A leader in bringing innovative and easy-to-use solutions to market to enhance indoor coverage for consumers and provide cost saving for businesses, T-Mobile hosts approximately 40 million Wi-Fi calls per month, a number that has grown steadily since the company launched Wi-Fi Calling in June 2007. In addition to consumers benefiting from enhanced coverage, T-Mobile business customers – from small business to multinational corporations – have long taken advantage of the company's Wi-Fi Calling plan offerings, enabling them to take advantage of the enhanced coverage, as well as the opportunity for reduced domestic and international minute usage, increased enterprise mobility cost savings and improved productivity benefits this solution can deliver. Currently, T-Mobile offers Wi-Fi Calling on numerous devices including the Nokia E73 Mode™, BlackBerry® Curve™ 8520, BlackBerry® Bold™ 9700 and the new BlackBerry® Curve™ 3G.

"T-Mobile's expansion of Wi-Fi Calling to Android smartphones is an excellent innovation, and part of our ongoing initiatives on behalf of our customers to enhance indoor coverage," said Torrie Dorrell, vice president, connected family products and services, T-Mobile USA. "This new execution of Wi-Fi Calling technology helps us ensure that our customers' Android-powered smartphones can keep them connected to the important people in their lives where they work, live or play."

The implementation of Wi-Fi Calling for Android smartphones brings a new solution to a fast-growing mobile platform and broader range of smartphones for consumers and business customers. Powered by Kineto's Smart Wi-Fi Application, T-Mobile's Wi-Fi Calling for Android smartphones will be ready to use out-of-the-box, providing the ability to make voice calls and send SMS from accessible Wi-Fi (802.11 b/g/n) access points across the globe in addition to the connectivity available through T-Mobile's mobile network. The application will also include a tutorial for the benefit of first-time users of the feature.

Availability

Wi-Fi Calling for Android is anticipated to be available on a growing selection of T-Mobile's Android-powered smartphones in the coming months.

The new T-Mobile myTouch is expected to be available in time for the holidays, exclusively from

T-Mobile USA in four colors —white, black, plum or red. Customers can visit http://mytouch.t-mobile.com for more information.

Motorola DEFY with MOTOBLUR is expected to be available exclusively to T-Mobile USA customers in time for the holidays. For more information on Motorola DEFY with MOTOBLUR. Customers can visit http://www.T-Mobile.com for more information.