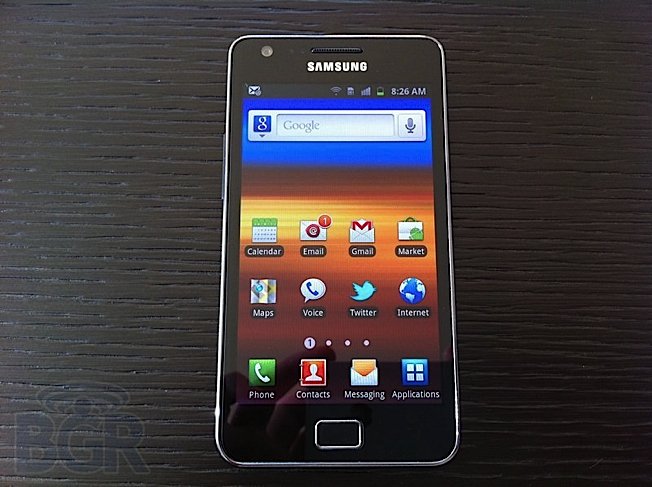 The Samsung Galaxy S II is Samsung's second version of its extremely popular Galaxy S line of handsets — one it has done a great job of launching across a variety of carriers. The Galaxy S II raises the bar in every way from the first Galaxy S, as it should. But it also takes things one step further and absolutely obliterates every other Android handset on the market in the specifications department. It's not just fast, it's the fastest. It's not just thin, it's the thinnest. But is it the best? Hit the break to find out.
Hardware / Display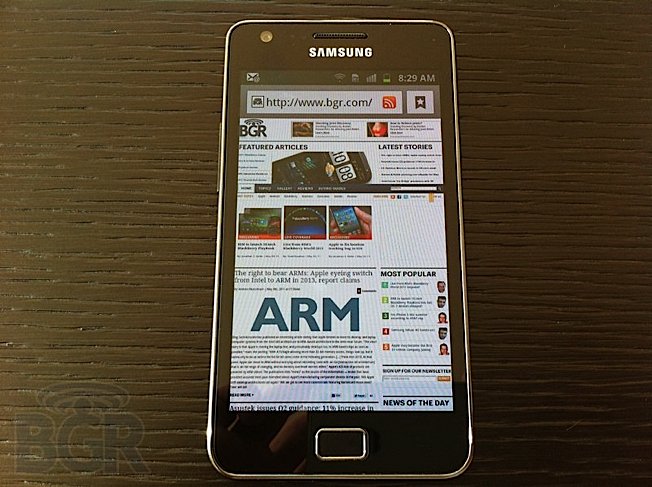 Most people love or hate Samsung's hardware, but I find myself uncharacteristically on the fence. On one hand, Samsung pumps out solid hardware that has always been widely adopted around the world. On the other, there appears to be a little separation, at least where the U.S. market is concerned, on what people really consider to be a quality product. There's a fine line between making a device extremely light, and one that feels cheap and unworthy of a $200 price tag. The Samsung Galaxy S II is the thinnest smartphone I have ever tested, and it's also one of the lightest. It's even thinner than the iPhone 4, and it's much lighter.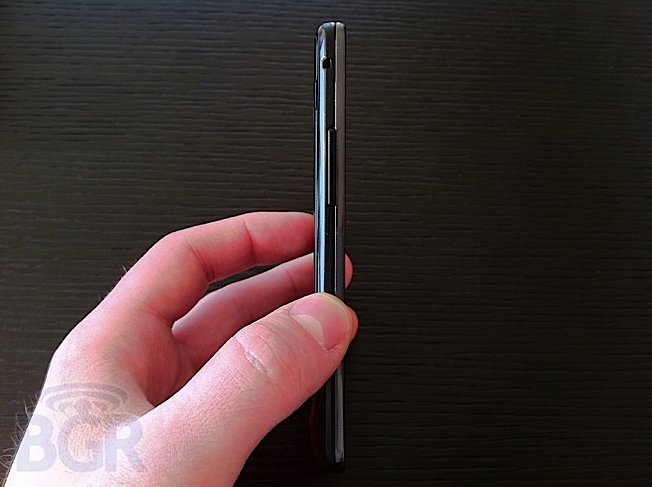 One of the reasons the device is lighter, however, is due to Samsung's continued use of what feels like a low-cost glossy black plastic for the handset's shell. The saving grace on the Samsung Galaxy S II, however, is that the rear battery cover isn't a typical high-gloss Samsung extravaganza, but a textured matte-finished cover.
On top of the device you'll find a 3.5mm headset jack with secondary mic for noise cancellation. On the right side is a power button and the volume rocker is on the left. Around front there's a 2-megapixel camera for video chat, and three of the four typical Android navigation buttons. Samsung hasn't included a dedicated search key, though in daily use, I rarely found myself hunting for it. The home button is a physical rectangular key, and the back and menu keys are capacitive and work quite well. A nice touch is that they light up for a short period of time when the screen goes on, and then they dim and blend back into the black facade of the Galaxy S II.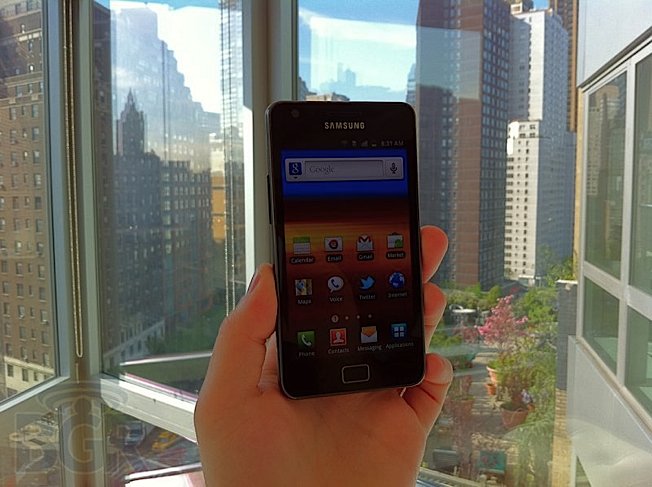 As far as specs go, the Samsung Galaxy S II is, for lack of better works, a beast. We're talking about a 1.2GHz dual-core Orion processor, 1GB of RAM, Android OS 2.3 Gingerbread, an 8-megapixel camera with LED flash and 1080p HD video recording, and 21Mbps HSPA+ support.
The Samsung Galaxy S II also features Samsung's Super AMOLED Plus display, and it's one of the best screens I've ever seen, easily besting the display on the Google Nexus S. Black levels are incredible, colors are vibrant, bright, and the display is very sharp. Viewing any sort of content with a black background will melt into the black front case around the display and make it difficult to tell where the screen starts and the case ends — it's that good.
The Galaxy S II is also the fastest Android phone I have ever used, hands down. It's evident across the entire OS, with web pages loading at desktop-like speeds. There's absolutely no lag while zipping around from app to app or screen to screen, and it makes the entire Android experience much more enjoyable.
TouchWiz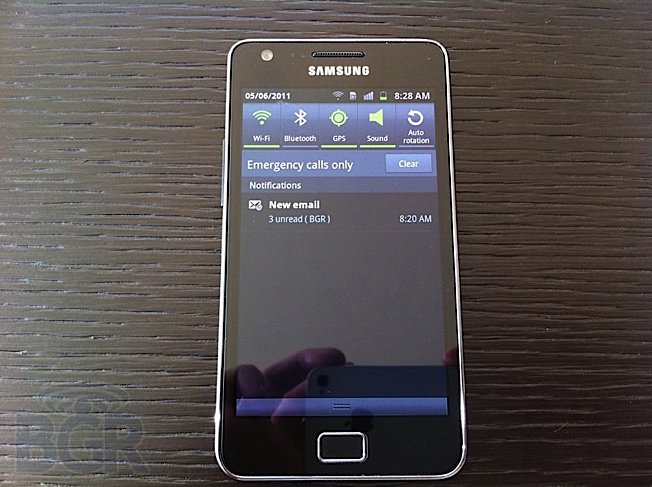 Let me just get it out of the way: I'm a stock Android guy. I don't care for any custom UI from any manufacturer on my Android device at this point. With that said, TouchWiz has it's ups and downs. I'm not a fan of Swype or Samsung's keyboard so I replaced the keyboard with the stock Gingerbread keyboard. I'm also not a fan of the email app and the calendar app also looks like Times Square at 2:00 a.m. — I'm just not feeling all the use of black backgrounds here. I do, however, like how you can edit the number of home screens on your device — I like three, not seven, home screens — and while I don't use any of Samsung's widgets, I appreciate the creativity some of them showcase.
For the average user, it's certainly possible TouchWiz could help more than it hurts. It's definitely more lively than what stock Android is, and it could be more straight forward to the general consumer.
Battery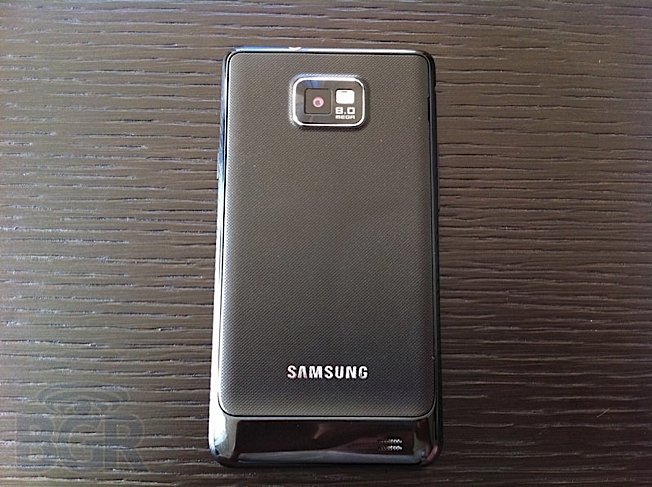 Battery life typically isn't a strong point on Android handsets, but the Galaxy S II performs very well thanks to its large 1,640 mAh battery and no doubt thanks to its power sipping dual-core Orion processor as well. Standby time lasts days — up to around three days with corporate push email on and various background apps. The Galaxy S II should no doubt be able to power you through a normal day's worth of usage as well.
Conclusion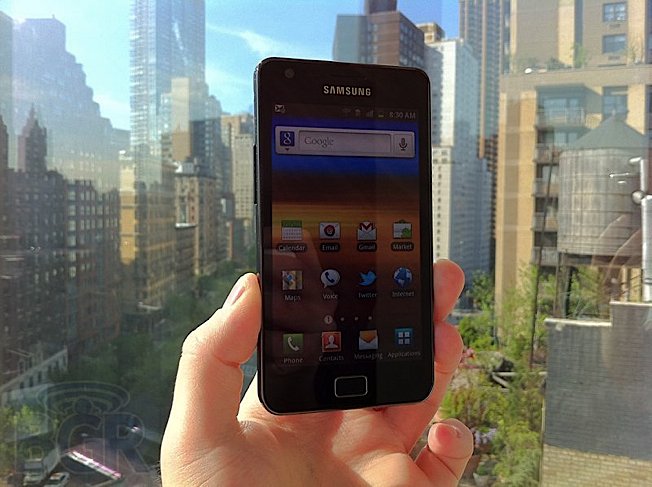 Hands down, the Samsung Galaxy S II is the greatest Android smartphone available on the planet… if you can get past TouchWiz. It's the fastest smartphone I've ever used, it features one of the best displays I have laid eyes on, it offers great signal reception and audio performance on AT&T, it has a great camera, it's very thin and light, and even better, it's free from any carrier's wrath (restrictions) since it's the unlocked global version. The downside is that it's not subsidized so it's going to run you around $800 — for reference, a 32GB iPhone 4 without a contract runs $699. Of course we expect the Galaxy S II to launch under various names on all four of the major U.S. carriers, so those who don't mind branding and bloatware will have the option of picking up this phone from your carrier of choice soon enough.
While I would have preferred to see stock Android on the Galaxy S II, the phone is so good that TouchWiz doesn't hold it down too much, at least for me. In fact, Samsung is going to have trouble getting this one back. And who knows? Maybe I'll even switch to Android as my primary daily carrier just for this device. Well, probably not.