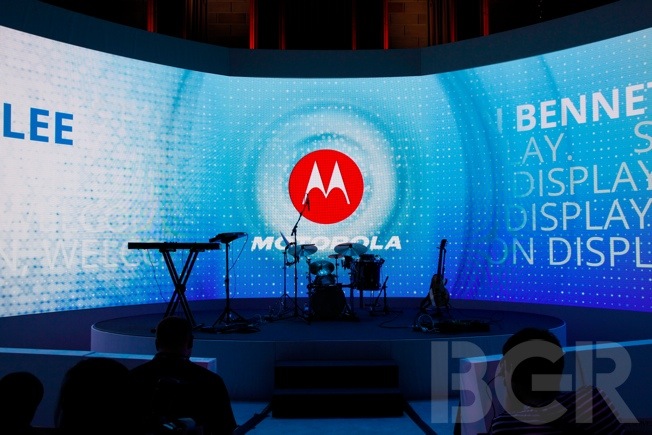 We're on the scene at Motorola's press conference, where the company is expected to unveil its latest killer Android phone. Motorola is set to announce the DROID RAZR M and possibly a device called the DROID RAZR HD, though it's unclear if there will be an additional flagship smartphone as Bloomberg has reported. Hit the break for our live coverage to check out all the news as it breaks.
2:41PM:That's it, thanks for joining us!
2:40PM:"Welcome to the new Motorola Mobility"
2:40PM:Before we wrap, we have a parting gift. Everyone in attendance gets a RAZR M
2:40PM:We're very proud of our relationship with Verizon Wireless.
2:39PM:Dennis is back from Motorla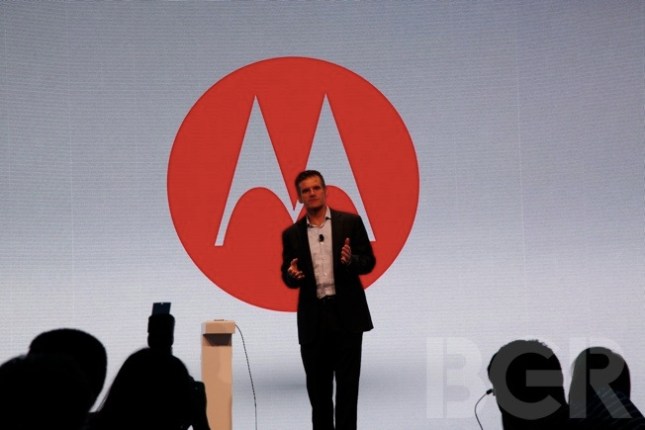 2:39PM:Preorders today at 5PM for that, others before holidays.
2:39PM:She told us that the $99 price for the DROID RAZR M is introductory, so we'd assume it will go to $149 after that like we reported.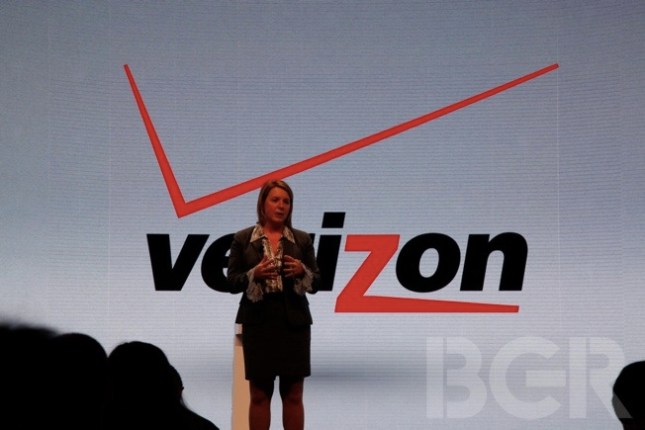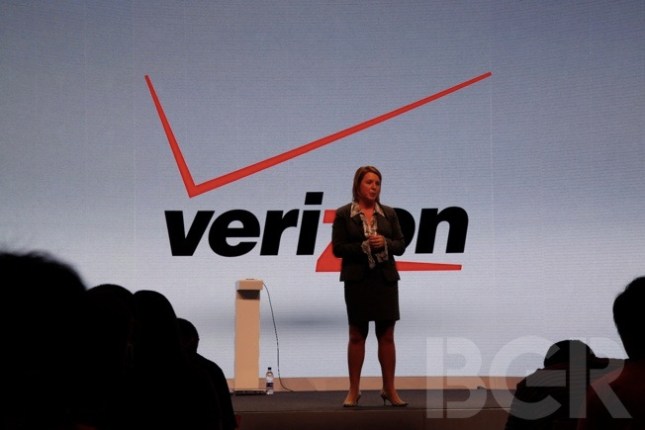 2:37PM:Since we introduced the first DROID we have transitioned from a 3G to 4G network. 75% of the US is covered with Verizon LTE, 371 markets. There were 12,000 apps with the first DROID now over 600,000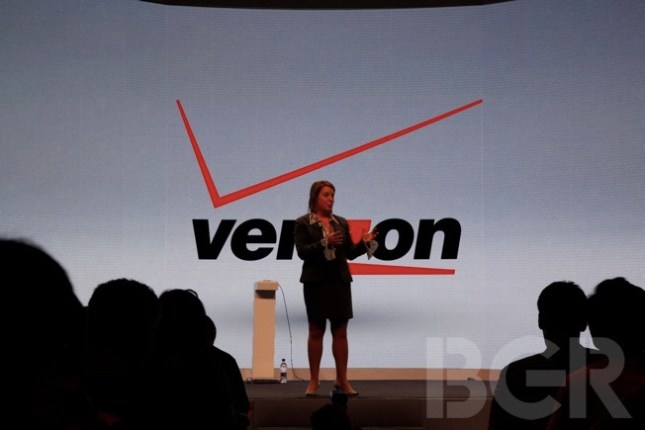 2:36PM:Every DROID comes standard without mobile hotspot/
2:35PM:We're excited to be here to introduce three products that are exclusive and we've worked with Motorola on them. How do we think differently about Android? She's talking about the landmark Motorola DROID in 2009.
2:34PM:The Chrome demo wasn't on the 4G LTE network"
2:34PM:She's CMO for Verizon Wireless
2:34PM:Tami Erwin from Verizon Wireless is taking the stage/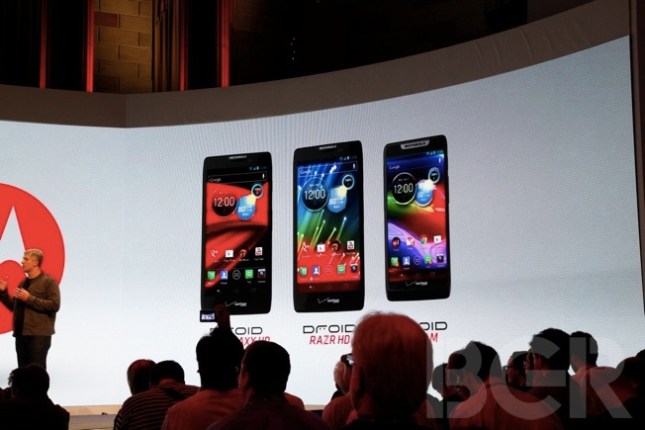 2:33PM:DROID RAZR M goes for preorder today, ships next week and is $99.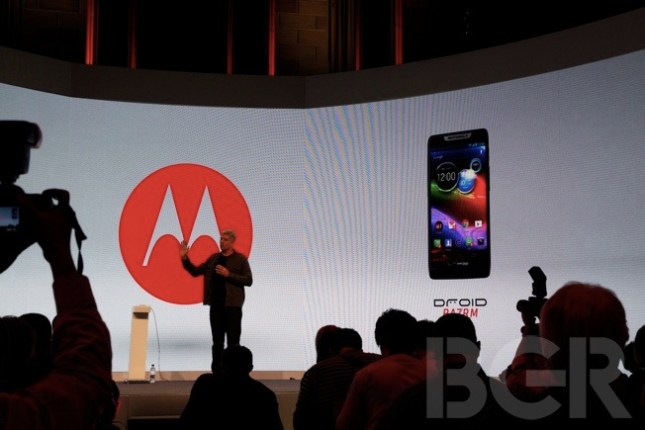 2:33PM:Both phones in stores before the holidays.
2:32PM:Also a 2,000mAh battery
2:32PM:Some people want a smaller phone… the DROID RAZR M. 4.3-inch high resolution display, 40% more screen than an iPhone 4S but same width. Same dual-core chip on RAZR HD, and LTE. An 8 megapixel camera, NFC< kevlar, 8GB of storage and microSD slot.
2:30PM:10 hours of video streaming and 21 hours of talk time on the DROID RAZR MAXX HD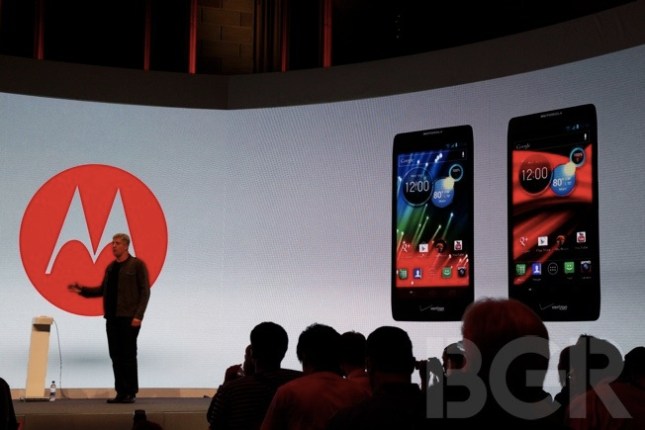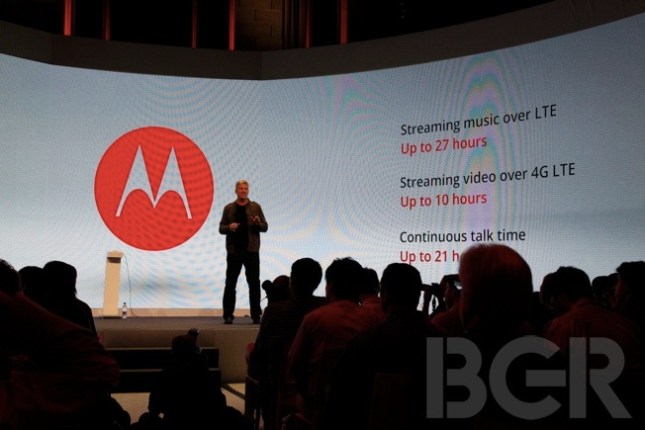 2:29PM:27 hours of music streaming on a single charge over LTE.
2:29PM:Some people can't have enough battery, so we created the DROID RAZR MAXX HD. More battery and 32GB of storage.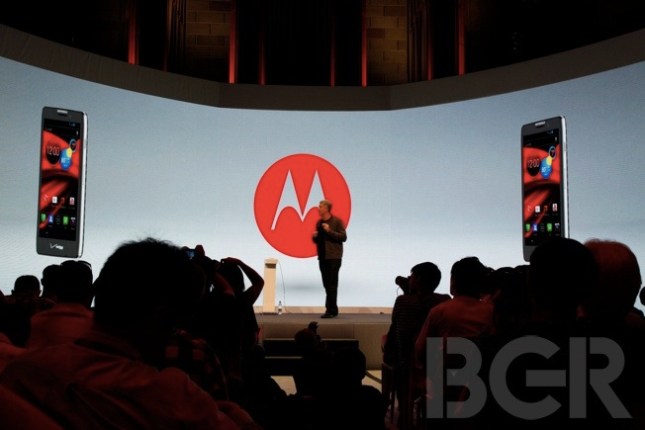 2:29PM:It's 131.9mm tall, 67.9mm wide and 8.4mm thick
2:28PM:Battery life is at a whopping 2,500mAh providing up to 16 hours of talk time.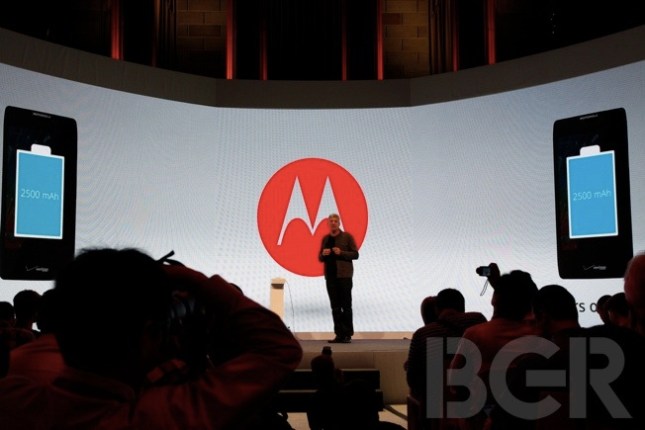 2:28PM:40 percent faster than an iPhone 4S with Safari
2:27PM:Nope! No demo because we're using up all the Wi-Fi and climbing in yo windows.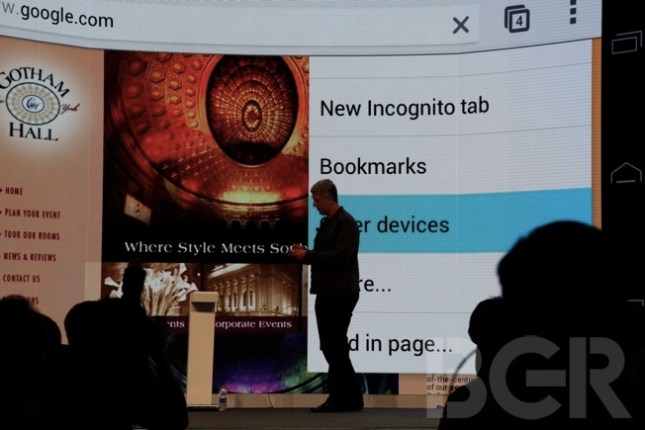 2:27PM:He's demoing the Chrome browser that you already have downloaded on your Android 4.0 smartphone.
2:26PM:This phone has a dual core ship and LTE, and it's the first device with Chrome pre-installed as a browser.
2:26PM:Google's Glass demo video is playing now… but?
2:25PM:Delivers 85% more color saturation than the iPhone 4S.
2:25PM:Today we're announcing the next generation of DROID RAZRs. Fatest device we have ever made, each with amazing battery life, and all loaded with Google experiences. We know we could make an even better phone and it started with the screen. his is the DROID RAZR HD. The most compact large screen smartphone. It's 4.7 inches with 78 percent more pixels.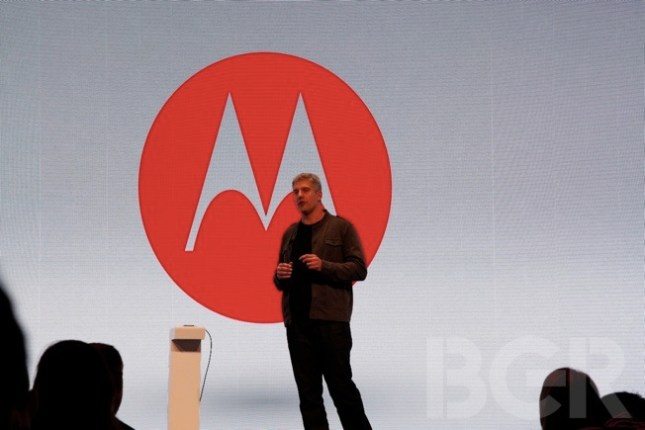 2:23PM:Motorola is playing a video right now, and it's about the all new RAZR family with 3 devices. Rich Osterio from Moto is now on stage to talk about the RAZR.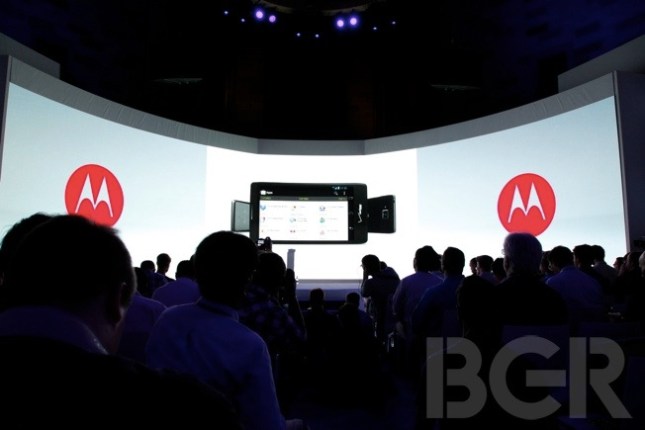 2:22PM:They will be Jelly Bean from the start, and that Motorola will upgrade the rest of their devices very soon. You also get a $100 credit towards the purchase of a phone announced today if your existing device can't be upgraded to Jelly Bean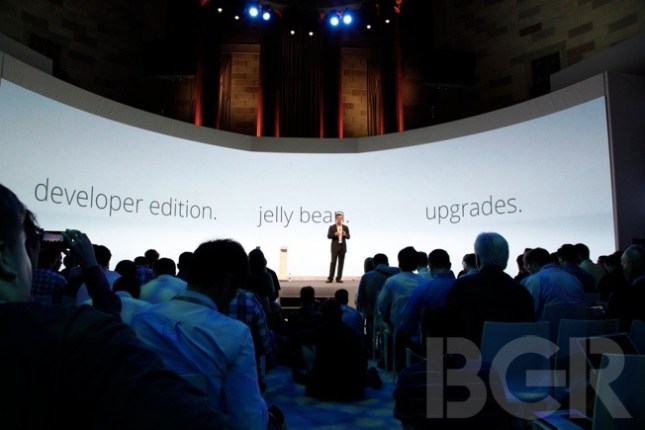 2:21PM:Motorola is announcing developer editions of their phones that will enable users to root.
2:21PM:YouTube won't be on some of its competitors handsets…
2:21PM:If you want the best Android device possible, you should be looking at a Motorola device.
2:20PM:Listing all the first things Android had, voice actions, turn by turn navigation, multitasking.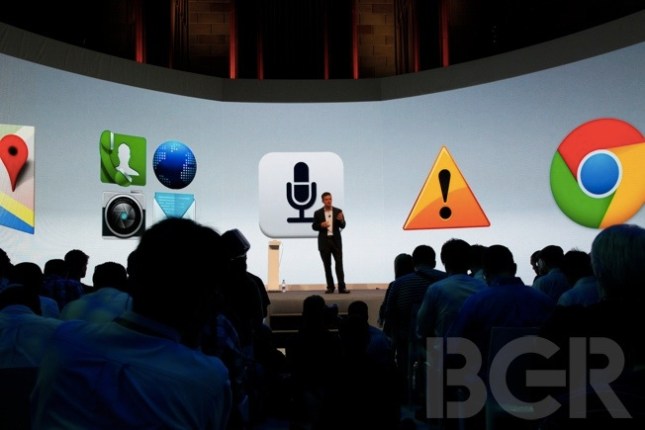 2:20PM:Now he's showing a photo fo a Mophie iPhone case on a 4S and says this is what's required to get battery life comparable to the RAZR MAXX.
2:19PM:A mobile phone plugged into the wall isn't a mobile device.
2:18PM:Power management is also super important.
2:18PM:Sorry guys — having issues with text updates but we're working on it!
2:18PM:LTE phone users check their devices almost double the amount of 3G users
2:17PM:654 million global LTE subs expected by start of 2017. Speed is important…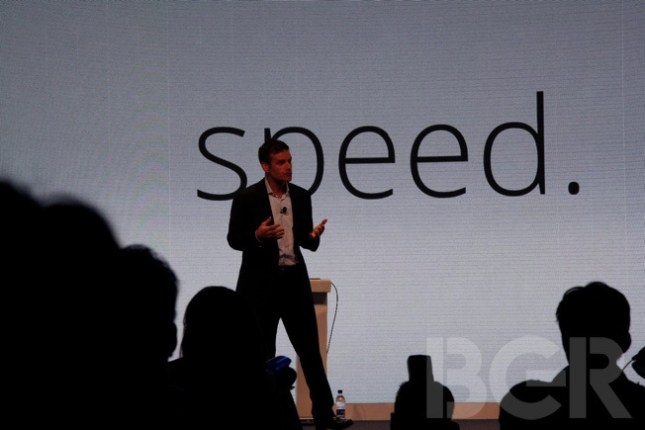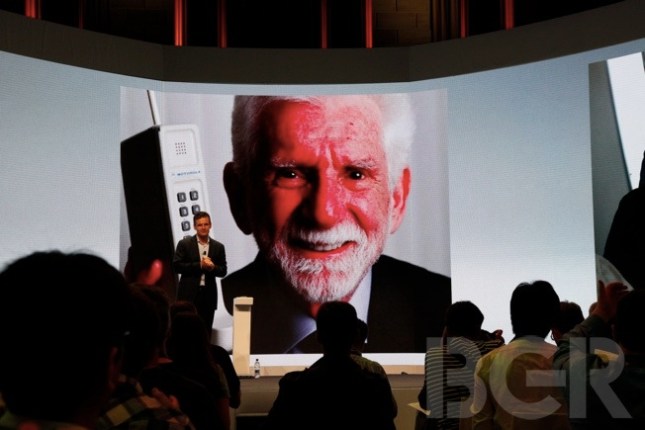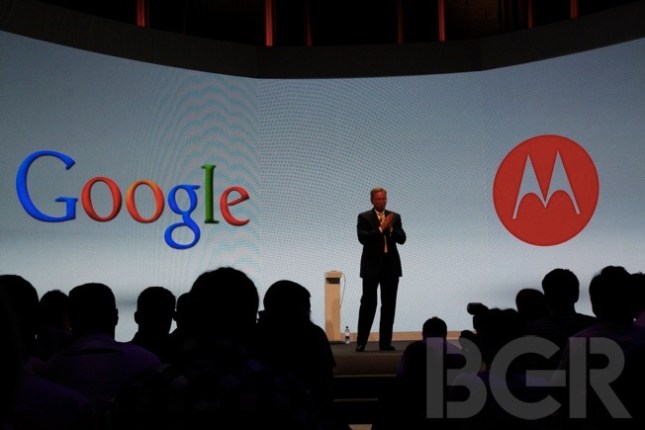 2:12PM:Eric just introduced Dennis Woodside who is Motorola's CEO
2:12PM:He's remembering when he asked Sanjay Jha of Motorola is they were willing to take a bet, and he's thankful they were.
2:11PM:The scale of Android is why Google needed Motorola
2:10PM:"#1 position in the world, by far."
2:10PM:70,000 of those are tablets, and Android's total install base is around 480 million.
2:09PM:Schmidt never expected the size of Android ecosystem to be this big. Over 1.3 million Android device activations a day.
2:09PM:There was a behavioral transition of programmers and users to what we call mobile-first.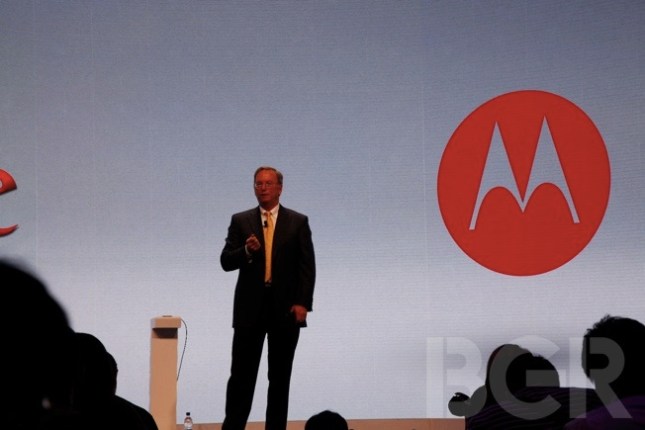 2:07PM:They shouldn't be called cellphones anymore, they should be called supercomputers.
2:07PM:It's amazing to think how recent our history is… When was it that these phones, invented of course by Motorola, got completely replaced by power supercomputers like this DROID.
2:06PM:Eric Schmidt, Chairman of Google is on stage.
2:00PM:Despite the band's best efforts, no one is singing along. This should be the last song before the press conference kicks off.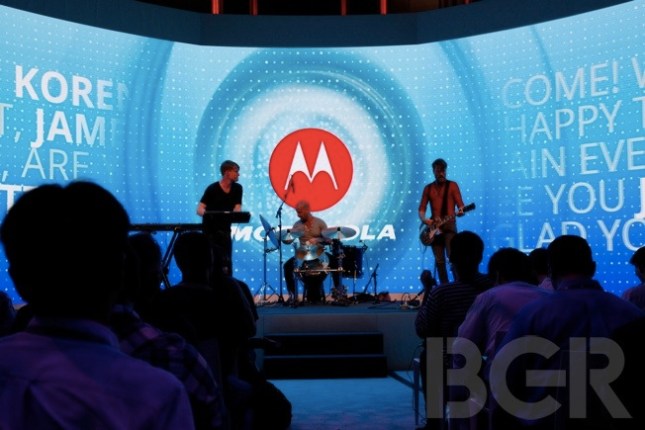 1:50PM:The room is filling up quickly so hopefully things will get started in 10-15 minutes or so.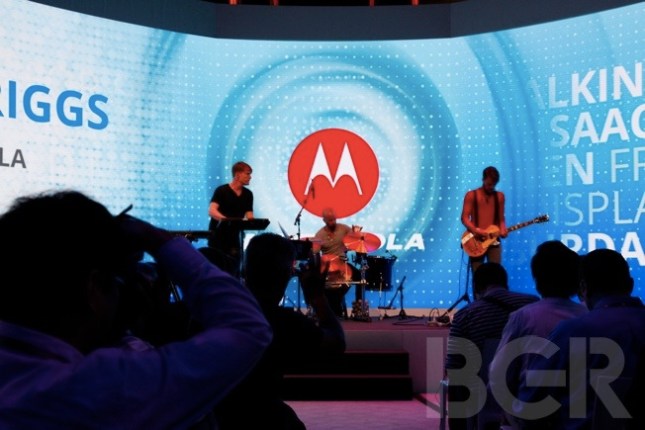 1:47PM:In the meantime, there's a band playing some music that may or may not have been featured on Dawson's Creek 10 years ago.
1:46PM:Ok — the site came crashing down thanks to all the interest in Nokia's press conference this morning, but we're back up and running, waiting for the Motorola event to kick off.