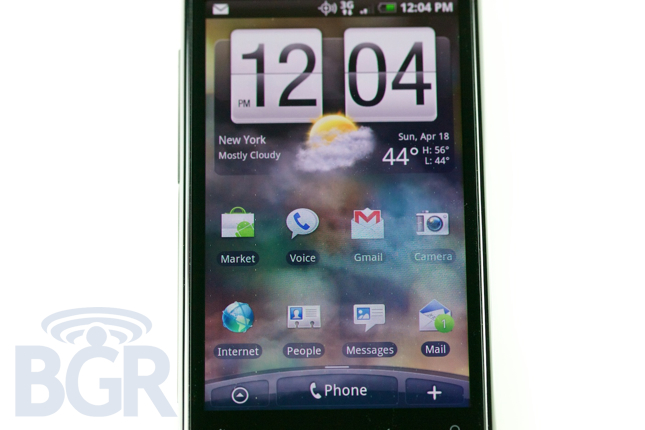 Is it a coincidence Verizon Wireless has consecutively had the last two most-anticipated Android handsets? With the Motorola DROID seemingly feeling like old news (Google even basically castrated it themselves with a promise of an unbranded, Verizon-compatible Nexus One), the HTC Droid Incredible picks up where Motorola left off in almost every area. We've got a much thinner and more refined product that features an 8 megapixel camera, tons of memory, and HTC's Sense UI which takes care of most of Android's shortcomings. We know that by now you are asking yourself only one question: "Is the HTC Incredible actually incredible?" We would love to answer that for you.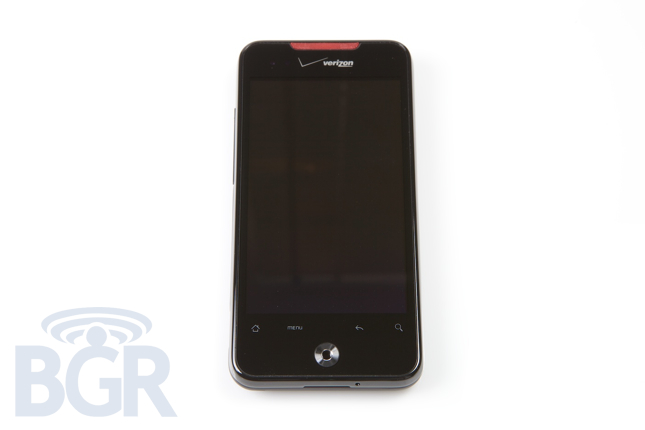 Hardware / Design
The HTC Droid Incredible is relatively unique as far as the design of the unit goes… Yes, it is a delicious slab of a touchscreen plus touch sensitive keys and an optical directional pad, and yes, the front of the device can look a tad uninspired, but we believe the distinguishing theme of the Incredible is subtlety. Once you move from the front of the unit to the back, you'll notice not a flat battery cover, but rather a form-fitting silky smooth piece of material that seems as if it has just been carefully laid over the device, much like a fabric cover for a high end sports car. You can see practically all of the physical interior elements of the phone just from the battery cover. It is one of the most luxurious-feeling plastic blends we have ever felt — not rubbery like a normal rubberized plastic finish–but rather a perfect mix of plastic and another material that gives the phone an amazing feel when you are using it.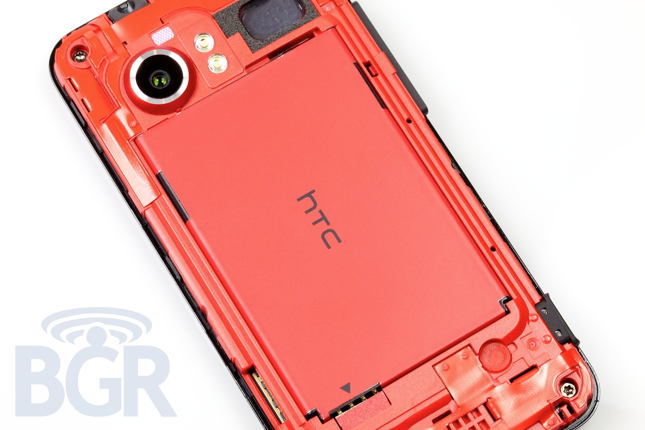 Once you move past the absolutely huge camera sensor and start to peel away the back cover, you will be greeted with Verizon Wireless saying, "Hello!" in the form of the color red. Seriously, it is very red. We cannot determine if it is a comforting red, or if it is so overwhelming that our minds start to wonder and hypothesize over whether it could be a prop in a horror movie.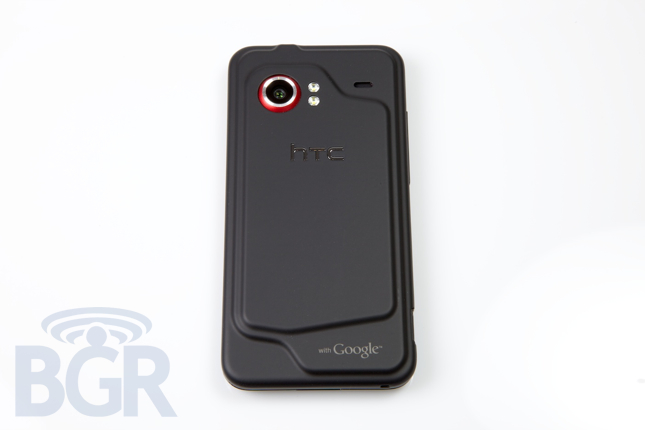 Switching gears to how the hardware actually performs, we have mixed feelings about the layout of certain elements and buttons. While the touch sensitive Android buttons below the display are much more friendly than the Droid Eris', we are not sure we like the optical directional pad. At least to us, it is pretty much useless on the phone. For starters, it is absolutely tiny, and you cannot really get a good rhythm when navigating quickly, scrolling, or doing whatever else you're trying to do. It is also not entirely comfortable to us when in use, but there is a good and reassuring feedback when actually pushing in the button to make a selection, so it is not all bad.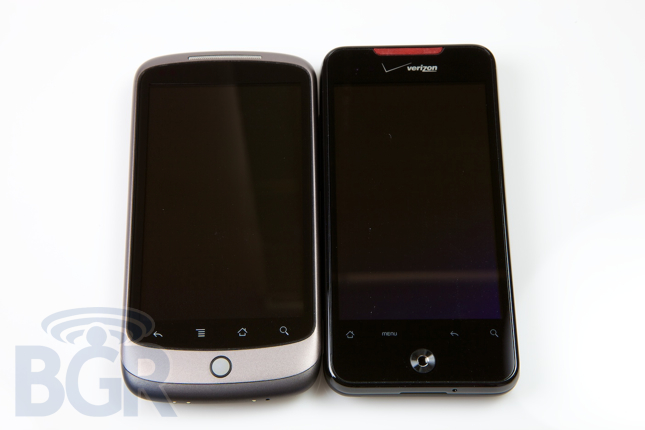 The materials feel amazing in your hand, but actually holding the phone and using it is a little bit of a challenge, we think. First of all, the microUSB port on the lower left side is carved out a little bit too much in our opinion. This makes it uncomfortable sometimes when holding the phone with one hand as your fingers might rest on the open port, and it can be a little sharp. It definitely will not cut you, it is just a little distraction that can get annoying. Another issue? The device is not just incredibly thin (we'll try and hold off on too many more of those), it is actually not that wide either. While in theory that sounds great, unfortunately it can get a little cramped when navigating the device with one hand. You will have to try it out for yourself and see how you feel, but we feel that the Nexus One is much more comfortable to generally hold and use with one hand.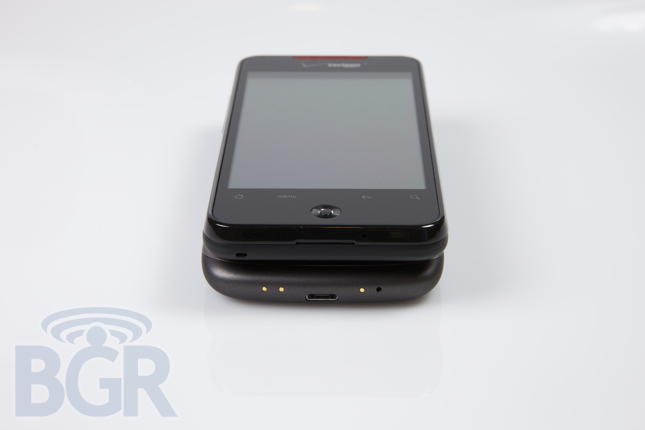 The rest of the phone is what you would expect from a physical hardware perspective–volume up / down keys on the upper left side, a power / unlock button on the top left, and a 3.5mm headset jack smack in the middle of the top of the handset. Contrary to rumors of the phone being underclocked to 768MHz, the HTC Droid Incredible does indeed run at a full 1GHz speed, and the hardware specs read like an Android stalker's favorite bedtime story: 512MB of RAM, 512 ROM, 8GB of internal storage, an 8 megapixel autofocus camera with dual-LED flash, Wi-Fi, an accelerometer, digital compass, Bluetooth, GPS, and Android 2.1.
The last thing we would like to point out about the hardware is that while the phone seems to be ridiculously well manufactured, we can't seem to shake this plasticky, dare we say cheap feeling when using it. The front half of the phone seems to be made of a lower grade plastic and kind of takes away from the otherwise spectacular experience.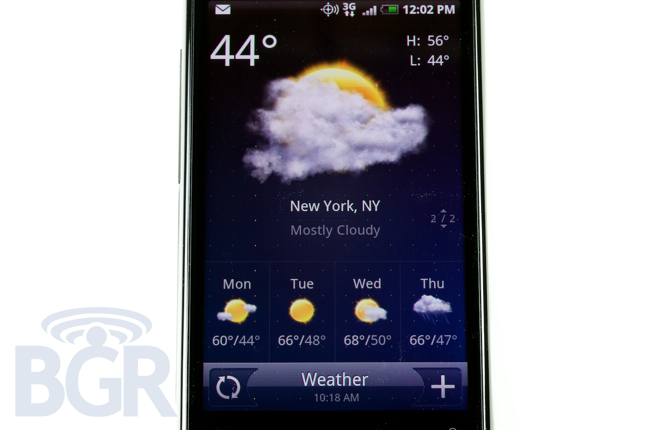 Screen
HTC has been gunning for the throne lately (though, they already have it) with powerful, sexy hardware, and since the screen on a touchscreen device is one of the most important parts, it is nice to see these high resolution displays being introduced by them left and right. The Incredible features a 3.7″ AMOLED capacitive display and it is incredibly responsive (ok, we broke our promise). At first, we could not figure out why the colors were so dull, but after turning off the automatic brightness feature, we realized the phone just uses a little dimmer brightness setting compared to the Nexus One (probably for battery life). Once we dialed the brightness all the way up, colors literally popped, whites were perfectly white, text looked crisp, and we started loving the screen even more.
As far as usability, everything seems well. Touches were registered with relative ease, and there were no misfires. HTC has carved out a great arsenal of capacitive touch displays, second to only you-know-who, but we still hate looking at the capacitive points on the display. You can see them really easily.
UPDATE: The screen on the HTC Droid Incredible is a little different than the one on the Google Nexus One after looking at it further. The capacitive layer is different as well — the outcome is still the same, and they are both great performers, but we kind of prefer the Nexus One's screen just a tiny bit more.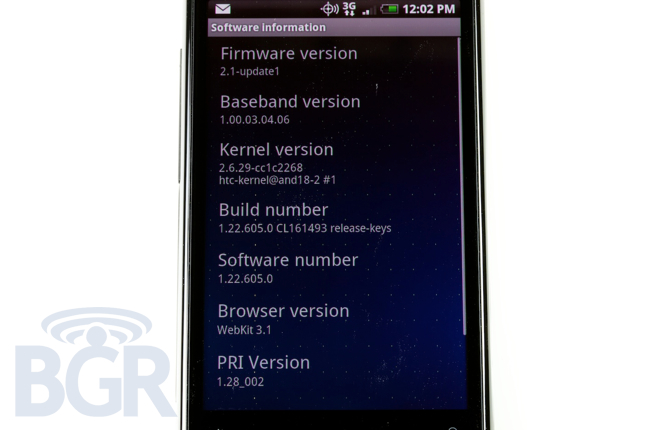 OS
Android 2.1 is Google's latest release, and while you have probably heard our thoughts on the operating system in general, you should know that the HTC Droid Incredible isn't a bare bones Google configuration. It is far from it actually, thanks to HTC's construction of a custom UI, applications, social integrations, and even their own keyboard. Anyone familiar with HTC's Sense UI will know what we're talking about, but for those of you who are pinning the DROID and Incredible against each other, they are two completely different animals.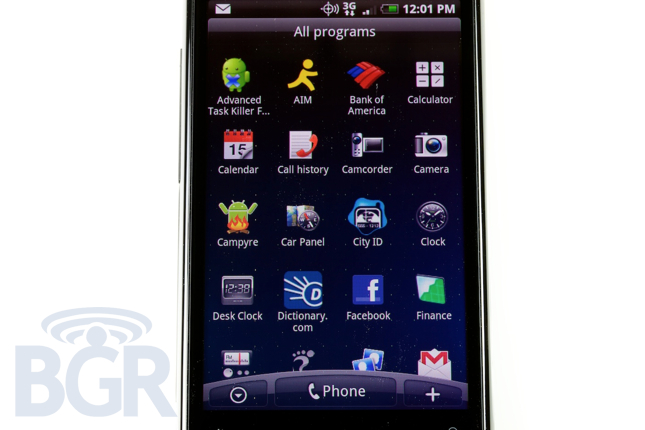 HTC's implementation can be a little more consumer friendly at times than Google's base OS, but at the same time, there are 7 homescreen pages, widgets flying out of Eyjafjallajokull's volcano, raindrops and fog appearing on your screen, and some more sexy stuff. The best bet if you are looking at both phones is to try them out in stores and see which one is less intimidating for you. Or more if you go for that kind of thing, you sicko.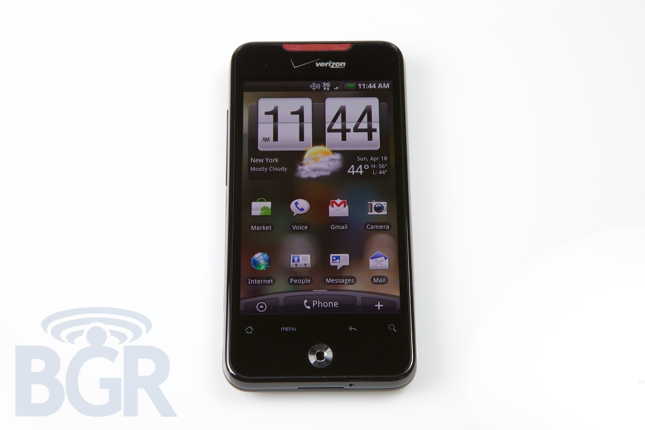 Phone
Wait, a phone that actually makes clear and crisp phone calls? In 2010? You must be kidding me. But we're not, the HTC Droid Incredible coupled with Verizon's famous-for-kicking-in-the-other-carrier's-teeth network makes for a really pleasant adventure. Phone calls were loud and clear on both the earpiece and also when using the speakerphone capability. Callers heard us just fine, and we haven't dropped a single call while testing the phone.
Unfortunately, there is one area of the device's phone performance that is a little troubling, though probably not the end of the world. We noticed the Incredible gets a slightly lower signal than the Motorola DROID and other Verizon Wireless phones. The Incredible seems to be a bit finicky bouncing around from 2 bars to say 4 bars randomly while other devices are steadily on 4 or 5 bars consistently. We are not sure if the signal is just not being represented properly due to a software issue or the phone is actually receiving a lower signal due to other reasons.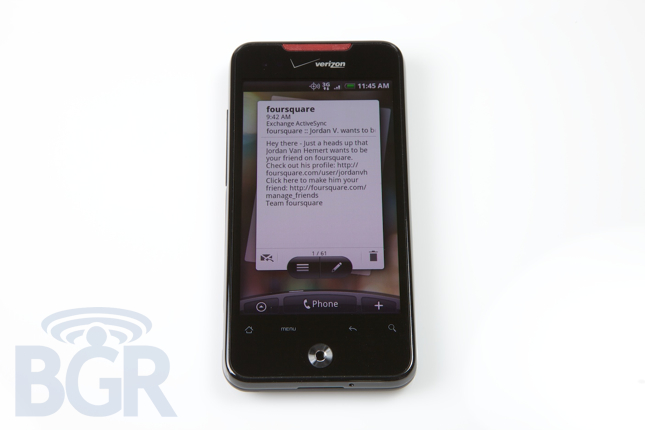 Corporate
While we have lose count of the number of people cursing Google's base Android 2.0/2.1 implementation of Microsoft Exchange support, you will be happy to hear that HTC's taken this issue into their own hands. We're also happy to report that, as usual, HTC's Exchange support is fantastic, even going as far as supporting Exchange security profiles in addition to remote wipe capability.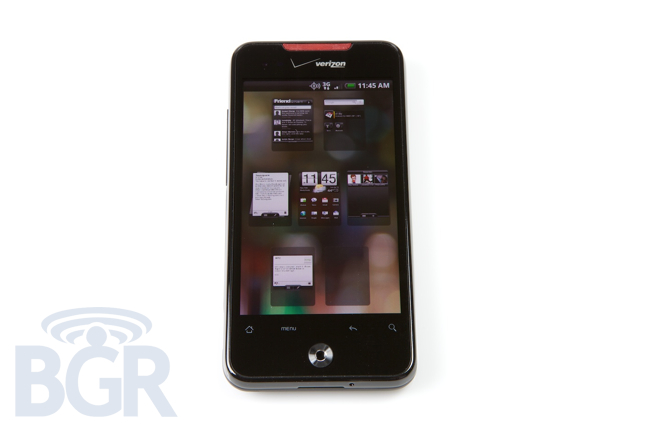 Performance
You would like to think a phone with all of this horsepower under the hood would practically fly, wouldn't you? Well, you would be mostly correct. The normal slowdowns found on even high-powered Android devices are pretty much nowhere in sight on the Incredible. Although HTC's Sense UI isn't exactly lightweight, we're actually finding that the Incredible is slightly faster than the Google Nexus One laying next to it. In addition to the device overall feeling snappier, we don't think we've ever seen a mobile browser perform so well and load pages so quick. That's great and all until you realize that the browser on the Incredible supports Adobe Flash, and still manages to spit out web pages faster than a Llama hanging out at Machu Picchu. It's, well, Incredible.
Email composing, sending, and viewing are all ridiculously fast on the Incredible, but the issue of having a separate application for Gmail/Google Apps and Microsoft Exchange still remains. While it is not a huge deal, we would love to see a totally integrated client to manage all of your email communications, though we doubt that will happen anytime soon.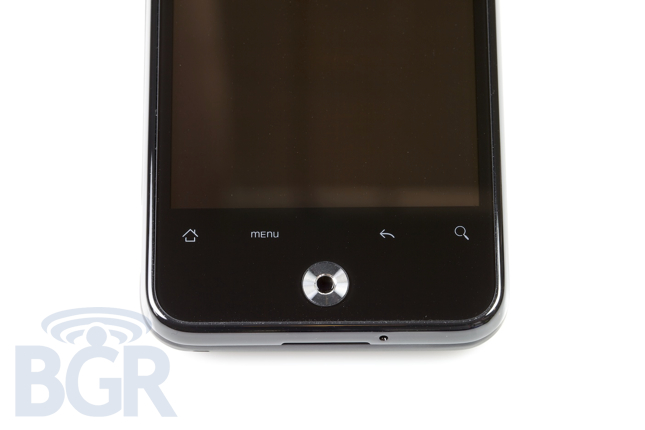 Battery:
While not absolutely scientific, any battery concerns we had for a CDMA handset powered by a 1GHz processor were quickly alleviated after spending some time with the phone. We got through the day with some heavy emailing, web browsing, and light phone calling with pretty much no issue, but obviously your usage patterns will yield different results.
Multimedia / Camera
Even though the sensor is 8 megapixels, videos and stills taken with the device are average. And while it is well documented that Android has never been a multimedia champion thanks to its sub-par music/video playing software, HTC did manage to spruce things up a bit. Nonetheless, it is definitely not our favorite mobile device for consuming multimedia content. The dual-LED flash kicks ass, though! (We're not kidding.)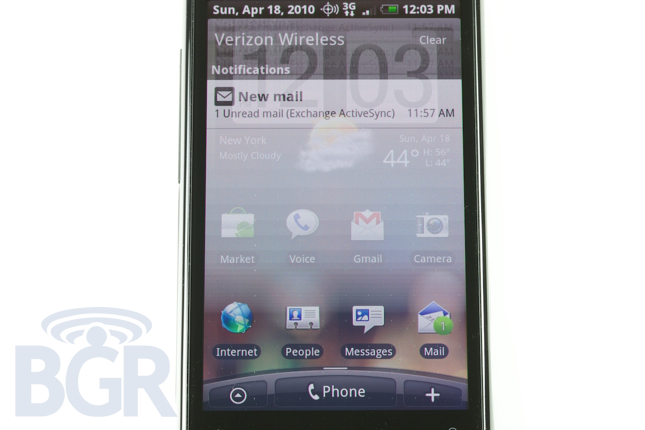 Conclusion
This is always the hardest section to write because everyone has different taste, and everyone usually has their own reason for wanting a new phone. Maybe you dropped it in your toilet, maybe you want to smash your BlackBerry 9530 with a sledgehammer, maybe your boss can't stop making fun of your Palm Centro — we're not sure. What we do know is that HTC has come up with another incredible device, pushing the boundaries of Android in practically every direction we can think of. There is awesome corporate integration, tons of social networking elements built right in, a really friendly UI with fun and engaging widgets and animations, and a great web browser. If you are not a bare bones type of person and have no need for a physical keyboard (seriously, get over it already), we could not recommend a better phone on Verizon Wireless at this point in time.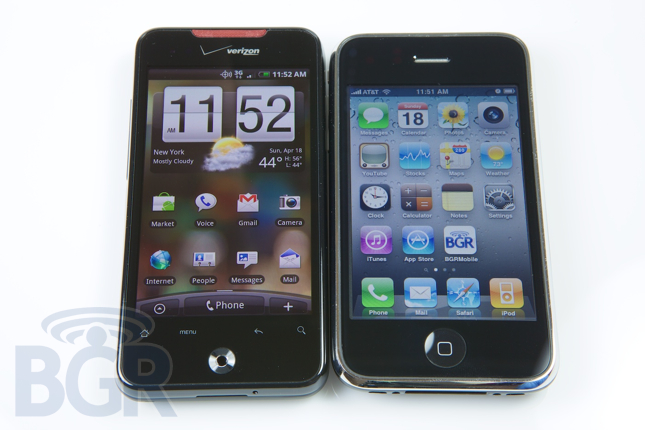 Forget Verizon Wireless — the HTC Droid Incredible is our favorite Android device to date, and for $199 on a two year agreement, we are not sure there is a better deal to be had on the carrier. Sure there are some drawbacks to the HTC Sense UI, and you will have to wait a bit longer for OS updates, but we are pretty sure everything we have outlined for you outweighs that. We have additional photos along with high resolution photos in the gallery for you!