The Spider-Man: No Way Home trailers suggested that Tom Holland might wear a black suit in the movie, which the official toys backed up. Many Spider-Man fans believed that we'd see some Venom action in No Way Home, with the Symbiote suit finally appearing in the MCU. That was not the case, however. The reason why Peter Parker had to wear a black Spider-Man suit leaked before the movie. But reports after No Way Home came out teased that Marvel and Sony might be working on a meeting between Venom (Tom Hardy) and Spider-Man. We already explained how it might happen more than once, especially now that Spider-Man 4 has been officially confirmed.
But we don't have to wait any longer to see what Tom Holland might look like wearing the Symbiote suit in a future Spider-Man movie. The concept artist who has worked on several Marvel movies, including Spider-Man, released new renders for what might come next. Beware that No Way Home and Venom 2 spoilers follow below.
The Spider-Man vs. Venom conflict we're dying to see
Thanks to No Way Home, Tobey Maguire's fight with the symbiote is now MCU canon. That fight happened in a different universe, however. And Tobey's Peter Parker referenced it before the big fight at the end of No Way Home.
Then, Venom 2 practically brought the Venom suit to Holland's Spider-Man. That's also MCU canon now. Sony went out of its way to include Hardy's Venom in the MCU via the Let There Be Carnage tag. Hardy then showed up in the No Way Home post-credits scenes, and that's how a part of that Venom variant got stuck in the MCU.
This unnecessary Venom gymnastics practically gives us at least one more epic Spider-Man vs. Venom fight. It also ensures that Spider-Man will wear the Venom suit again.
One confrontation can occur in the MCU, where Tom Holland should continue to play Peter Parker for another trilogy covering his college years.
The other can happen in the Sony Spider-Man Universe (SSU), where Tom Hardy's Venom resides. That's a universe whose Spider-Man is still a mystery. But Sony could always tie the Venom timeline to one of the other Spider-Man variants in its roster, whether it's Miles Morales or Andrew Garfield's Spider-Man. Or it can introduce an entirely new Spider-Man variation.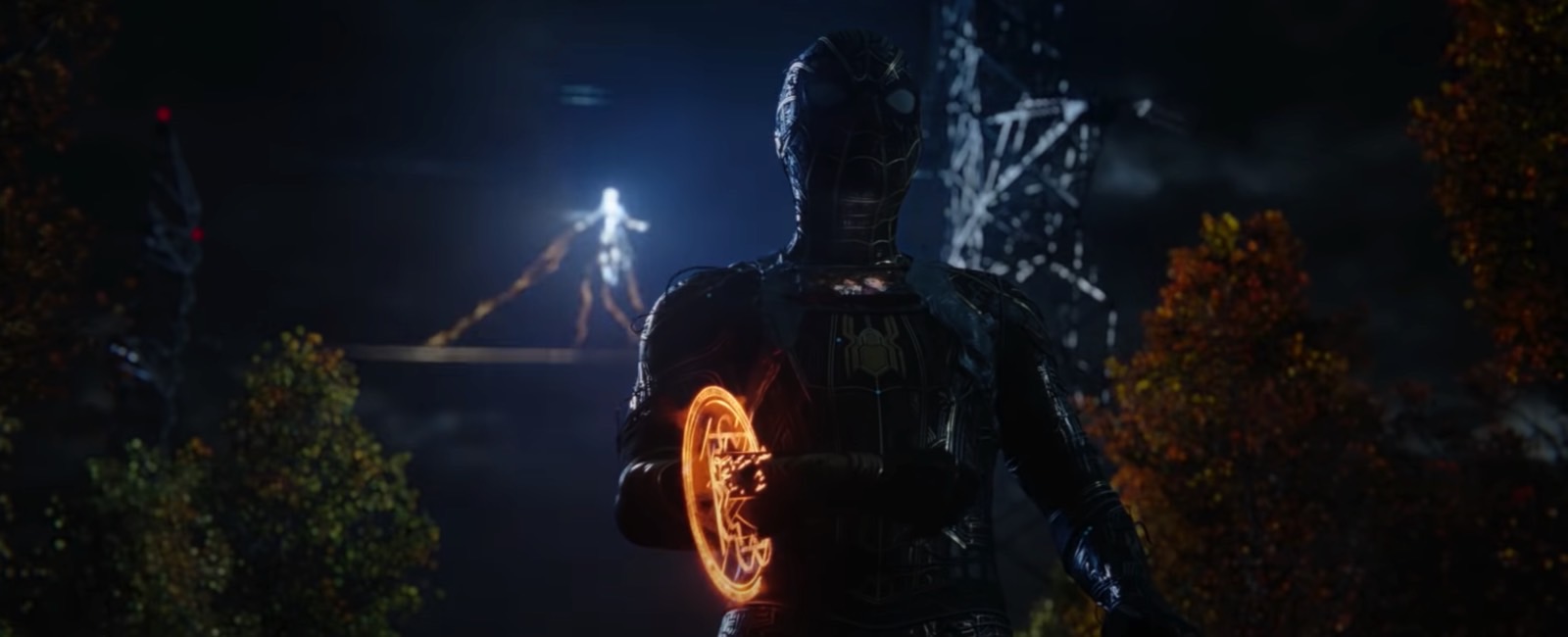 Tom Holland in the Venom suit
That's just speculation, however. There's no denying that Tom Holland is the most popular Spider-Man version. And it's his Peter Parker that fans want to see most face off against Venom. That's probably why the No Way Home post-credits scene was so necessary.
Not to mention that Holland's Peter Parker just had to face the biggest challenge in his career as an Avenger. And the most heartbreaking one. That's to say that Peter's character arc so far brought the MCU's Spider-Man to a point where he's primed for a meeting with Venom. Losing Aunt May (Marisa Tomei) almost made him want to kill a villain in No Way Home. He then had to accept Doctor Strange's (Benedict Cumberbatch) spell, which means MJ (Zendaya) and Ned (Jacob Batalon) no longer remember him. Dark times might lie ahead for Spider-Man, and they might include him embracing the Venom suit.
That's where Thomas du Crest's concept renders above come in handy. The artist worked on No Way Home, Far From Home, and Avengers: Endgame. He's familiar with the MCU heroes. And he's especially familiar with Holland's Spider-Man.
From there, it's easy to come up with concept art that would imagine what Holland's Spider-Man Venom suit would look like. The renders above are in no way a confirmation that the Spider-Man vs. Venom conflict is coming soon, despite what rumors say. And the Venom suit that Holland's Spider-Man will eventually wear might look a lot different. But this is our first look at what the MCU Spider-Man will look like once Venom infects him.