I'm not much of an anime fan, but the early reviews of Netflix's new eight-episode Blue Eye Samurai that's coming on Friday have been so laudatory that I had to check it out. Suffice it to say, I don't throw around the term "masterpiece" lightly, but the term absolutely fits here. Blue Eye Samurai, offering a Kill Bill-style revenge narrative, is the best animated release from the streamer I've seen this year, maybe ever. And it already has a perfect 100% score on Rotten Tomatoes ahead of its release.
The series is so good, in fact, that Netflix has made the first episode available to watch for free on YouTube (here's the link) — the thinking being that if you don't already subscribe to the streaming giant, getting a taste of it via Episode 1 of Blue Eye Samurai will have you reaching for your credit card in no time. Exhilarating spectacle, compelling characters, gorgeous animation, twists that enthrall — what's not to like?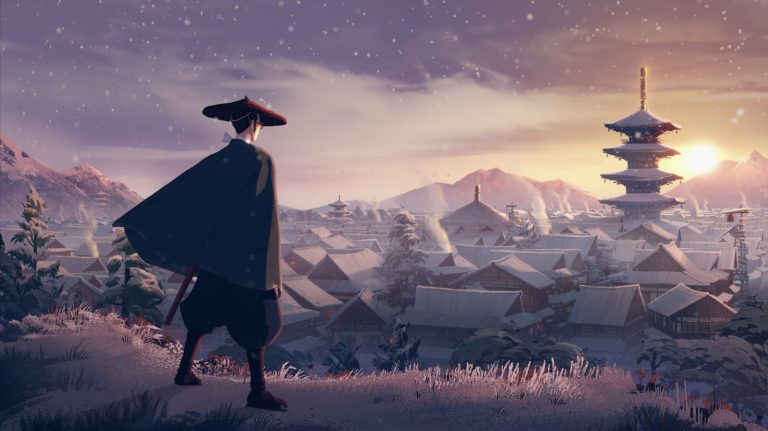 As for what it's about, the show is set in a 17th-century Japan with closed borders. Per Netflix, "Our hero, Mizu (Erskine), knows there were only four white men in Japan at the time of her birth and sets off to kill these men, one of whom might be her father, who made her a 'creature of shame.' But revenge is not an option for women, so Mizu must forge her revenge quest while hiding her gender as well as her blue eyes."
She's joined on her revenge quest by three companions: Ringo, a soba maker with dreams of greatness; Taigen, an arrogant samurai; and Princess Akemi, who's betrothed to Taigen. The band sets out across Edo-era Japan for a series that companies the edginess of live-action with jaw-dropping animation.
The co-creators behind Blue Eye Samurai are the husband-and-wife team of Amber Noizumi and Michael Green (a writer whose film credits include Logan and Blade Runner 2049). "We want people to sink into it and be taken by the story and the level of artistry and forget they're watching animation," Green said in a Netflix promotional interview about the series.
"We would love this to cross over into every interest — that if you like The Witcher, if you like animation, if you like Game of Thrones, if you like The Crown, if you like historical drama, if you like Shakespeare in Love, if you like Tarantino movies, there's something in Blue Eye Samurai for you."