The world's first real 5G phone will be unveiled in just a few days, and now we also know that it'll be the first Android handset in the world to pack 10GB of RAM. Earlier this year we heard that Asus wanted to put 10GB of RAM inside its ROG gaming phone, but ultimately chose not to do it. Then a rumor said an Oppo Find X version with 10GB of RAM was in the works, but that got shot down. But this time around, it sure looks like it's happening.
A few days ago, we showed you a teaser that confirmed the Xiaomi Mi Mix 3 would be the world's first 5G phone when it launches on October 25th next week. But the Chinese giant isn't done releasing teasers ahead of the phone's announcement. The company posted a new image on Weibo which mentions explicitly that the phone will have 10GB of memory. Just like previous teasers, the image below suggests the Mi Mix 3 will have an all-screen design with no notch. That's because the phone will feature a slide-out selfie camera similar to what we saw on the Oppo Find X and Honor Magic 2 earlier this year.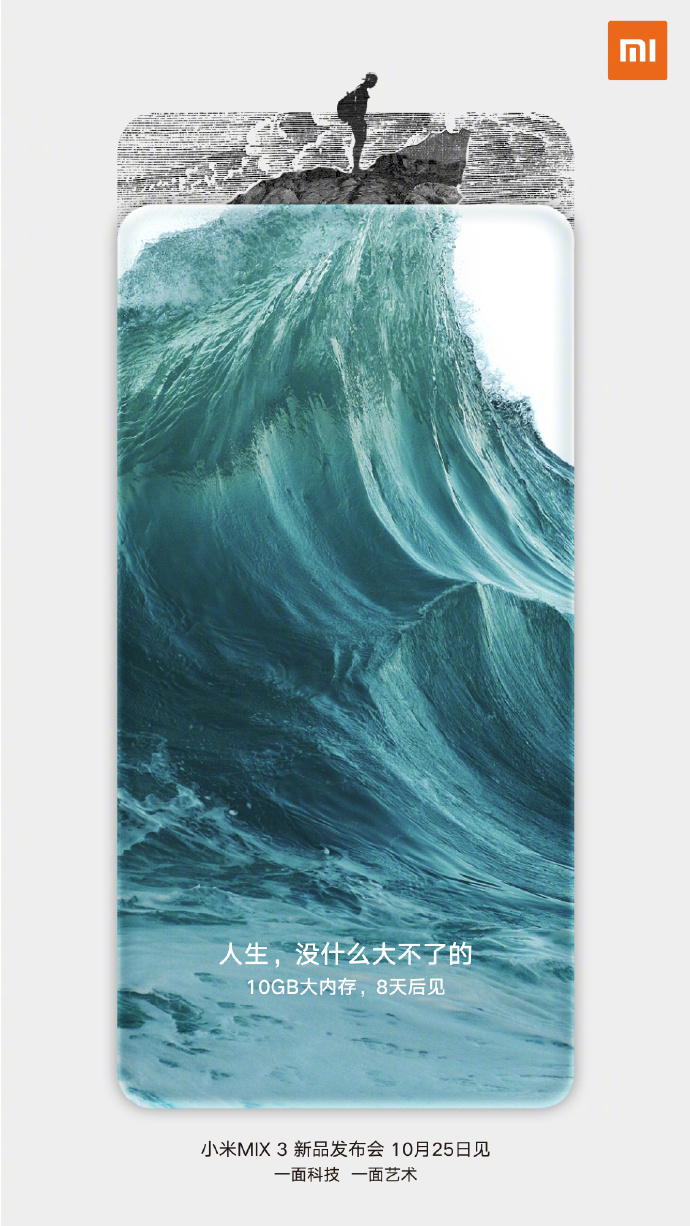 That's all we know about the Mi Mix 3 for the time being, but it's probably enough to conclude that we're looking at a flagship handset that will feature some of the same high-end specs available on 2018 flagship handsets. Add to that 5G connectivity that you can't really use and more RAM than any other smartphone, and you end up with a device that may appeal to many buyers in China and the international markets where Xiaomi is present.
It's unclear when the phone will go on sale or how much it'll cost, but being a Xiaomi device. Being a Xiaomi device, it shouldn't necessarily break the bank. But it'll still be interesting to see how much the Chinese smartphone maker will charge for the world's first phone with 5G support and 10GB of RAM.