An incredibly sinister new form of spam has infiltrated countless iPhones and iPads in recent weeks: fake iCloud calendar invites. Personally, I've been bombarded with fake invites for weeks, but many iOS users were confronted with the unfamiliar notifications for the first time over the holiday weekend.
DON'T MISS: iPhone users report battery drain problem on iOS 10.1.1
If you own an iOS device and haven't received a spammy event invite through the Calendar app, consider yourself lucky. These annoying invitations to Black Friday sales events have become increasingly common in recent days, popping up as notifications on iOS devices and Macs with links to fake websites.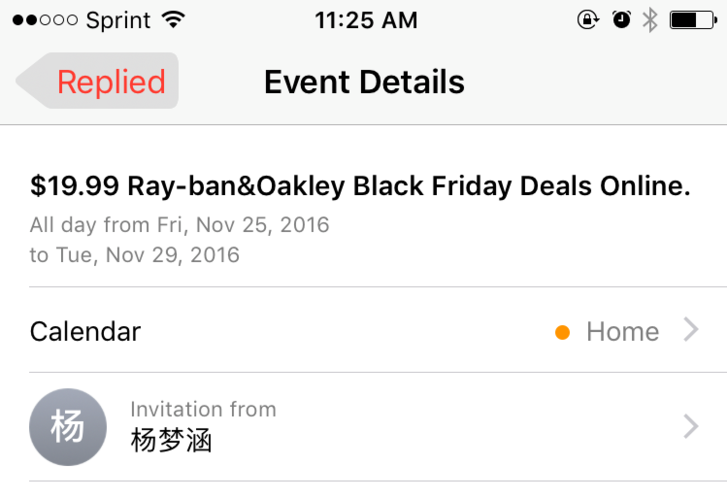 There's no telling when or if Apple will fix this issue on its end, but if you want to combat the Calendar spam, there are a few working methods to do so.
1. Disable Calendars on iCloud
This method is somewhat extreme, but if you typically don't use Apple's Calendar app, you can disable it altogether by visiting the iCloud settings on your iPhone (Settings > iCloud) and Mac (System Preferences > iCloud) and flipping the switch next to Calendars. Google Calendar is a better app anyway.
2. Redirect Calendar invites to your email
Want to keep using the Calendar app but don't want to deal with spam invites? Head to iCloud.com in your browser, click on the Calendar icon, click the gear icon in the lower-left corner, open the Preferences… menu, tap on the Advanced tab and in the Invitations section, click on the bubble next to Email to [your email address]. Now all of your invites will go straight to your email address, instead of appearing as notifications on your phone, tablet and/or computer.
3. Decline the invite
The easiest option is to simply open the Calendar app and decline the invite, but this will notify the spammer that your account is active, thus ensuring that you'll be on the list to receive more spam in the future. Yes, this is a nightmare.
4. Create a new calendar
The most complicated method of all: you can open the Calendar app, click the Calendars button, create a new calendar, move the spam invite to the new calendar and then delete the calendar without notifying anyone who might have sent you an invite that the calendar has been deleted. Not a major time sink, but a pretty significant amount of effort just to get rid of a single spam invite.