The Pixel 3 series isn't even here and we already know that Google is copying two significant plays from Apple's How To Sell Boatloads of Expensive Phones playbook. First of all, Google added notch support to Android P, suggesting that at least one Pixel 3 model would be an iPhone X clone — later, leaks told us it would be the XL version. Then Google swiped Apple's iPhone X gestures for Android, because all of a sudden Android's navigation system that has been around forever did not make sense anymore.
Make that three ways, because a new leak reveals not only that Google will unveil the phone in early October, but that it's about to copy Apple again in yet another way.
It was YouTube channel This Is Tech Today's Brandon Lee who first broke the news that October 4th might be the day when Google unveils the Pixel 3 series. The date makes perfect sense, as it lines up perfectly with what Google has done in previous years.
Lee discovered an ad posted by Google on its Famebit site that implies the phone would be unveiled on October 4th. Android Police has been able to confirm the listing, providing these screenshots: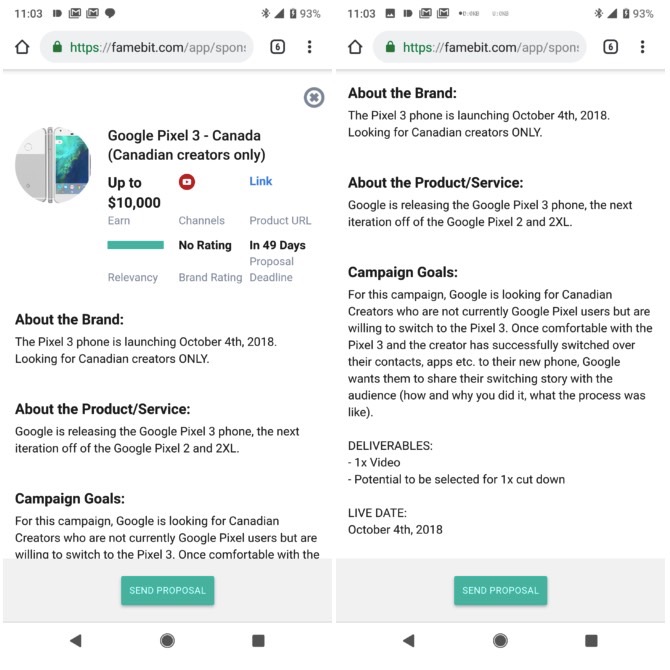 Famebit is a service that connects ad agencies and marketers with content creators for promo material. And this is where Google is copying Apple. Some of you may recall that last year, some people who usually review iPhones before they hit the stores were incredibly annoyed to see that influencers also got them. Apple was changing tactics to promote the latest iPhones.
Google wants to do the same thing, and that's nothing wrong with that. But again, it seems that Google is taking its lead yet again from Apple. The ad says that you can earn up to $10,000 if you're a Canadian influencer willing to teach others how easy it is to switch to the Pixel 3 series. There's always a chance this ad doesn't come from Google directly. But it's incredibly specific when it comes to requirements.
The listing does say that the "Pixel 3 phone is launching October 4th, 2018."
 It's unclear whether the phone will be unveiled or actually released in stores on that date. But it's likely we're looking at the announcement date here. If that's the case, the Pixel 3 and Pixel 3 XL should hit stores a week or two after the press conference.