It took nearly 5 months but as of Tuesday, we finally have two new 2018 flagship Android phones that showcase the level of design and performance we expect from smartphones this year. The first is the Galaxy S9, which back in mid-March. Sales haven't been as impressive as earlier Galaxy S flagship phones from Samsung, but that's due largely to the fact that the design of the phone is almost identical to last year's model. That has prevented Galaxy S8 owners from upgrading, but the S9 is a fantastic choice for anyone else. Then we have the hot new OnePlus 6 flagship phones that is available to order beginning today. The OnePlus 6 is not without its shortcomings, but it's by far the most powerful smartphone on the planet right now.
If you want to learn more about these great smartphones, be sure to read my OnePlus 6 review and my Galaxy S9 review. If you're in the market for a new handset, the bottom line is that either phone makes a fantastic upgrade to whichever Android phone you might be using now. Since these are the two latest and greatest flagship Android phones, however, many people are going to be torn between the two. In this post, I'll dig into the biggest pros and cons with each phone model so you can make the best decision to suit your wants and needs.
Samsung Galaxy S9
In terms of earnings performance, Samsung is in the midst of a phenomenal run right now. Unlike Apple, however, it's due largely to booming sales in the company's various components divisions and not smartphones sales. This is turning out to be fortunate for Samsung because everything we've seen and heard suggests that sales of the Galaxy S9 have fallen well short of expectations. In fact, three of the four major US wireless carriers slashed the prices of Samsung's Galaxy S9 and Galaxy S9+ within a month of releasing them.
As I mentioned before, slow Galaxy S9 sales are not an indication that the phone itself has issues. Instead, Galaxy S8 owners are reluctant to upgrade because the Galaxy S9 shares the same external design as last year's Samsung flagship. The phone itself is fantastic, however, and it should definitely be near the top of your list if you don't already have a Galaxy S8.
First and foremost, the Galaxy S9's biggest strength remains its display. The Super AMOLED screen on Samsung's latest flagship is by far the most stunning smartphone display I have ever seen — and I've seen just about every smartphone display there is to see. The iPhone X is a close second since it also packs one of Samsung Display's OLED panels, but it's still no match for the S9.
There is nothing else on the market that can match the brightness, clarity, and vividness of Samsung's screen on the Galaxy S9. Nothing. It's jaw-dropping. Almost every interaction we have with a smartphone involves looking at the screen, so this is obviously among the most crucial pieces of the smartphone experience.
Another benefit the Galaxy S9 has over the OnePlus 6 is screen size. While the 6.2-inch display on the Galaxy S9+ is about the same size as the 6.28-inch screen on the OnePlus 6, Samsung offers choice. Even with the almost-all-screen designs these phones tout, they're both quite large and difficult to use comfortably with one hand. Samsung also offers a more compact Galaxy S9 with a 5.8-inch screen, which is a wonderful size for a more comfortable handset.
In my book, Samsung also wins where design is concerned. Yes, the Galaxy S9 looks just like the Galaxy S8 the company released in 2017. Is that really such a bad thing, though? If you have a Galaxy S8 it might be. But coming from any other phone, the Galaxy S9 is a huge upgrade. The curved glass sides on the front and back look incredible, and they also make the phone feel much better in the hand. It's probably my favorite design among every available Android phone right now.
Also of note, the Galaxy S9 is the only new Android flagship out there right now with an original design, since every other phone of note is basically an iPhone X clone.
Finally, the camera is another important check in the win column for Samsung's Galaxy S9. Since Trump's White House pressured wireless carriers and retailers to dump Huawei phones, the P20 Pro isn't widely available in the United States (though you can buy one here if you want). With that phone pretty much out of the picture, Samsung's Galaxy S9 and Galaxy S9+ have the best camera you can get right now.
Samsung's Super Speed Dual Pixel camera might have an odd name, but performance is what matters and this camera is incredible. Clarity and low-light performance are the best I've seen on a smartphone, and the detail Samsung's latest camera captures is unmatched. OnePlus did a great job improving camera performance on the OnePlus 6 compared to last year's OnePlus 5 and OnePlus 5T, but it's still no match for Samsung's Galaxy S9.
OnePlus 6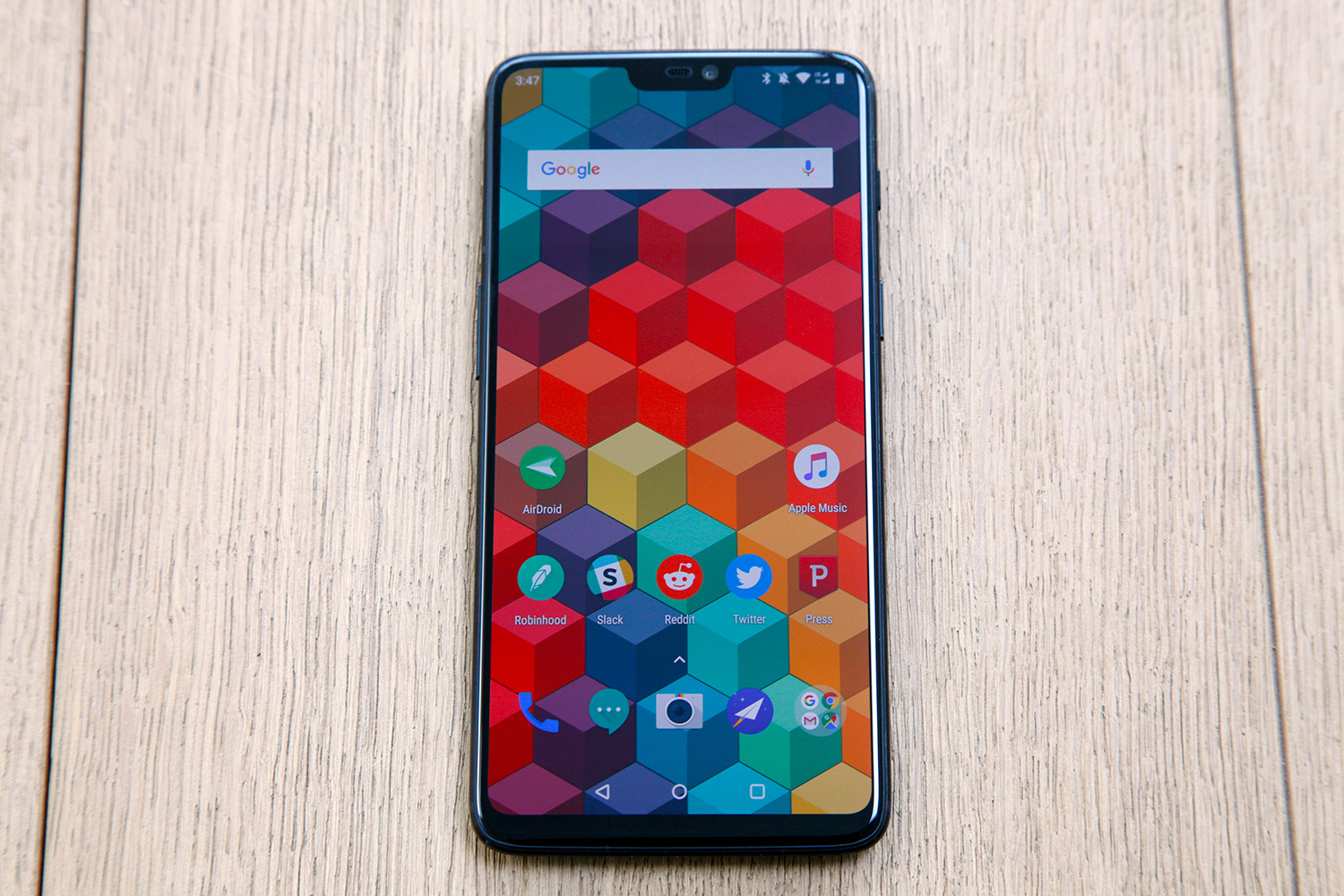 The Galaxy S9 is indeed an impressive smartphone, but the new OnePlus 6 has it beat in a number of key areas.
First and foremost, the OnePlus 6 offers performance that is unmatched right now. Samsung's flagship is no slouch, but the OnePlus 6 makes even better use of the same Snapdragon 645 processor and supports it with more memory — up to 8GB of LPDDR4X RAM. As I mentioned in my OnePlus 6 review on Monday, this phone's benchmarks are off the charts.
More important than benchmark performance on paper, the OnePlus 6 feels faster when you use it. I hit a few minor speed bumps here and there when I reviewed the Galaxy S9, but nothing I threw at the OnePlus 6 was able to trip it up. The OnePlus 6 is also faster during regular usage, as illustrated in the OnePlus 6 vs. Galaxy S9 speed test we showed you on Monday.
Speed is important but so is overall user experience, and the OnePlus 6 is much closer to stock Android than the Galaxy S9. Samsung has dialed down its software add-ons in recent years, but the company still makes tons of changes to Android. Meanwhile, the software on the OnePlus 6 could easily be mistaken for stock Android Oreo until you dig into the settings to find OnePlus' various available customizations.
Also important about the software on the OnePlus 6 is the fact that OnePlus has a better track record with Android updates. Samsung is big and slow. On top of that, most Samsung phones in the US are sold through wireless carriers that further delay software updates. Meanwhile, OnePlus sells directly to consumers so there's nothing standing in the way of its updates. Project Treble in Android Oreo should help speed up the Android update process across the board, but we still expect much more timely updates from OnePlus than from Samsung. In fact, you can already run the Android P beta on your OnePlus 6.
Last but certainly not least, we have a huge win for the OnePlus 6 over Samsung's Galaxy S9: price. Even after its price was slashed at most major carriers last month, the Galaxy S9 is still a very expensive phone. The Galaxy S9 costs $720 for a 64GB model with 4GB of RAM, and it tops out at $840 for the 256GB version. Meanwhile the Galaxy S9+ with the same size display as the OnePlus 6 starts at $840 for 64GB of storage and goes up to $960 for the 256GB model.
The OnePlus 6 with 6GB of RAM and 64GB of storage costs just $529, nearly $200 less than an S9 and a whopping $311 less than the Galaxy S9+, which is the better comparison since the screens are almost the same size. The 128GB OnePlus 6 with 8GB of RAM costs $579, and a 256GB model with 8GB of RAM costs $629 — that's $331 less than a comparable Galaxy S9+.