It shouldn't come as much of a surprise since OnePlus has been announcing bits and pieces of info about the OnePlus 6 for weeks now, but the company on Wednesday finally made its new flagship smartphone official. The OnePlus 6 was unveiled during a press conference in London today, and it is by far OnePlus' most impressive smartphone to date. Featuring cutting-edge specs and a design that's fresh and new for a OnePlus phone, though it's somewhat controversial as well. Despite OnePlus' efforts to explain it away, the OnePlus 6 obviously copied the notch from Apple's iPhone X. It's one of dozens of Android phones that have lifted this design from Apple, and it certainly won't be the last. In fact, Google had no choice but to add native notch support to Android P because so many smartphone makers have adopted Apple's design.
Of course, the OnePlus 6 is much more than a notch in a display. It's one of the sleekest and most powerful Android smartphones in the world right now, and Android fans have finally been told when they can get their hands on it. I've already had my hands on the OnePlus 6 for a while now, and I'll share my initial impressions in this post.
On paper, the OnePlus 6 is a force to be reckoned with. It's powered by the same octa-core Qualcomm Snapdragon 845 chipset as every other flagship Android phone of note, but it's supported by as much as 8GB of LPDDR4X RAM. The OnePlus 6 also comes with 64GB, 128GB, or 256GB of dual-lane storage based on UFS 2.1 technology. Long story short, this phone is ridiculously fast. I'll dig in a bit deeper in my full OnePlus 6 review, but I can already safely say that I've never tested a faster Android phone.
OnePlus also spent time upgrading the OnePlus 6's cameras. The dual-lens rear camera combines a 16-megapixel sensor with an f/1.7 aperture and a 20-megapixel secondary sensor, and they combine to offer 2x optical zoom as well as Portrait Mode photos with blurred backgrounds. OnePlus added a bunch of new effects to Portrait Mode on the OnePlus 6, as well as Advanced HDR for more vibrant colors. The primary rear camera sensor has both optical image stabilization (OIS) and electronic image stabilization (EIS) for improved clarity in photos and in videos. The front-facing camera also has a 16-megapixel sensor, as well as EIS.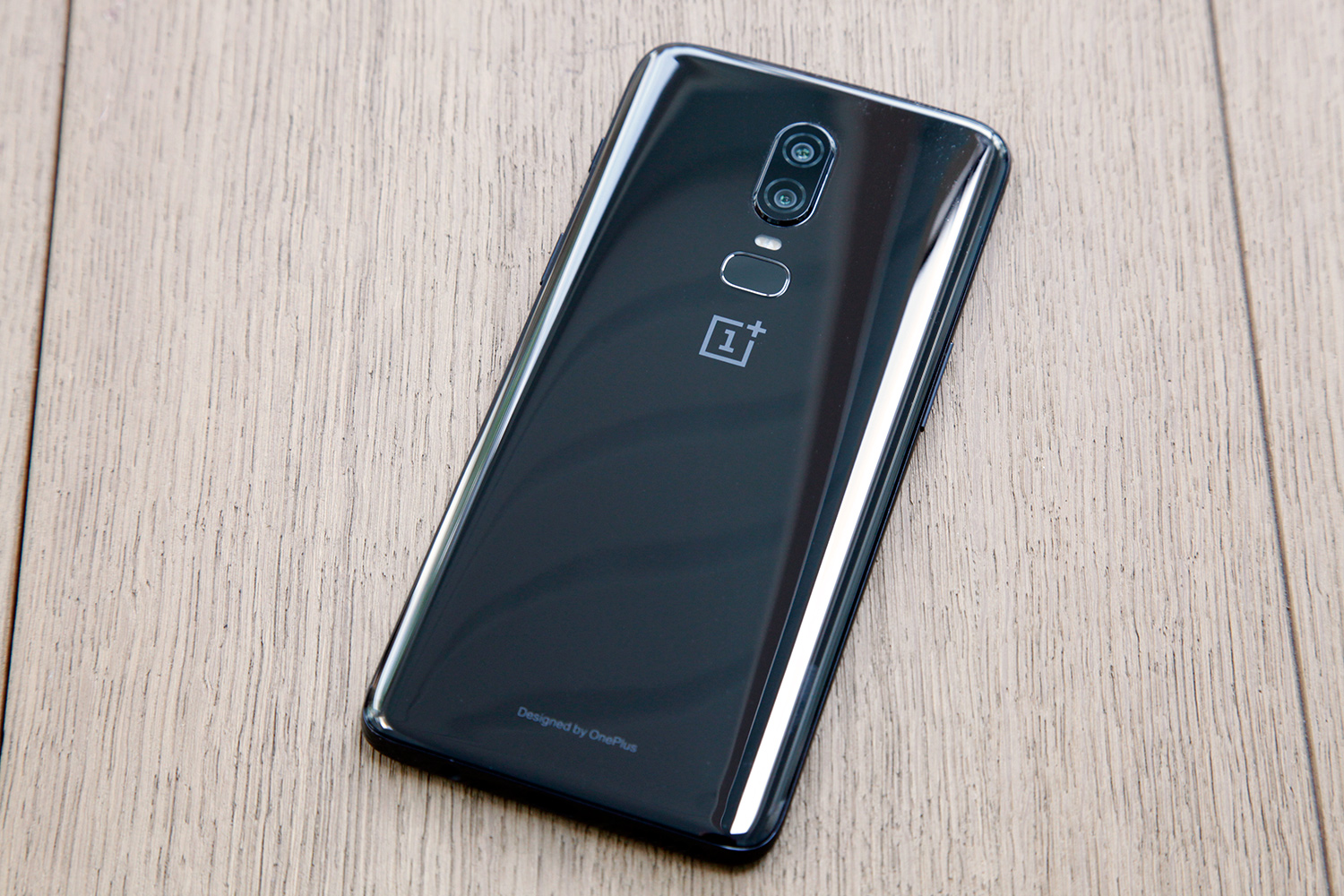 The OnePlus 6's display is another bright spot, both literally and figuratively. The phone sports a nice big 6.28-inch AMOLED screen with a 19:9 aspect ratio. Resolution is "only" 2280 x 1080, but remember that's also what some popular phones default to even when they have higher-resolution displays. In my time with the phone so far, I've found the clarity on OnePlus 6's display to be superb. It's also remarkably bright, and colors really pop on that beautiful AMOLED panel.
Corning Gorilla Glass 5 covers the OnePlus 6's front and back. The phone doesn't support wireless charging like other flagship phones with glass backs, which makes the company's decision to use glass on the back a very odd one. As strong as Gorilla Glass 5 is, it's still nowhere near as strong as the aluminum found on earlier OnePlus smartphones.
While the OnePlus 6 might not have wireless charging, it does still have OnePlus' Dash Charge technology that's among the speediest fast charging technologies currently available on smartphones. OnePlus says its OnePlus 6 will give users "a day's power in half an hour," meaning just charging the phone for 30 minutes will give a user enough power for a full day. I haven't tested that claim just yet, but I certainly plan to.
The OnePlus 6 will be available initially in two different colors, including Mirror Black and Midnight Black. The Mirror Black model will come with 6GB of RAM and 64GB of storage for $529, or 8GB of RAM and 128GB of storage for $579. The Midnight Black version of the OnePlus 6 will come with 128GB of storage for $579 or 256GB for $629. Both Midnight Black models will include 8GB of RAM. Finally, a limited edition Silk White model with 8GB of RAM and 128GB of storage will be made available for $579.
As far as launch timing is concerned, the Mirror Black and Midnight Black versions of the OnePlus 6 will be released North America and in Europe on May 22nd. The Silk White model will then launch in limited supply on June 5th.
In addition to the OnePlus 6 flagship phone, OnePlus also unveiled new Bullets Wireless headphones on Wednesday. These Bluetooth earbuds offer some nifty new tech, and OnePlus says just 10 minutes of charging will give Bullets Wireless enough juice for 5 hours of continuous playback. The OnePlus Bullets Wireless will be released in late June for $69.
The new OnePlus 6 and OnePlus Bullet Wireless headphones will be made available on the OnePlus website.