We all know by now that miraculous technologies like running dozens of test labs on one drop of blood don't exist just yet. With that in mind, you have every reason to question NuraLogix's claim that a single "healthy selfie" scan on its Anura platform is enough to run a complex AI-based test to tell you how healthy you are. It will let you know how high your blood pressure is from that 30-second selfie scan, and whether you're at risk of getting diabetes.
Yet NuraLogix says that it can do exactly that. Science supports the technology, and the company has studies to prove the Anura tech works. At the same time, NuraLogix told me at MWC 2023 that the platform will not help you diagnose diseases. But it could be used to raise awareness and convince you to see a physician.
How the healthy selfie works
NuraLogix says the Anura app can run on any device with a selfie camera as long as there's enough light in the room. I tested the platform using the company's iPad mini 6 at MWC, but any modern smartphone or tablet should work.
You have to place your head inside a circle on the screen, and then the 30-second scan begins. The app uses NuraLogix's Transdermal Optical Imaging (TOI) technology, which is a novel form of Remote Photoplethysmography (rPPG). In other words, the app bounces light off key areas of your face to extract information from your blood flow.
It then sends the data to the cloud, where its AI will analyze the scan and deliver the results in a user-friendly way. Your data will not remain stored on NuraLogix servers. Instead, it will be deleted after your report is generated. But the app you have installed on your device does hold a history of your scans.
As for the artificial intelligence that checks the data, NuraLogix says it was trained with the help of data from more than 40,000 patients with multiple conditions from multiple backgrounds. The company's tech appeared in 10 peer-reviewed research publications, and three more are in progress. NuraLogix also has 13 US patents.
The research behind the app actually started as a project out of the University of Toronto to study lie detection in children.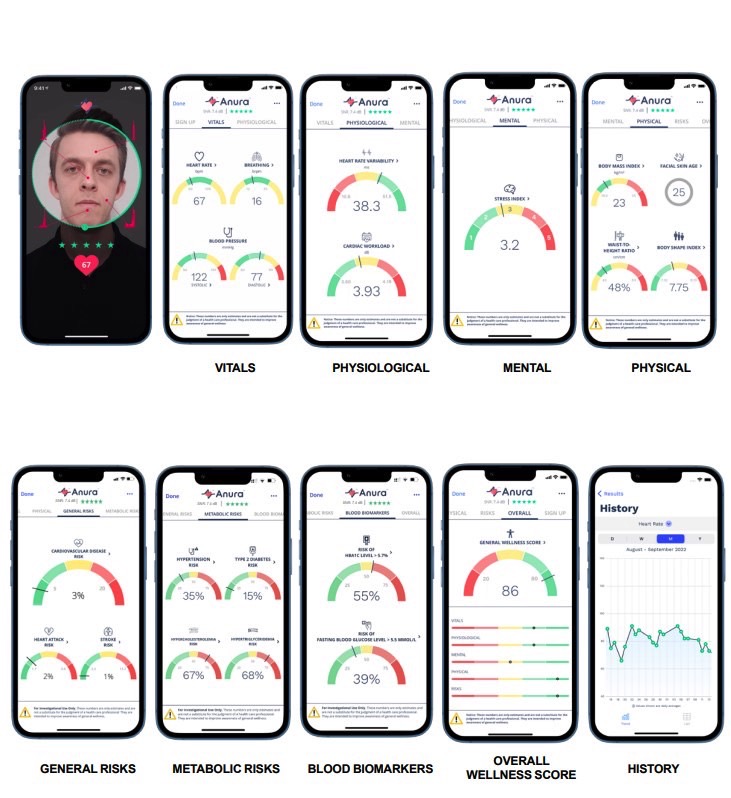 What can NuraLogix Anura measure?
The app will offer users health risk assessments for various chronic conditions, including type 2 diabetes, hypertension, cardiovascular disease, and mental health.
The company says that its models can predict whether your HbA1c is greater than 5.7%, or if your fasting blood glucose is greater than 5.5mmol/L. Also impressive is the blood pressure measurements, which have an accuracy corresponding to a standard deviation of error of less than 8mmHg. That's the "Holy Grail" of contactless blood pressure measurement, according to NuraLogix.
My healthy selfie test turned out to be accurate, based on recent tests that I had done. One interesting thing was its ability to measure breathing. During the 30 seconds selfie, I stopped breathing for a bit, wondering if it would impact the quality of the scan. As a result, the app accurately detected a lower breathing rate than normal.
Another interesting thing is that the healthy selfie app thought I was four years older than my actual age, and that I'm slightly more stressed than I should be. Four days of MWC will apparently do that to you.
The app's heart rate measurement was also pretty accurate, indicating a slightly higher rate (82bpm) than the Apple Watch (77bpm).
Where can you get the healthy selfie app?
As interesting as the tech might be, this isn't a diagnosis tool. And you can't find it in commercial products just yet. But you can download an Anura Lite app from the App Store or Google Play to test the healthy selfie.
NuraLogix told me it's working with the FDA for approvals to let the company sell the platform as a medical device and deploy the tech in various commercial products. It's also working with companies to offer the service to their employees.
In other words, the NuraLogix Anura healthy selfie is a great concept that should be combined with other smart devices that can monitor health parameters. Or, on its own, it could convince people to visit a doctor sooner than they would have otherwise.