We're used to seeing delays from Apple these days, both when it comes to new hardware or software features. Remember when Apple fanboy bloggers used to mock other companies for announcing products that weren't ready to ship yet? AirPods, iPhone X, HomePod, and iPhone XR are just some of the devices Apple has delayed in recent history.
Some of the coolest software features Apple mentioned during its iPhone event earlier this week, including the Apple Watch 4's ECG support or the new iPhone's eSIM functionality, won't be available at launch and will instead come as updates somewhere down the road. But AirPower is something else. Apple's bold vision to use a single device to wirelessly charge an iPhone, Apple Watch, and AirPods at the same time was a no-show on Wednesday. And it's starting to look a lot like vaporware.
Apple announced AirPower last September, more than a year ago, and we figured the accessory would be available in the months that followed. But that didn't happen. Not only that, but Apple just held its 2018 iPhone event without even mentioning the accessory. What's even worse is that Apple is pretending the device was never announced in the first place. As Apple Insider points out, Apple has wiped nearly all traces of AirPower from its website. Here's the only thing that comes up when searching for AirPower on Apple.com:
It's not like AirPower is a must-have product, and there are plenty of wireless chargers for your iPhone. Sure, they won't recharge the iPhone, Watch, and AirPods simultaneously, but that's not exactly a necessity. However, the failure to bring the product to market suggests there are things that even Apple can't do. And it's a rare sight for a company known for its secrecy to unveil a product that isn't anywhere close to being ready to hit stores. Unlike others, Apple usually only talks publicly about products that will be released soon after their unveiling. The AirPower charger sure looks like isn't going to hit stores anytime soon, if ever.
The fact that Apple is going through so much trouble to avoid talking about AirPower had a secondary effect. It stopped Apple from mentioning a notable upgrade for the iPhone XS phones — faster wireless charging. From Apple's iPhone XS press release:
The front and back glass design features the most durable glass ever in a smartphone with improved scratch resistance, while the glass back enables faster wireless charging. iPhone Xs and iPhone Xs Max reach a new level of splash and water resistance of IP68 for up to 2 meters for 30 minutes and protect against everyday spills including coffee, tea and soda.
Here's an image from the iPhone XS presentation page, where wireless charging speeds are briefly mentioned: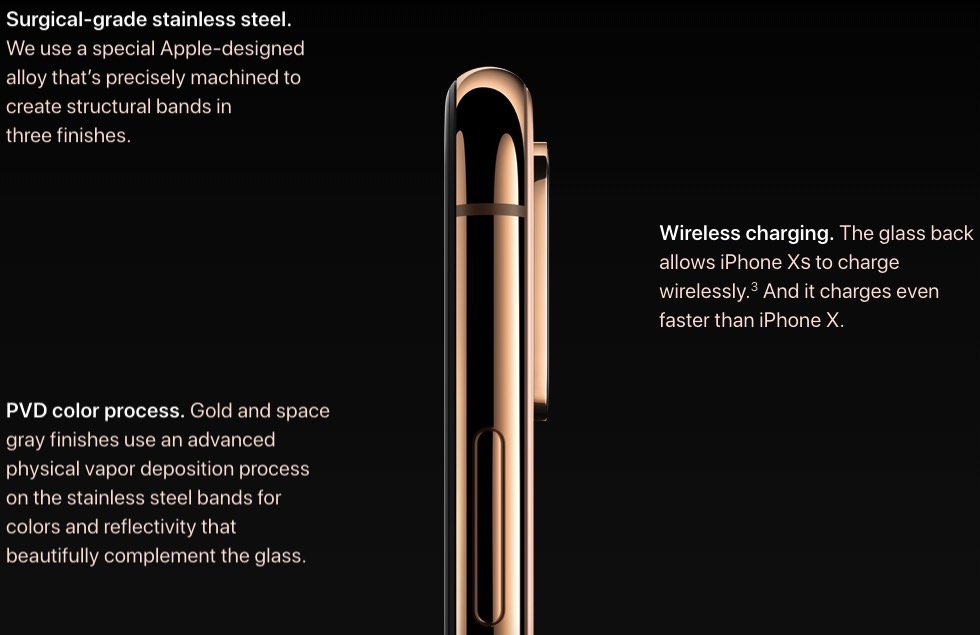 The 2017 iPhones did not deliver the kind of wireless charging speeds some people would have expected. So you'd think Apple would want to tell the world that wireless charging is now getting a lot faster. But focusing on wireless charging at any point during the iPhone presentation would only remind the world that Apple promised an AirPower charging pad. And that it promised an AirPods case that can recharge wirelessly. Oh yes, and Apple never launched a second-generation of AirPods, either.
That said, we might still see an AirPower charger in stores at some point in the future. For the time being though, Apple is deliberately choosing to pretend it never existed so it certainly feels a lot like vaporware.