Earlier this week we saw a real-life iPhone XS and iPhone XS Max battery test that revealed that Apple's new smartphones don't live up to Apple's battery life estimates. The experiment involved only web browsing and revealed the iPhone X did better than both 2018 handsets. A second real-life battery test also says that results don't match Apple's battery life claims. But this test says that both the iPhone XS and the iPhone XS Max fare better than their Android rivals.
This time around, it's Phone Arena doing the battery life testing, and their process isn't limited to web browsing only, as it "mimics pretty well what you would get as screen-on time in real life, and is even a bit optimistic under heavy usage scenarios."
The iPhone XS lasted for 8 hours and 37 minutes, four minutes less than the iPhone X, and nearly an hour less than the iPhone XS Max (9 hours and 34 minutes). The iPhone 8 Plus did even better than all three X models, with a total time of 10 hours and 35 minutes.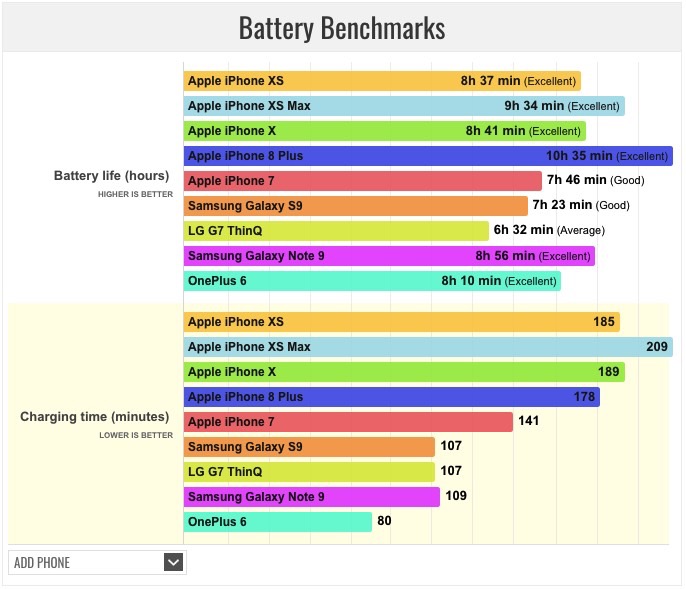 As you can see in the image above, the iPhone XS lasted almost as long as the Galaxy Note 9, outlasting its 2018 rivals, including the Galaxy S9 and the OnePlus 6. The iPhone XS Max did even better than the Galaxy Note 9, its direct rival.
Like we said before, Apple does note on its website that "all battery claims depend on network configuration and many other factors; actual results will vary." As long as real-life tests can't replicate Apple's testing, you're going to see discrepancies between results.
As you can see in the image above, Phone Arena also tested charging times, and that's where the iPhone XS Max turned out to be the big loser, needing 209 minutes to reach a full charge, 100 minutes less than the Note 9. The iPhone XS Max has a 3,179 mAh battery while the Galaxy Note 9 packs a 4,000 mAh battery.