Apple's iPhone XR has been available online and in stores since this past Friday, and it already seems like it's going to be a huge seller for Apple. There weren't really any long lines to be found at Apple stores over the weekend, but the world's top Apple insider reported that pre-order demand was very strong. Some plugged-in Wall Street analysts thing the iPhone XR might even end up being Apple's best-selling iPhone during this product cycle, which sort of makes sense. The iPhone XR isn't "cheap" by any stretch of the imagination, but it starts at $749 while the least expensive iPhone XS will cost you $1,000. Most impressive, perhaps, is the fact that the iPhone XR delivers the same kind of power and speed as the more expensive iPhone XS and iPhone XS Max. It's powered by the same A12 Bionic chipset and has mostly the same specs, and that's also why it's a massive threat to all the Android flagship phones out there right now — it's much more powerful, much faster, and even less expensive.
If you're one of the many people who already got your hands on a new iPhone XR, you're undoubtedly enjoying it right now. You also probably took your time to pick out the perfect color since there are so many options. Well, we have some good news for you this morning: The "notch wallpaper" made specially for iPhones has finally been updated and is now available for the iPhone XR.
Remember when the iPhone X was first announced last year and everyone started freaking out about how much they hated it? Heck, even we hated the look of it when we first saw it. Then when you get the new iPhone in your hands, you realize two things. First, the notch actually looks pretty cool and it's very nice to have the screen extend all the way to the top corners of the phone. And second, you don't even notice the notch anymore after using the phone for a little while.
The notch design is still a central part of Apple's iPhone designs this year, and some people like to show it off. In fact, a whole lot of people like to show it off! Graphic designer Hideaki Nakatani, who goes by @heyeased on Twitter, is known most commonly for the crazy iPhone glitch wallpapers he used to make back in 2016. The most popular one was definitely the crazy black wallpaper that caused the iPhone's dock and folder backgrounds to disappear. It looked amazing on the Jet Black iPhone 7 and the matte black model, but then Apple fixed the little bugs in iOS that made those wallpapers possible. Luckily, Nakatani decided to turn his attention elsewhere and make other kinds of wallpapers for iPhones.
His most popular wallpaper right now by a wide margin is a special series of wallpapers that were made for the iPhone X last year and then updated last month for the iPhone XS and iPhone XS Max. These awesome wallpapers are mostly black so they show off the deep blacks that OLED panels are loved for, while also saving precious battery life in the process because black doesn't cause pixels to light up on OLED screens. Second, they really show off the notch perfectly because they have a thin border that wraps around the edges of the screen. Here's what it looks like on the iPhone XR: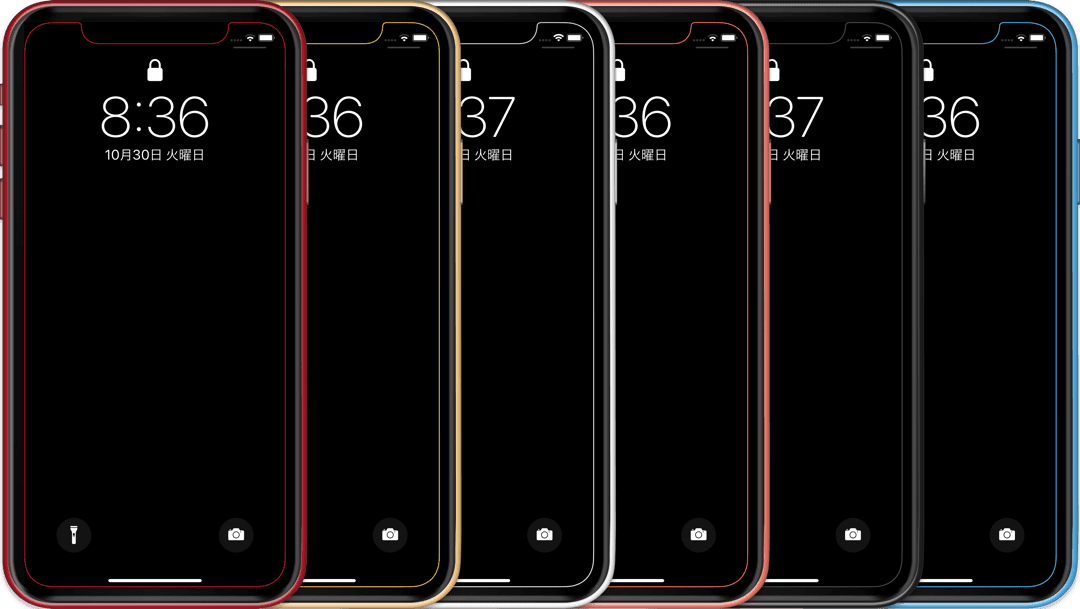 But wait, Nakatani's notch wallpaper isn't available for the iPhone XR, you say. Good news: it is now! The graphic designer emailed us to share the news that he now has a collection of notch wallpapers in all different colors that are custom-made to fit the iPhone XR's display. What's more, they come in the exact colors Apple offers on the iPhone XR so that you can match it perfectly.
As always, this new collection is completely free and available to download from Nakatani's website. Just make sure that when you apply them you choose "Still" and not "Perspective," and also don't resize it at all. You can also find versions for the iPhone X, iPhone XS, and iPhone XS Max right here.