We're already on record praising iOS 12 as such a strong refresh of the operating system that it's making some users question whether they want to go ahead and get their hands on a new device at all or just stick with their older model and go for the upgraded OS instead.
Of course, we're talking about users who are actually bothering to go ahead and upgrade to iOS 12. Because new numbers just out suggest users are doing so at a slower rate than they did for iOS 10 and iOS 11.
According to data collected by Mixpanel, which you can check out here, as of the time of this writing on Wednesday afternoon (48 hours after Apple launched iOS 12), it's currently on a little more than 10 percent of devices.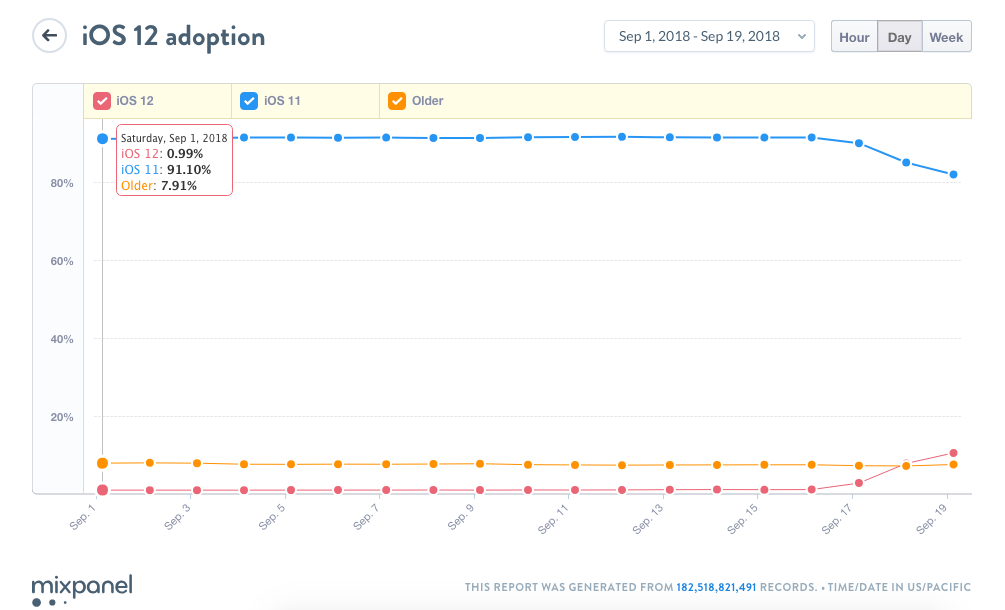 Macrumors notes that when iOS 11 was released around this time last year, it hit the 10 percent mark a lot faster — within 24 hours of launching. The year before that, iOS 10 within 24 hours was already on almost 15 percent of devices.
"Customers may be reluctant to adopt a new operating system after all of the bugs and issues that were seen with iOS 11 software updates," the site notes, "but Apple made an effort to focus on the underlying code of iOS 12 and thus far, the update has been stable."
That was certainly our verdict in this post from earlier today, about the OS upgrade ahead of the first wave of Apple's next-gen handsets hitting store shelves at the end of the week. The tldr version of that post — part of the reason people may be thinking about contenting themselves with their current device and just upgrading to iOS 12 has to do with price. The iPhone XS and XS Max, of course, are the company's most expensive smartphones yet.
Among the benefits of the upgraded OS: sticking with this idea of people hanging on to their older device longer, take the iPhone 6 Plus. Macrumors notes that apps launch on it up to 40 percent faster with IOS 12. The keyboard seems 50 percent speedier, and if you're on the lock screen and try to open the camera to take a photo, all that happens a whopping 70 percent faster.
Animations are smoother and more responsive, too. Perhaps best of all — there isn't a single Apple product that's rendered obsolete by this year's iOS update. Every single iOS device capable of running iOS 11 can handle this upgrade.
It will be interesting to see if this idea of people holding on to older devices longer because of the upgrade holds true — once those users actually, you know, get around to upgrading.