Apple released iOS 10 to the public earlier this week, and the reception has been overwhelmingly positive. Sure there were a few bumps in the road, like when the update left a bunch of iPhones and iPads temporarily unusable shortly after iOS 10 was first released. And sure there are some annoying changes in iOS 10, but we told you how to fix all of the big issues. One issue we didn't cover might be the most disconcerting one yet though, and Apple might have a difficult time finding a permanent fix.
MUST SEE: You've never seen an iPhone that looks like this
Apple's revamped Messages app is probably the most talked-about update in iOS 10 so far. Messages had previously focused mainly on core messaging features, offering users a straightforward service that was basically an enhanced SMS app. With the growing popularity of apps like Snapchat, Facebook Messenger, LINE and other apps, Apple decided to borrow some trendy features and make them available in Messages.
The biggest change in iOS 10 is new support for Messages extensions. There's now a separate App Store for Messages apps, and users can install all sorts of third-party sticker packs and apps that add features and content to the app. But it's a first-party Messages extension that's already causing Apple some trouble, not a third-party app.
Amid the Messages extensions that are available pre-installed in the new app, there's an image search extension that allows users to search for pictures and GIFs right from within the Messages app. Content is pulled in from popular third-party sources like Giphy, and Apple has seemingly taken some steps to censor explicit content and prevent it from appearing in results. Apple is going to have trouble keeping all explicit content out of its own image search feature, and the first example of explicit content that made its way through is a pretty terrible one.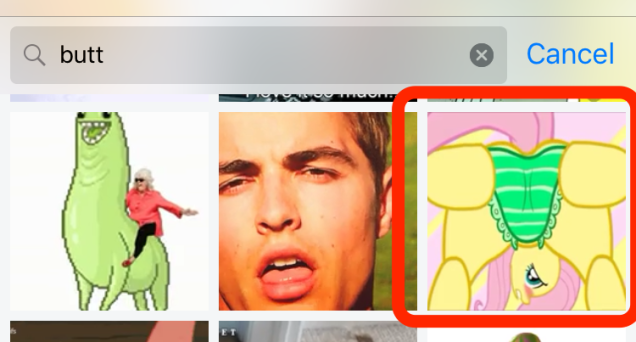 As Deadspin noted, a search in the Messages image search extension for the word "butt" returns an animated GIF of a My Little Pony character named Fluttershy. In the GIF, the cartoon Pony pulls down her underwear and exposes herself. A still of the GIF can be seen above, and there's no need for us to post the full animation here. Yes, in case you were unaware, My Little Pony porn is a thing.
Apple will likely pull this particular GIF from its app soon enough, but the company is going to have plenty of work ahead if it hopes to keep explicit content out of Messages.
UPDATE: Apple has removed the offensive GIF, as we said it would. Don't worry though, there's still plenty of hardcore porn to be found.