Netflix password sharing will not stop now that the company has measures in place to monetize the popular streaming phenomenon. But Netflix's actions will surely have an impact. And I expect Netflix competitors to follow suit with measures of their own once their growth slows down enough. What that means for us as end-users is that we need to be prepared for password sharing crackdowns, whether it's Netflix, Disney Plus, or the service formerly known as HBO Max. And we need to know who else can access our streaming accounts if we need to clean things up.
The good news is that all the streaming services you might be subscribed to will tell you who else is logged into your account. And you can quickly remove access without actually resetting your password. That's one way to block everyone who might be sharing your credentials.
In what follows, we'll cover the most popular streaming services out there and the steps you need to take to see who is sharing your password. As you'll quickly realize, the steps below are straightforward and similar on all the different platforms. You should get the job done in no time once you get the hang of it.
Also, we'll use the web interface for each streaming service to show you how you can see who has access to your streaming accounts and remove them. The web app usually has the most comprehensive settings, though the iPhone and Android apps can also let you see who is accessing your accounts.
We'll go over the streaming services you might want to check out based on their popularity, according to the most recent statistics. We're starting with Netflix because it's still the most popular streaming service in the US, and the only one that's currently looking to profit from password sharing.
Netflix
Netflix is the first streaming service to crack down on password sharing. This is the only service you have to worry about right now.
To see who is sharing your password, load Netflix in an internet browser
Head to your Account
Go to the Security & Privacy
Click on Manage access and devices to see the devices logged into your account
Click Sign out on any of the users you want to remove from your account
A "nuclear" Sign out of all devices option is available in your Account if you need to remove all devices, yours included. You'll also want to click Change password if you choose this option.
Amazon Prime Video
If you have Prime Video, you might also be sharing the password for this streaming service. And you might want to control who has access to it.
Load Amazon Prime Video
Click Account & Settings
Look for Your devices to see who is logged into Prime Video
Click on Deregister if you want to remove users from your profile.
Like other streaming services, you'll have to be the account owner to remove users who might share your password. And once you remove the users, you'll want to change your password. While we're at it, you'll want to choose different passwords for Netflix, Disney Plus, HBO Max, Prime Video, and other services.
Disney Plus
The process is similar on Disney Plus. You'll want to load the service in a browser and select your Account.
But Disney doesn't offer the same granular control. You only have the Log out of all devices option available. Since Disney isn't enforcing any password sharing rules, you don't have to worry about removing anyone from your profile.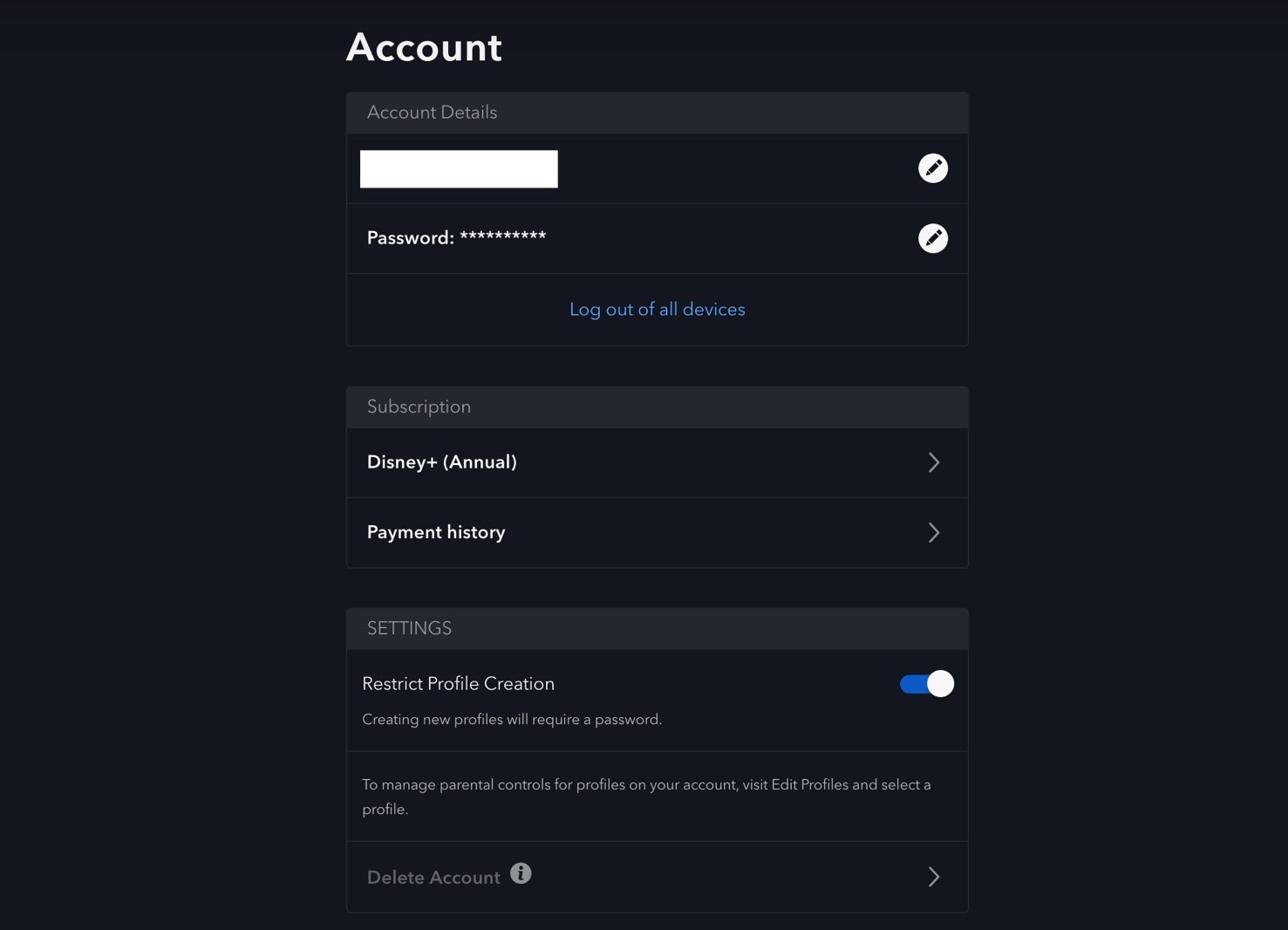 Max (aka HBO Max)
Max, formerly known as HBO Max, isn't looking to stop password sharing anytime soon. But you can remove users you've shared your password with just as easily.
Go to the Max / HBO Max website
Click on your profile
Head to Settings
Look for the Devices section
Click Manage Devices
Select X on the ones you want to remove
Like Netflix and Disney Plus, you also have a Sign all devices out option.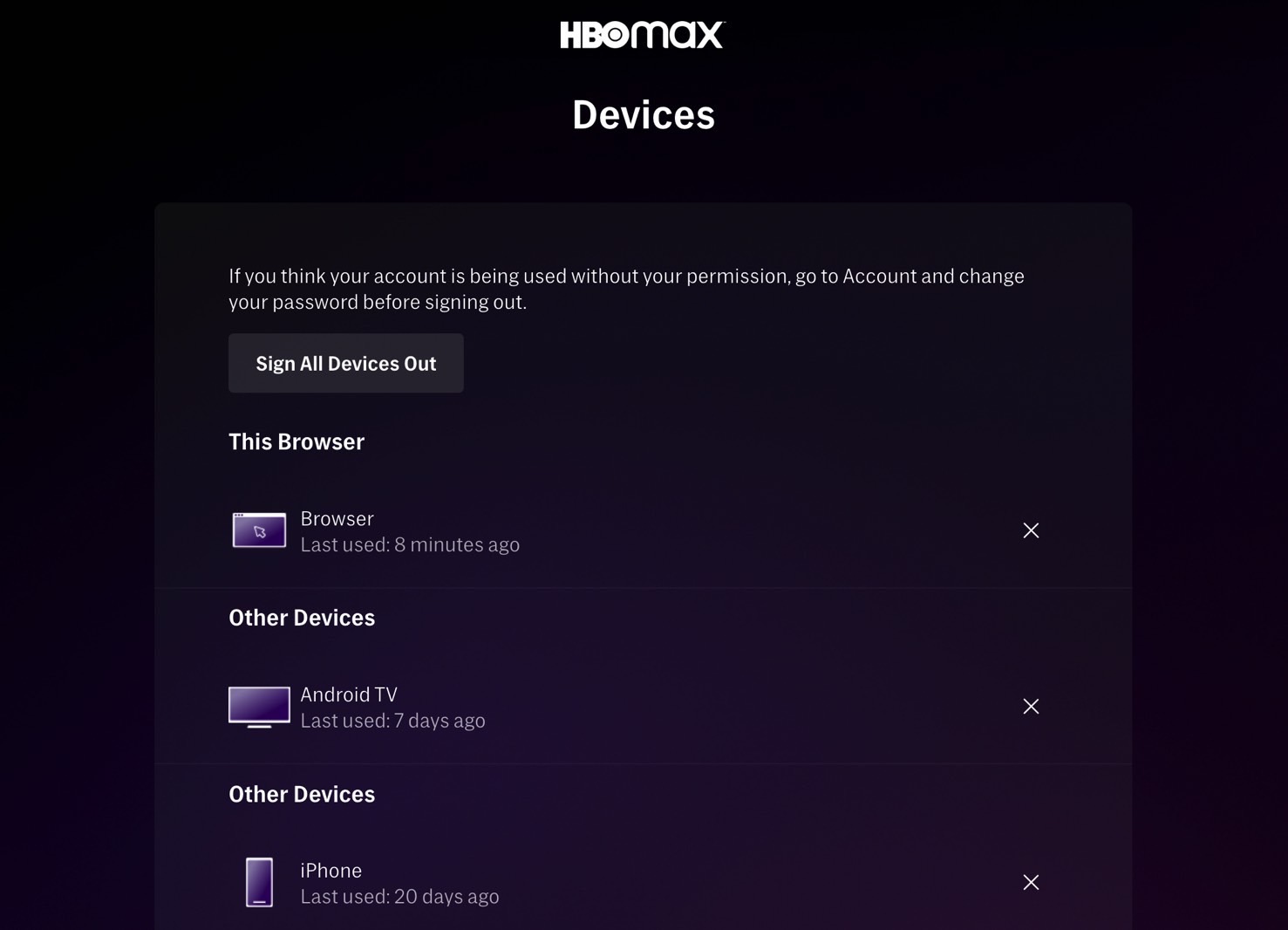 Hulu
Hulu is another Disney streaming propriety that lets you manage account access with ease as well:
Load Hulu on your computer
Go to your profile
Click on Account
Go to Manage devices to see all the users accessing your Hulu subscription
Click on Remove to get rid of any device you don't want in that list
Apple TV Plus and Apple Music
Your Apple TV Plus subscription works a bit differently than the other streaming services. That's because it's tied to your Apple ID account, which manages everything on your Apple devices. But you can remove users who have access to Apple TV Plus and Apple Music from your account.
You'll have to go to your Apple ID page or section in the Settings app on iPhone, iPad, or Mac.
Click on Devices
Select a device in the list and click Remove from Account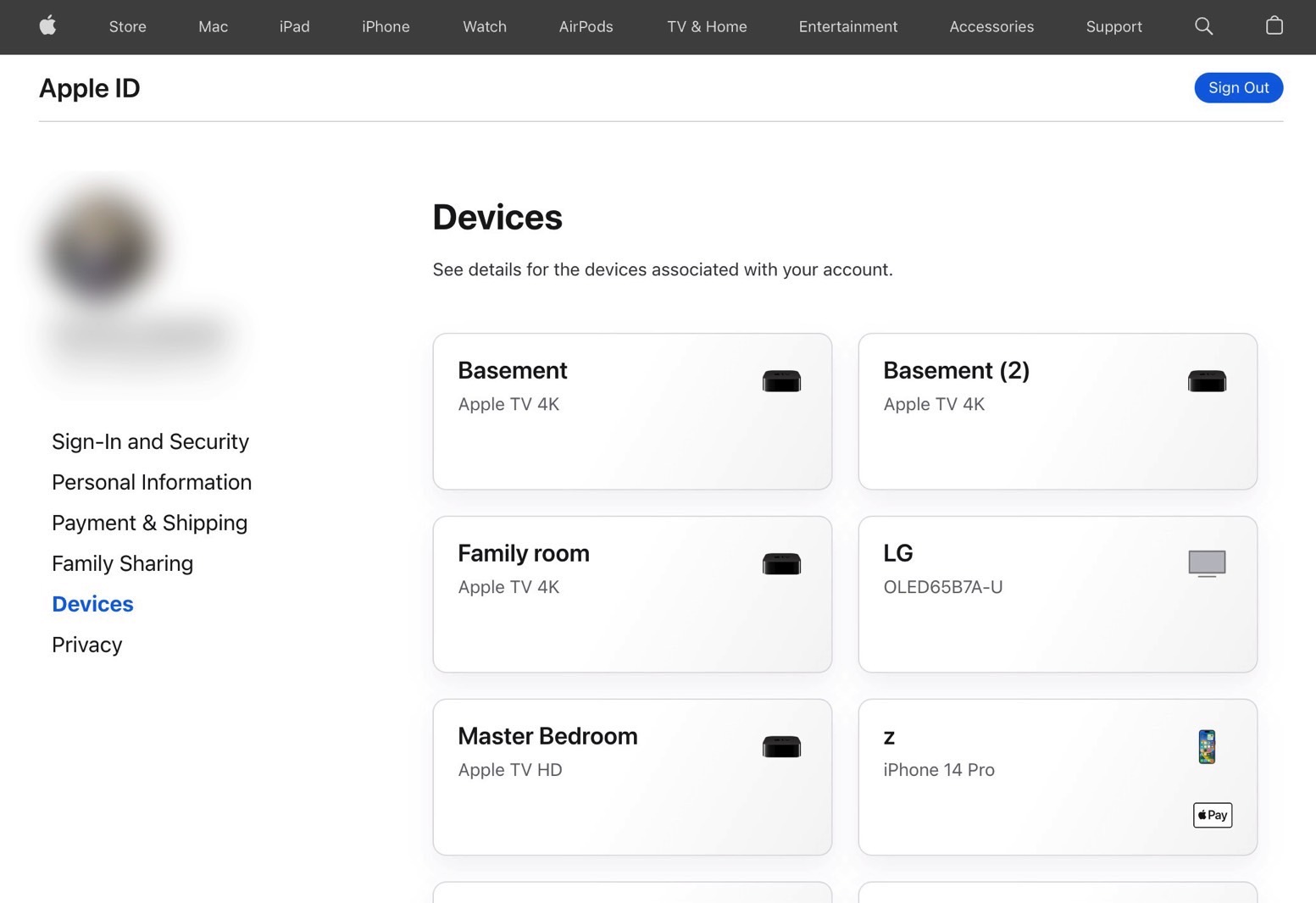 YouTube TV and YouTube Music
Like Apple streaming services, Google's YouTube TV and YouTube Music apps are managed from our Google account. You'll need to load your account to make changes.
Click Settings
Select Your Devices
Click Manage all devices
You'll have to select a device and choose Sign out
Peacock
If you're subscribed to Peacock, there's a chance you're sharing the password with others. Like other services, your account lets you kick off the users/devices you think don't belong there.
Load Peacock
Go to Account
Choose the Devices menu
Click the Sign Out All button.
Unfortunately, Peacock doesn't let you remove devices one by one. So you'll have to log in again on all your gadgets.