In just a little over a week, all the river of Galaxy S8 leaks will finally run dry, as Samsung is set to unveil the handset during an Unpacked press conference scheduled for March 29th. Until then, however, expect to see a daily barrage of Galaxy S8 leaks and rumors mixed with the occasional official Galaxy S8 announcement and new teaser with. Following the numerous leaks we've seen over the past few days, a new press render showing the Galaxy S8 in various colors was posted online, just as Samsung shared a brand new Galaxy S8 clip in its home country of South Korea.
Well-known smartphone leaker Evan Blass posted an image collage on Twitter that shows the Galaxy S8 from every possible angle. As far as colors go, we're looking at the Orchid Gray and Black Sky versions of the phone in the following image.
— Evan Blass (@evleaks) March 20, 2017
The press renders highlight Samsung's gorgeous design for the phone. We've got a massive curved display with narrow bezels, no home button or Samsung logo on the front, and a fingerprint sensor placed on the back next to the camera.
Samsung might not be ready to release any press renders of the phone at this time, but it just posted a new teaser video and poster in Korea.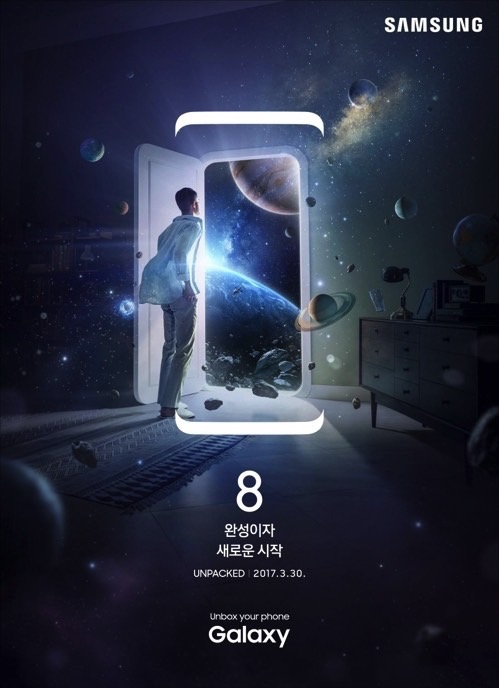 The poster, featured on The Korea Herald, shows a person standing next to a smartphone-shaped door that opens right into space. The slogan apparently reads "Completion and a New Start." The device will deliver "never-before-seen experiences," according to the teaser.
Samsung's new 16-second clip matches the poster, and was uploaded on the Samsung Mobile Korea YouTube channel on Monday: