The Galaxy S10 is widely expected to feature an in-display fingerprint sensor, a feature Samsung has been working on for a few years now. The Galaxy S8 was first rumored to get it, but Samsung kept delaying the launch of a flagship with an in-screen fingerprint sensor on account of various development issues. A series of reports have said in recent months that up to two of the three Galaxy S10 models launching next year will feature in-display sensors, and now we have more evidence Samsung is indeed working on such screens.
A Samsung patent application titled Electronic Device Comprising Biometric Sensor, filed in April with WIPO and published on Thursday (via GalaxyClub), describes technology that would allow Samsung to include a fingerprint sensor within the layers of the display.
The following image shows a device that looks a lot like the Galaxy S9, complete with an Infinity Display design and curved edges. What's interesting about the diagram is that it shows a display that folds beneath itself to connect to the logic board. That's an ingenious design trick that Apple used on the iPhone X phones to eliminate the bottom bezel. Samsung, of course, is aware of the design, given that it makes iPhone X/XS displays for Apple and Apple was the first company to do this in a widely available smartphone. Also interesting is the fact that the device still features a bottom bezel.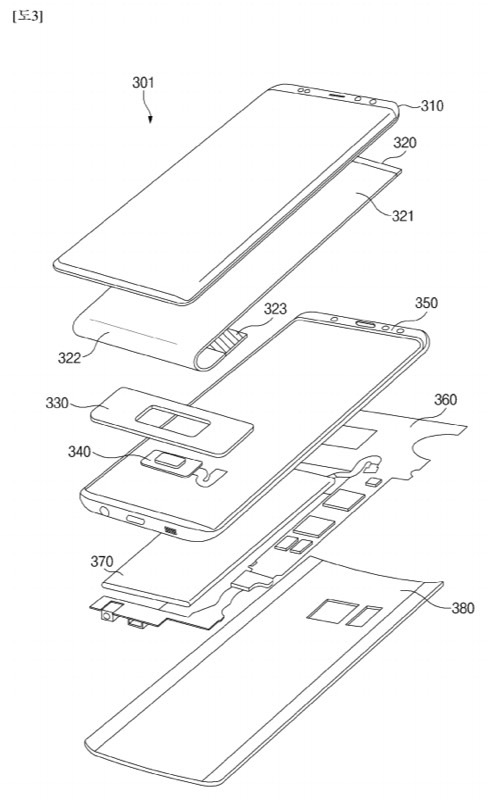 The drawing, however, doesn't necessarily tell us what the Galaxy S10 will look like. What's important in these images is the fingerprint sensor that's placed under the screen near the bottom of the device.
The image above shows that an optical fingerprint sensor and an image sensor would be stacked under the display. The text specifically says that the device may read fingerprints with the help of an optical sensor. That's the most popular type of in-display fingerprint sensor for smartphones right now. But recent reports said the Galaxy S10+ might feature a more advanced ultrasonic sensor, which is a sensor that reads a fingerprint using sound waves instead of optics. The patent application does mention that the display may include an ultrasonic touch panel, but that's about it, focusing mostly on optical sensors.
While not all the technology described in patents ends up in commercial products, it's likely that Samsung will add an in-display fingerprint sensor to the Galaxy S10 series next year. The alternative is falling behind competitors that are getting more dangerous than ever.