Available on pretty much any platform that matters aside from Android, Fortnite is a monster hit with gamers right now. The game should launch soon on Android too, but word on the street is that it might be a Galaxy Note 9 exclusive for the first 30 days. But we have even worse news than that, and it might even be a deal-breaker for some Android users.
After tinkering with the source code from the Fortnite Mobile page, xda-developers discovered that Epic Games plans to instruct users on how to download and install the game on their Android smartphone. Sadly, the instructions do not consist of a simple link to the Google Play Store that would let people download the game.
Instead, users are told how to sideload the app on a device, which means installing the app directly from a browser. Redditor thesbros was able to display the images that would walk someone through the install.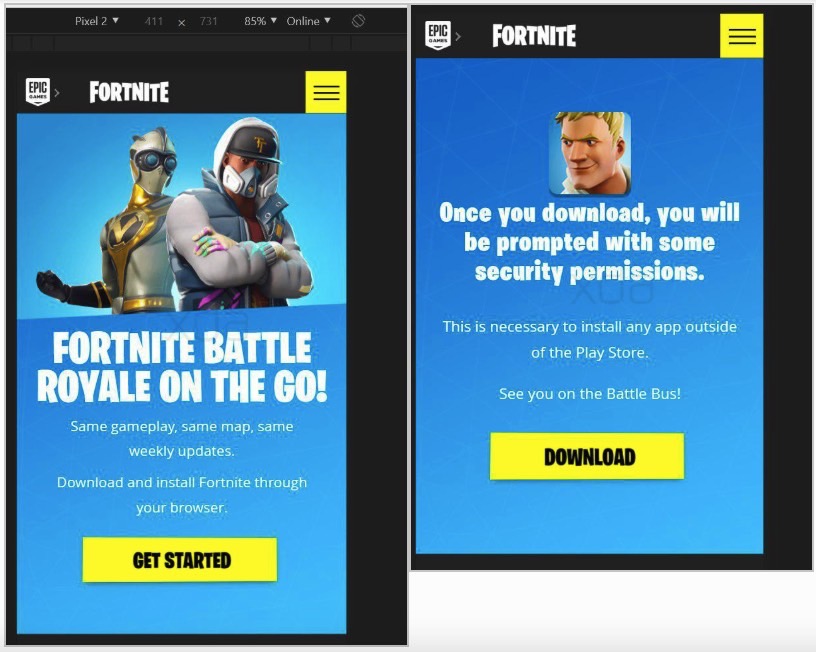 As you can see, Epic seems to encourage users to allow the installation of apps from unknown sources on their phones. This is necessary, the page reads "to install any app outside of the Play Store."
This sort of walk-through implies that Epic doesn't intend to provide the game via the Google Play store.
Why would Epic do such a thing? We'll have to wait and see if bypassing Google's app store is indeed what Epic ends up doing. But it's certainly not great news for Android users. Especially if Epic is doing it out of greed, to avoid paying the 30% fee for in-app purchases to Google.
More importantly, allowing apps on your phone from other sources is a bad idea because it opens the door to unwanted consequences. Many people may be tech-savvy enough to do this, but not all of them, and especially some children. Also, if this is the way to install Fortnite on Android, you can bet your V-Bucks that hackers will want to create fake Fortnite games for Android to try to fool unsuspecting users into downloading malware on their devices.
Comparatively, on iPhone you can install Fortnite straight from the App Store, which means Epic does pay 30% to Apple on its platform. Hopefully, Epic will launch the game via the Google Play store eventually, and there'll be some reasonable explanation for this discovery.