Bitcoin dipped below $10,000 on Thursday, for the third time in a matter of weeks, taking the whole crypto market down with it. New regulation news from India coupled with worries about Tether, a cryptocurrency tied to the dollar, may have been the catalysts of the new drop.
Earlier this week, South Korea announced that it won't ban exchanges in the market, but that only Koreans who register real bank accounts with such services will be able to trade coins. Facebook also dropped an unexpected crypto bomb, banning all ads that mention digital money.
But Bitcoin kept dropping on Thursday, falling far below the $9,000 mark. As of Friday morning, it's trading just above $8,000.
Per CoinMarketCap, Bitcoin was trading at $8,229.75 at the time of this writing, which represents a 14.58% drop. All the other coins are tanking, and we're looking at severe drops in prices, all of them in the double digits.
Ethereum, which was the most stable during the January 2018 bloodbaths trades at over $860 (a 22% drop), while Ripple slid well below the $1 mark — it's trading at $0.74, or a nearly 30% drop.
Even so, most coins are still profitable for those investors who bought in early on, as many are trading at prices higher that are significantly higher than just two months ago. That said, we're a long way from Bitcoin testing the $20,000 level.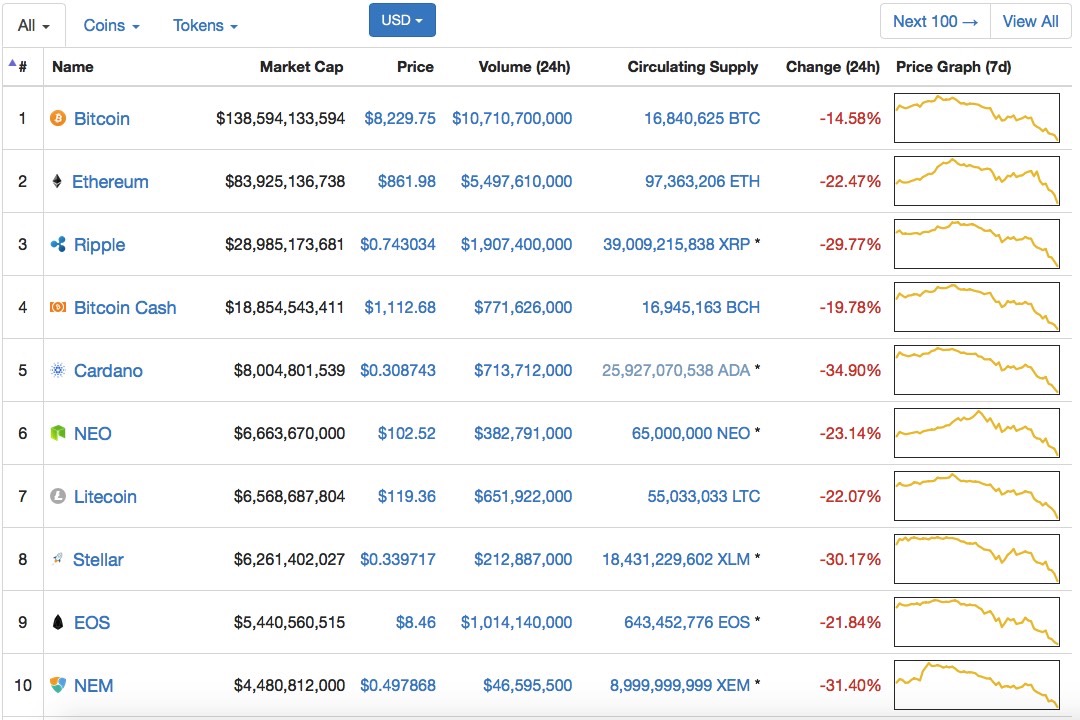 A look at the screenshot above paints a very bearish picture. Crypto investors are dumping stock at an alarming rate, as the panic over crypto trading regulation isn't over.
That doesn't mean the market won't recover in the future. But it might continue to slide on more bad news from regulators in the coming days.