How do you get the most out of your gaming experiences? You need to have all of the essentials for your system, obviously. But taking your talents to the next level requires a ton of skill, practice, and even more investment. Finding the right accessories for your system is what can make good players truly the best. Even if you're just someone who loves playing games at home and not competing in any kind of e-sports, you should stay up on what's currently the best options for accessories.
For fans of the Nintendo Switch, it is such a unique console that allows you to play wherever and whenever you want. With so many amazing games, there is a ton for you to explore with this gaming system. But if you want to take your Zelda or Mario playing to new heights, we've got you covered. We've highlighted the best Nintendo Switch accessories below for you to enjoy your gaming experience even more. So sit back, or stand up, and get ready to game.
BGR may receive a commission
What are the must-have extras?
You absolutely need a carrying case. You can't keep the Switch and all its stuff in the box that it came in forever. That makes it hard to bring with you places. You should get a spare charger, in case you lose your first one or it breaks. Storage for your games, if you actually get the physical items, is also a smart idea.
Is the console worth it?
If you're a Nintendo fan, it absolutely is. This has revolutionized the way you can game, as it makes it easy to play at home or on the go. There are great titles and tons of options for you to pick from. There's a game for almost any player here.
Best controller: Nintendo Switch Pro Controller
Pros: Eliminates the need for the Joy-Con controllers, HD rumble, motion controls
Cons: Certain situations are better for Joy-Con, expensive for an accessory
For nearly the entirety of gaming history, you had to hold a controller to play a game. With consoles like the Wii or the Switch, your controller was different than ever before. But if you're missing the traditional feel, check out the Nintendo Switch Pro Controller. It's the best controller because you don't need to worry about the Joy-Con controllers when you have this.
Rather than taking the Joy-Con controllers and attaching them to a handheld base, this is just a set controller you can use that doesn't include the Joy-Con. You can also use this whether you're playing on a TV or in handheld mode. This is easy to use with an amiibo and it comes with a charging cable (USB C to USB A). It includes motion controls and HD rumble, among other settings. You can also get a Xenoblade Chronicles 2 version of the controller.
Best Nintendo Switch accessories bundle for traveling: Orzly Switch Accessories Bundle
Pros: Protects your Switch screen, multiple color options
Cons: Does not hold the OLED model
Get all of what you need to travel with your Switch when you pick up the Orzly Switch Accessories Bundle. You'll be able to bring the game to different levels as you travel along. If you're looking to up your gaming experience, a bundle pack makes a ton of sense, as you can put it through the works for hours of gaming.
This pack contains a travel case, a compact game cartridge case for up to four games, a comfort grip case, a USB charging cable, portable headphones, two tempered glass screen protectors, a stylus pen, a cleaning cloth, an applicator card squeegee, and two alcohol screen wipes. This will allow you to bring your Switch with you and keep it clean. The case comes in six different colors, so you'll be able to distinguish yours from someone else's. You can also add the individual pieces from Orzly if you want more of the same. The OLED console won't fit in here though.
Best adapter charger: YCCTEAM 39W AC Adapter Fast Charger for Nintendo Switch and Nintendo Switch OLED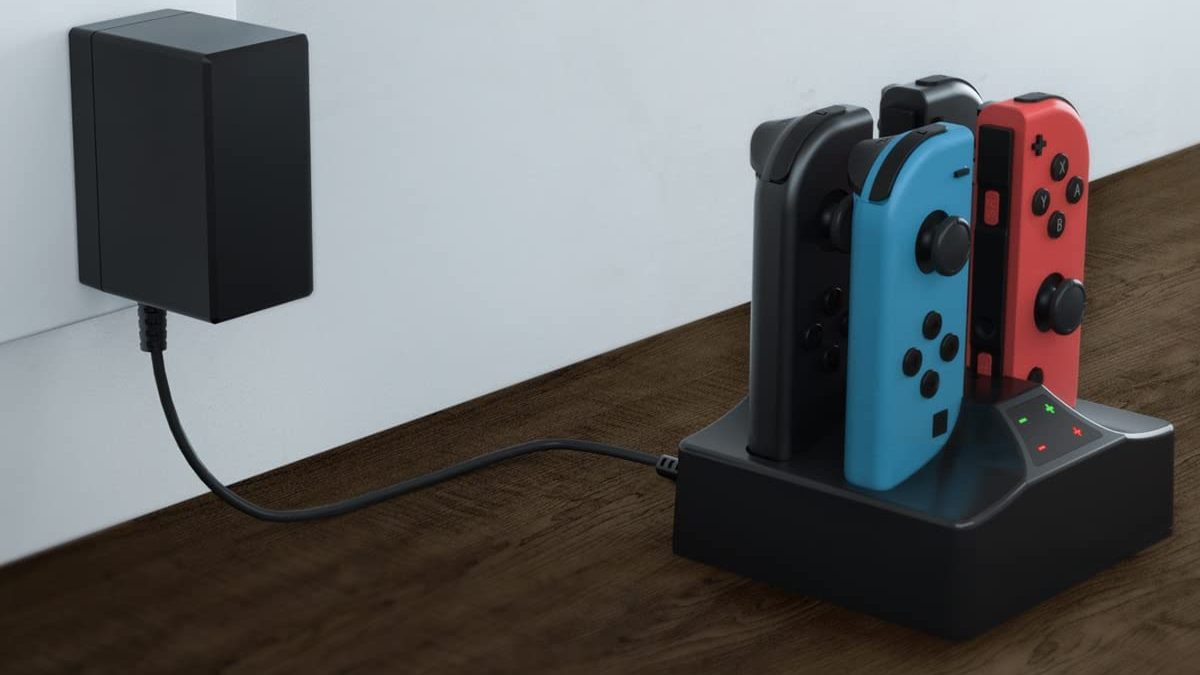 Pros: High-speed charging, can also charge Samsung and Google products
Cons: Some users have questioned the durability
Whether you have a Switch or a Switch OLED, you'll be able to charge it using the 39W AC Adapter Fast Charger for Nintendo Switch and Nintendo Switch OLED by YCCTEAM. It's a great second charger to go along with the one you receive when you buy a Switch. This is extremely simple to use, as it is compatible with the Switch, Switch Lite, and Switch Pro controllers. It supports Type-C charging.
It makes for a great replacement or backup charger because you'll get high-speed charging for 2.5 hours and you can charge it while you're powering it in dock mode or handheld mode. This is lightweight and will easily fit in your bag to travel. It has short circuit protection as well as over current, surge, and overload protection. The cord is five feet long. Some users have said the cord may not last after extended use. But for the price, you can't beat this as a replacement option.
Best grips: Skull & Co. GripCase Set
Pros: Helps avoid carpal tunnel, extremely soft
Cons: A little pricey
It's hard to find a Skull & Co. GripCase Set that doesn't work for you. That's because each set comes with three interchangeable grips to fit all hand sizes, allowing you to play comfortably. It will help you avoid any developments of carpal tunnel syndrome. These are meant to be added onto the console itself when you're playing in handheld mode.
The Nintendo Switch accessories set is dock-friendly, so you won't have to take them off before putting them into the dock. Made from soft material, it's comfortable to hold. It all comes with a spacious hard shell protective carrying case that fits your game cartridges, power bank, AC adapter, and two pins. This also comes with its own case for you to store your handheld Switch in. It works for all Nintendo Switch variations. You'll enjoy the eight colors you can pick from and the MaxCarry case that's included makes this bundle worth it. This set is a little pricey.
Best for Nintendo Switch OLED: Orzly Carry Case Compatible with Nintendo Switch and New Switch OLED Console
Pros: Fits original or OLED console, protects your screen
Cons: Be careful not to overload it
If you've been lucky enough to have gotten the Nintendo Switch OLED in 2021, then you need a place to carry it. The Orzly Carry Case Compatible with Nintendo Switch and New Switch OLED Console will do just that. This is one of the best Nintendo Switch accessories because it's incredibly travel-friendly and makes your portable console even more portable. You can fit the console, either original or OLED, and the upper section features a separate inner pocket. In that pocket, you can add extra JoyCons, cables, games, and other smaller products.
There is a hard EVA Yellow shell that keeps your device protected and free from scratches. There is a rubberized handle, making the case easier to carry. The heavy-duty zippers will keep it shut while you're using it. The compartment is quick to access and the screen will be protected while it's in the case. Also, this is water-resistant.
Best charger case: BigBlue 10000mAh Battery Charger Case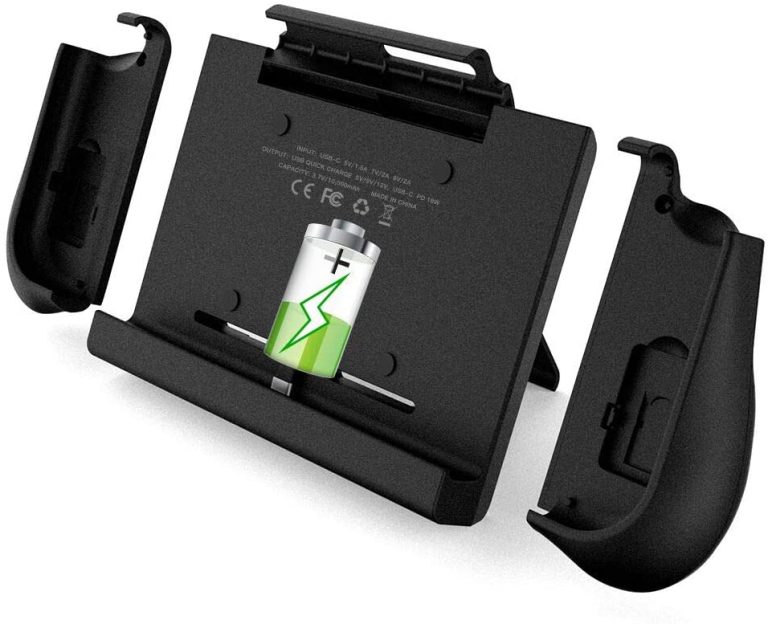 Pros: Adds 10 hours of charge to your Switch, kickstand included
Cons: A bit heavy
Don't worry about your battery dying when you have the BigBlue Battery Charger Case. This adds a 10000mAh battery to your Nintendo Switch, providing you with a boost when you need it. You don't need an extra carrying case, as this has slots for cards in the JoyCon grip. Both the charger and battery backup support PD3.0 fast charging. There is an improved kickstand and it can be moved to different angles, allowing you to play and watch more comfortably.
This features Intelligent Safety Protection and it supports over-charged, over-discharged, and short circuit protection. You can also use this with your smartphone, tablet, or e-reader. The ergonomic design grip is curved for your palm. It delivers a comfortable experience. However, the battery pack is a bit heavy, so you may feel a bit tired after a while.
Check out our picks for the best Nintendo Switch games!