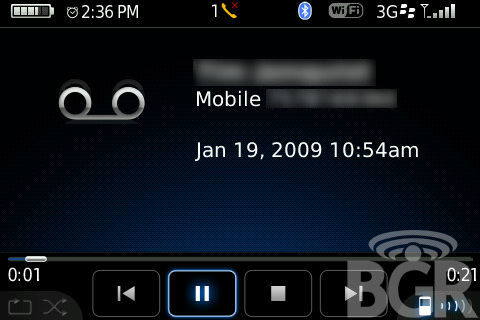 We just got a tip that while the upgraded BlackBerry Bold OS for AT&T won't be released until Tuesday, the feature code for Visual Voicemail for BlackBerry handsets is in the system. You know what that means, right? If you're running a Bold OS that has the Visual Voicemail icon on it, you can call up your friendly AT&T customer service rep, ask them to add the Visual Voicemail feature to your account, and you should be good to go. We've confirmed this with one of our Bolds — let us know if you get it going.
Before we forget… this is a free feature for all BlackBerry Bold users.
Updated with additional information after the break.
Here are some quick features that the BlackBerry Visual Voicemail system will provide:
Store up to 40 voicemails for up to 14 days
Archive voicemails to device memory or on a microSD card
Forward voicemails as an MMS to other users or an email address
Save phone numbers in your Visual Voicemail inbox to your address book
Setup your voicemail including greeting right from the application itself