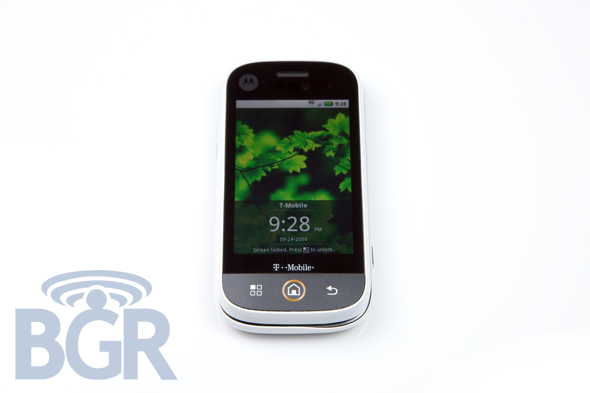 Motorola. Regardless of your brand loyalty, the aforementioned company changed the mobile landscape. Twice. First with the legendary StarTac and once again with the Motorola RAZR. Unfortunately, the RAZR by itself wasn't enough to keep propelling Motorola's mobile handset division forward for eternity. Here we are some five whole years later looking at what is Motorola's most important product (and upcoming products) in recent memory. Enter the Motorola CLIQ. We've been fortunate enough to have one or two units of our own, even though there's already been hands on sessions and a couple of reviews, we're finally ready to tell you about it. We labeled this as a preview instead of a full review because we're about two months out from launch. We'll follow up to this post with findings from a unit T-Mobile sends us if there are any differences and additional thoughts.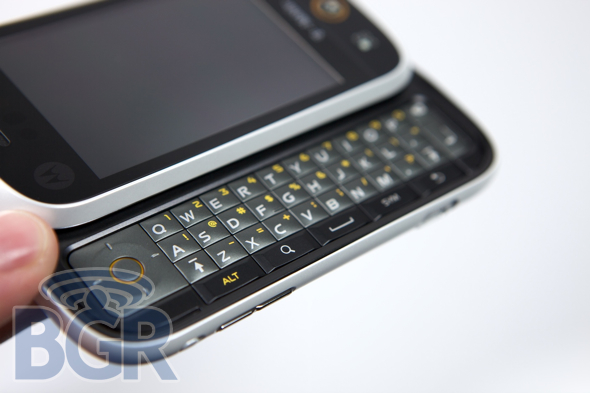 Hardware:
Motorola really hasn't been known as the most reliable company when it comes to manufacturing, but they've also previously dictated trends as far a cellular devices go. With that said, the Motorola CLIQ's hardware isn't a surprise to us. It seems decently solid, albeit a little cheap. Physically, buttons are spread nicely throughout the casing with a loud / vibrate ringer switch on the left side of the handset, volume bottoms below that, and a microUSB port just underneath that. On the right side there's a power / lock and unlock button (one key for all three actions) followed by a two-stage camera shutter key. On the front of the device there's a menu key, home key, and back key. Pretty simple and clean.
When you slide the display up to reveal the full QWERTY keyboard (the slide mechanism is very solid and fun to use), you get access to more Android-specific keys as well as a 5-way directional pad. There's a dedicated search key and a back key, but what's a really nice design touch is the alt key.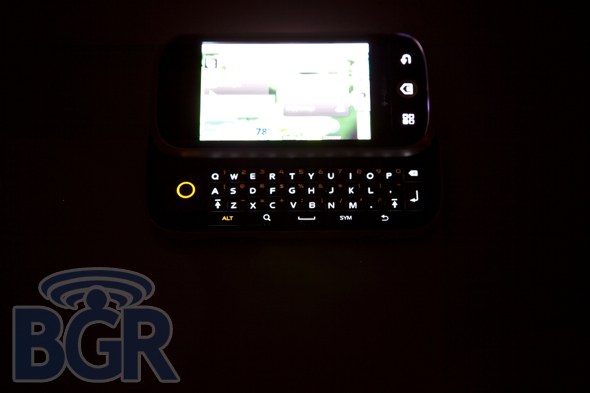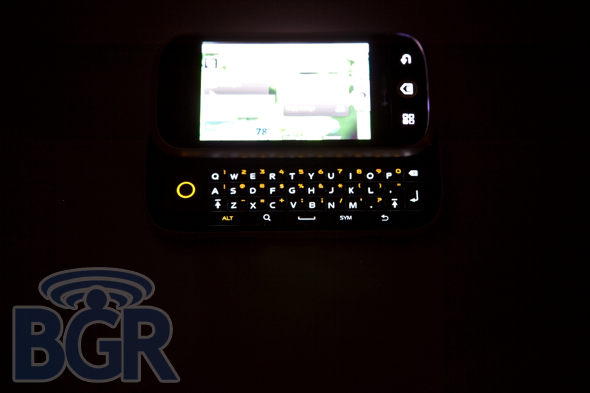 No, the alt key itself isn't anything special, but when the backlight on the keyboard is active and you press the alt key, the alternate numbers and symbols on the keyboard independently light up. Very cool. (This doesn't seem to be the case on the titanium version of the CLIQ).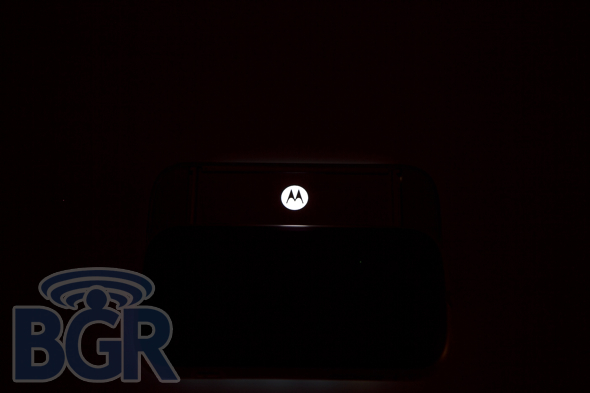 Plus, who could forget to mention the glowing Motorola symbol on the back of the display? That's right. It's a blatant rip on Apple's notebooks and we love it.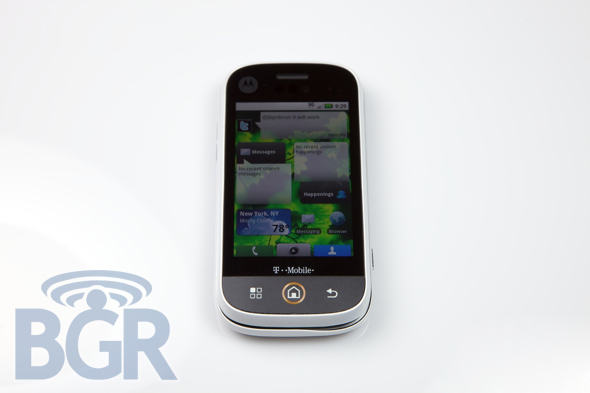 Screen
With a 3.1″ capacitive display, it's a little tough to completely fall in love with the screen even though it's one of the best as far as capacitive ones go. The smaller size of the display really affects usability and the on screen keyboard shows this issue the best — Motorola had to use even smaller on-screen keys for the keyboard. It's plenty responsive but without multi-touch, it just feels primitive to say the least in some applications. The screen itself is definitely bright enough and pretty accurate in the color space, though it's a little pixelated for our tastes.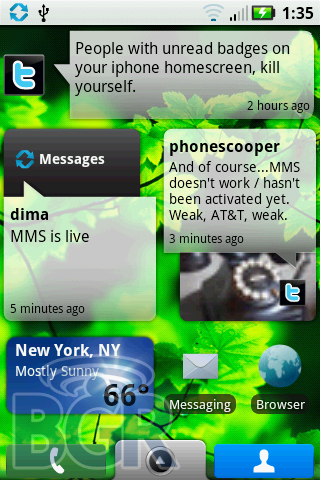 OS:
Motorola did something pretty smart with their customizations — unlike HTC's Sense UI, we don't believe there's a complete skin (extra process) running on top of the regular Android OS. Instead, Motorola uses widgets to display live information on the homescreen of the device and their other customizations seem to be OS-deep. This speeds up the entire phone dramatically. They even modified the Android homescreen to display 5 pages instead of 3, again, without having to run a process on top of the existing OS.
What's not so good about the CLIQ's software is that everything is disconnected and nothing really flows. For example, you can update your Facebook status, but there's no way to see your previous statuses in one place, or even refresh the latest status manually. So, if your phone is powered off and you just updated your status from a computer let's say, then powered the phone on, it shows your last update from the handset but not from the web. Not unless you let it refresh on it's own schedule which can sometimes be never. The whole refreshing thing automatically is a little wonky, but again, that might just be not final software talking.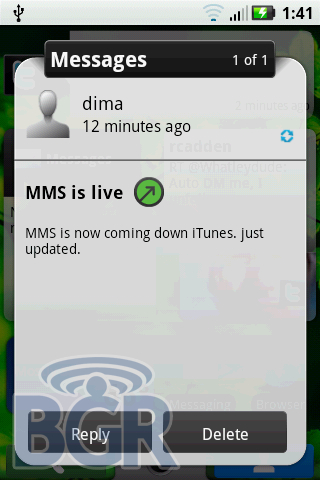 The Happenings application is a valiant effort to combine your social networks into a tidy timeline, but from our usage of it, it's pretty clunky, slow, and lacking some features. What Motorola should have done is build more custom applications a la HTC's Peep Twitter application because Happenings isn't really cutting it when there are 500 updates. You can also forget about flicking through 500 updates in single view mode when you launch a friend's update from the homescreen widget. The base concept here is awesome, it just needs some refining to make it usable in high-volume situations (read: lot of status updates/messages)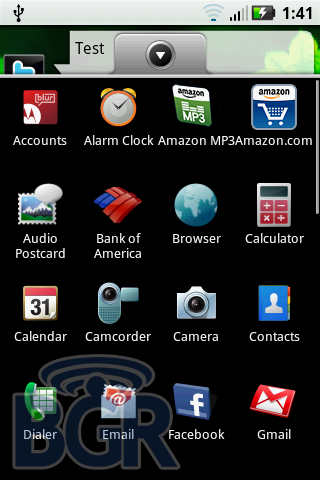 We think the execution is a little flawed for anyone with more than 20 friends total out of Facebook, Twitter, MySpace, etc. While trying to simplify their creation of widgets infused with status updates and linked contacts, Motorola in our opinion has made it even more difficult to manage your social life from this handset. Things like be able to manually refresh these updates and statuses, or even allow menu-based actions would be a plus. If you go into a single "happening" and press the menu key, nothing happens. No "reply", "email", "call" selectable options — nothing, even though that contact is in your address book and linked with all their other networks and contact information.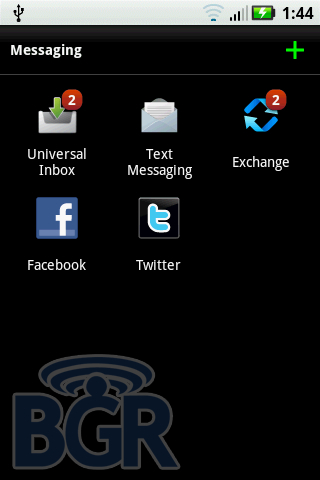 Another problem is how the CLIQ's BLUR OS treats different forms of communication. For instance, Twitter isn't like email. Mentions if anything are more a form of direct communication that I'm interested in, not direct messages. The CLIQ only has an inbox for direct messages and there's no way to see aggregated Twitter mentions. I swear the people that created this phone barely use Twitter or Facebook for anything meaningful…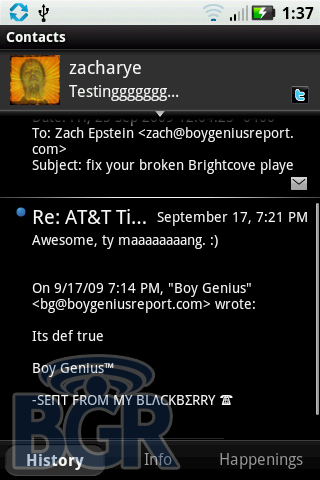 Thankfully there's built-in Exchange support which will lovingly sync your mail, contacts, and calendars. Unfortunately, the fastest refresh internal is a whole 15 minutes and push email is no where to be found inside the Exchange program. Hopefully that's because our unit might not be running final firmware, if it's not, then well… yeah.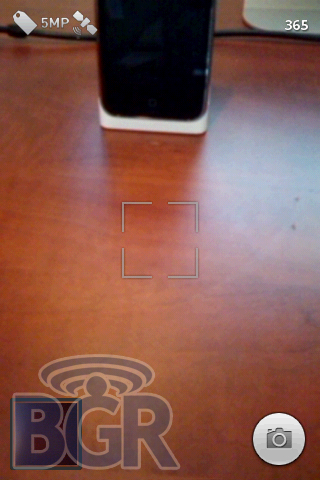 Maybe Motorola could have used the lock screen on the device to give previews of unread status updates, messages, notifications? There's a ton of ways to properly integrate social services and while this is a decent attempt, its clunkiness we think will turn off any user looking to do more than lightly communicate with a select group of friends.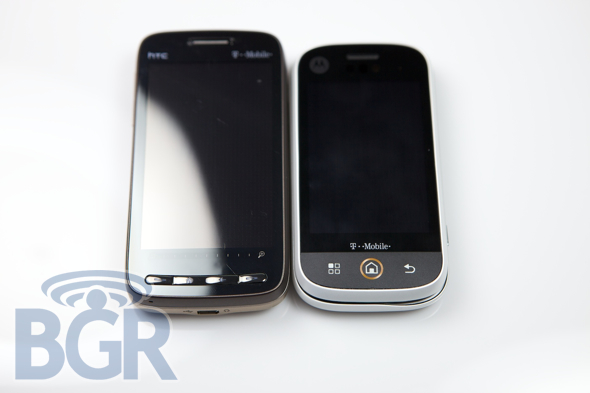 Phone:
Using the phone was surprisingly pleasant. There are no send/end keys on the device (physically, at least) and it's a little different than what we're used to for a Android phone. The built in voice dial/command function is absolutely brilliant and we fell in love with the virtual number pad. The phone app is one of the areas on here where you've got a lot of different options. Sorting by all calls, missed calls, outgoing calls, frequent called, recently called, and more are all some of the ways you can access your phone logs and contacts quickly and efficiently. In terms of incoming calls, you not only get the person's name, number, and photo (if available), you also get their latest status update from whatever service that contact is linked. Sooo cool. We can't believe no one has done this before (yes, we're looking at HTC right now). In terms of actually using the phone to talk on, calls sounded pretty clear, though it wasn't the best phone we've ever talked . Speakerphone was definitely loud and surprisingly clear with callers being able to hear us well, and we could hear them fine and have a normal conversation. Just as you'd expect from a phone…
Keyboard:
This is tough. Early reviews have said that the keyboard of the CLIQ was fantastic. We have to unfortunately disagree. It's decent. Definitely usable, just not something we'd want to bang on all day and every day. The buttons are hard, cheap plastic, and while there is some tactile feedback when you press a single key, it doesn't "bounce" back up and it's a little unsettling.
The space bar on our unit has practically no feedback and since this is a sliding phone, the keyboard is sunk into the case which allows for the handset's shell to rise slightly above the keyboard. The 5-way directional navigational pad suffers from the same common issues as the keyboard — not enough feedback. Childrens will have no problem with it, but anyone over the age of 12 might take issue to the keyboard. We'll see.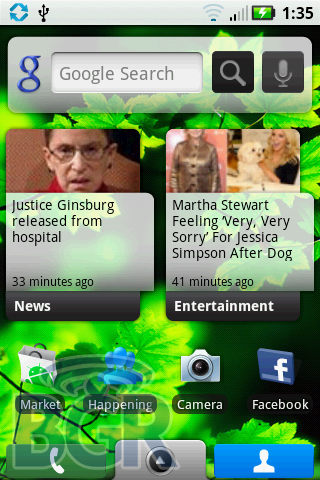 UI:
While widgets are what spices up the homescreen of the CLIQ, Motorola also decided to blend contact information from all your different social networks together in a clean and useful live address book. Think of it as Synergy on the Pre, just executed a lot, lot more intuitively. For one, you can hide and view different networks if you don't want to see every single Facebook friend or Twitter account you follow.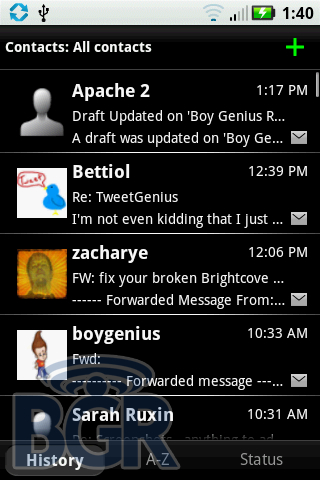 In terms of being intuitive, there a little UI work on here — Motorola has customized some default Android graphics and thrown on a custom color scheme, they've also overhauled the address book with a nice skin, but a lot of it is more application-centric.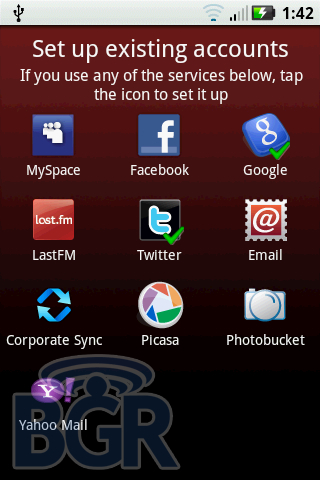 We mean instead of there being an actual user interface on top of Android, there's applications like Motorola's unified inbox, inboxes for your social services like Facebook, Twitter, MySpace, etc., widgets on the homescreen with popups, and things of that nature.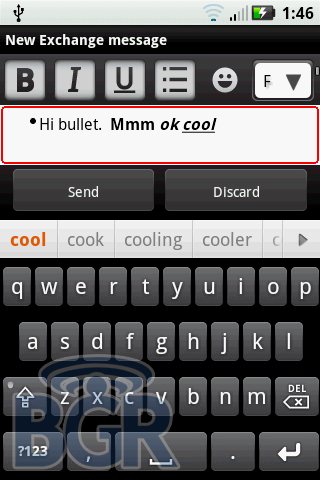 Something very cool about the Exchange email program, though, is that you actually have a font editor. You can bold, italicize, and completely format text. It's really neat if not completely useless, but cool nonetheless.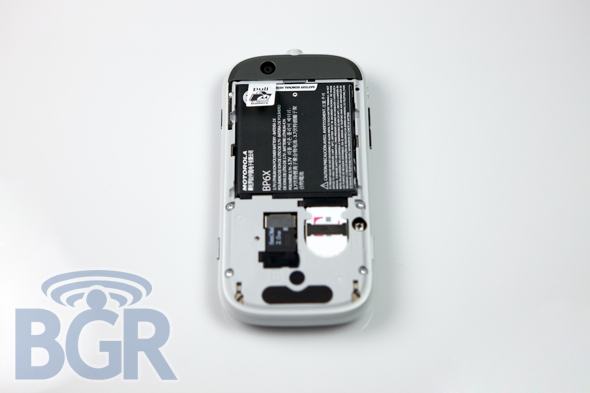 Battery:
Not even joking when I say this — the Motorola CLIQ has possibly the worst battery life of any phone I've tested in recent memory with the current software. Maybe Motorola's BLUR back-end isn't optimized yet, maybe the phone software isn't final, but this is ridiculously bad. Especially since it doesn't even deliver your status updates when you want them, it just sits there pulling in data constantly updating in batches. I haven't used the device as a primary device so I couldn't give hard statistics on battery life when phone calling, but with on and off usage, it's ridiculously bad. The battery itself looks to be 1390mAh for those that are interested.
Again, let's hope the software isn't prime time.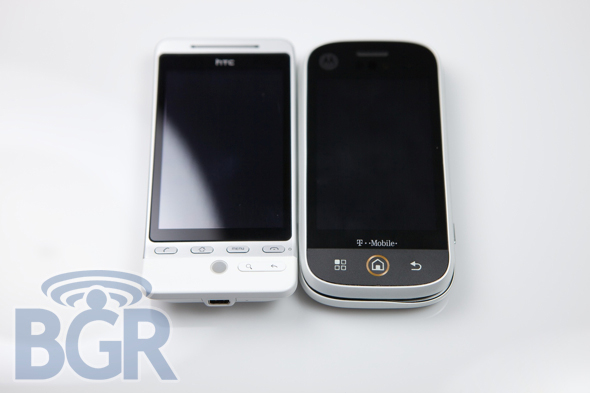 Conclusion:
The Motorola CLIQ isn't a StarTac. It isn't a RAZR. It's a decent phone with a great concept. A concept that unfortunately wasn't executed as well as it should have been when the entire industry is watching. We feel that the Motorola CLIQ's appeal will be to the young teen market as opposed to consumers as a whole like other Android handsets. It's only the first phone from Motorola and their new initiative, and they deserve credit for putting together something this unique and creative. Yet compared to something along the lines of HTC's offerings, we don't think many people are going to spring for a clunky Android handset regardless of price.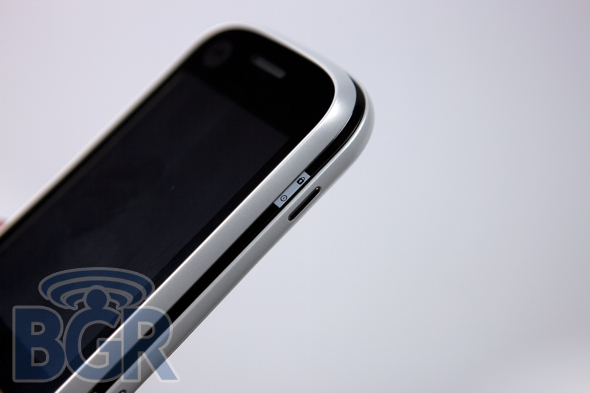 It's annoyingly slow at times — really hope this isn't final software — has very little user-customizable settings where you need them (something ironic for a handset that actually does offer a real attractive "connected lifestyle" concept) and has to be pretty low on the totem pole as far as market positioning is concerned. There's the Motorola Sholes which is said to be extremely high-end with a fusion of aluminum and other metals launching on the Verizon network (as well as a Euro 3G unit we're told) which is completely opposite of the CLIQ, and that interests us as far as what Motorola is up to.
Motorola was and still is one of our favorite tech companies. This is only their first handset since they did a little spring cleaning and it's decent. I'm really hoping the software side of things dramatically improves as we get closer to a release, but with less than two months to go, I'm not sure it will happen. We know not everything you wanted to hear about was covered in this preview write-up, so hit us in the comments with any questions and we'll update the post with answers. We've also reached out to Motorola's PR team and are waiting to hear back from them to clarify some information like the software version and other fun stuff.
UPDATE: We've been informed this unit is definitely not running the final OS.