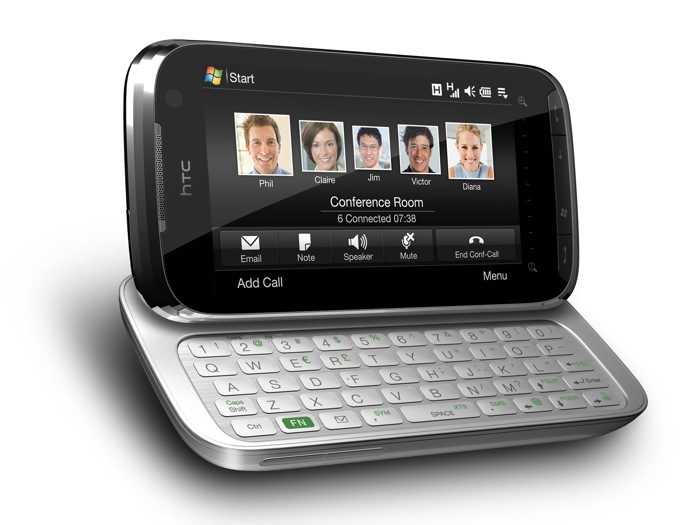 Remember that leaked HTC 2009 roadmap? Well, it turns out, that thing was pretty spot on. HTC has just gone and announced updates to their ever-popular handsets, the Touch Diamond and Touch Pro. The Touch Diamond2, as you might have guessed, is the new Touch Diamond. It adds a larger display (3.2″ WVGA with touch sensitive zoom bar), a new and improved TouchFLO 3D and 5 megapixel camera. All in an updated and refined exterior casing.
Here's where things get really interesting, though… We were lucky enough to get some hands on time with the Touch Diamond2 and Touch Pro2, but oh boy, the Touch Pro2 really stole the spotlight. We're talking about Windows Mobile phone of the year and it's only February! The Touch Pro2 is a mash-up of the TyTN II, the Touch HD, and the Touch Pro (yes, the tilting screen is back). It has a huge 3.6″ WVGA screen, one of the best QWERTY keyboards we've ever seen, a brand new TouchFLO 3D (it includes HTC's Straight Talk which combines all communication into a fluid UI. Think Palm Pre-esque) and a really cool feature that activates the speakerphone when the phone is flipped upside down. Oh yeah, there's a mute button on the back of the device for when you want to mute the conference. Awesome. Sadly the camera did not get upgraded to 5 megapixels (something that really would have absolutely sealed the deal) but there's always the Touch Pro3. Nokia N97, what?
Look for both handsets to start appearing in Europe around the start of Q2. Hit the jump for more images and full press release!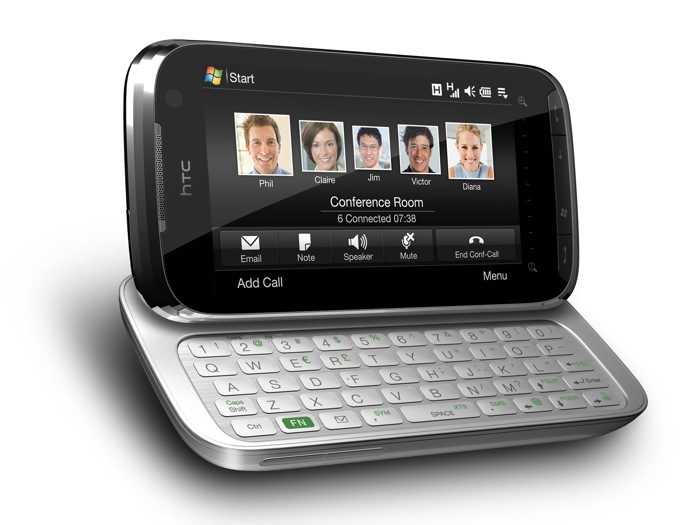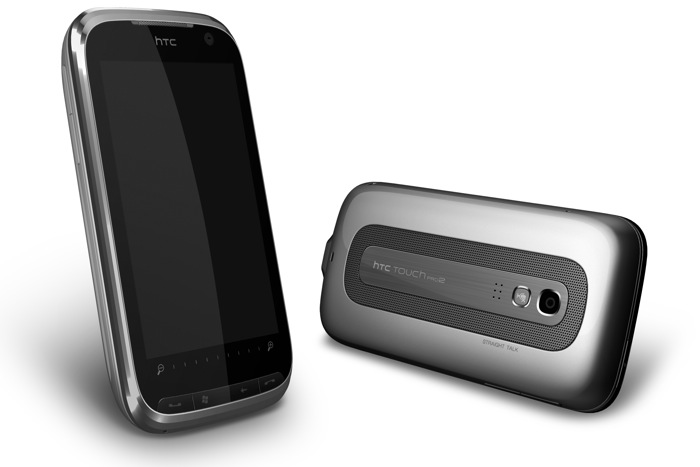 new HTC Touch Diamond2 and HTC Touch Pro2 SIGNAL a new wave in communication
New phones simplify information access with HTC Push Internet and unify personal communication with single-view contact integration

BARCELONA — Feb 16, 2009 — HTC Corporation, a global designer of mobile phones, today unveiled two new flagship devices, the HTC Touch Diamond2ä and HTC Touch Pro2ä. Integrating innovative simplicity with unique style and an intuitive interface, the devices balance function, form and cutting-edge technology to personalize the communication and mobile Internet experience.
"The HTC Touch Pro2 and HTC Touch Diamond2 introduce a mobile communication experience that simplifies how we communicate with people in our lives whether through voice, text or email,…#157; said Peter Chou, president and CEO, HTC Corp. "HTC is delivering the latest, cutting-edge sophistication in a broad portfolio of mobile phones that improve how people live, work and communicate.…"
HTC TouchFLO 3D Integrated with Windows Mobile
The HTC Touch Diamond2 and HTC Touch Pro2 utilize HTC's latest TouchFLO 3D interface. TouchFLO 3D has been more deeply integrated into a customized version of Windows Mobile 6.1 to deliver more consistency throughout Windows Mobile applications and menus. Focused on making navigation easier and more intuitive, TouchFLO 3D brings important information to the top-level user interface, including quick access to people, messaging, email, photos, music and weather. As part of this improved Windows Mobile integration the touch focus areas have been enlarged to be more finger-touch friendly.
BRINGING PEOPLE TOGETHER
With the HTC Touch Diamond2 and HTC Touch Pro2, HTC is introducing a new people-centric communication approach, providing a single contact view that displays the individual conversation history of contacts regardless of whether voice, text or email were used. This can be viewed from the contact card or the in-call screen during a phone conversation, ensuring the latest communication contact-by-contact is always at hand.
SIMPLIFYING HOW PEOPLE ACCESS THEIR INFORMATION
Continuing its commitment to making the mobile Internet easier and more enjoyable, the HTC Touch Diamond2 and HTC Touch Pro2 introduce HTC's Push Internet technology. HTC Push Internet alleviates slow downloading and rendering of Web pages on a mobile phone. Users can preselect their favorite Websites to get immediate access to them when needed.
HTC Touch Diamond2
The HTC Touch Diamond2 is the next step in the evolution of the successful HTC Touch Diamond. Crafted to fit perfectly into the hand, the Touch Diamond2 evolves the compact design and iconic style of the original HTC Touch Diamond. It incorporates a larger 3.2-inch high-resolution wide-screen VGA display for a greater viewing area in a design just 13.7mm thick. The phone also includes a new touch sensitive zoom bar for even faster zooming of Web pages, emails, text messages, photos or documents.
Leveraging HTC's TouchFLO 3D experience combined with a people-centric communication approach and HTC's new Push Internet technology The Touch Diamond2 offers an advanced touch experience that is optimized for one-hand use.
With fifty-percent better battery life, a five mega-pixel auto focus camera, expandable memory, gravity sensor and an ambient light sensor, the Touch Diamond2 brings the most sophisticated capabilities to a broad consumer audience looking for the professional benefits of a smartphone without sacrificing size, looks or functionality.
HTC TOUCH PRO2
Designed for business professionals, the HTC Touch Pro2 is architected with distinct style and strength while delivering the most powerful productivity experience available on a mobile phone. Leveraging HTC's TouchFLO 3D, people-centric communication and Push Internet technology, the Touch Pro2 features a high-resolution 3.6-inch widescreen VGA display for an expanded viewing area and large finger-friendly QWERTY keyboard. With improved battery life, expandable memory, a touch-sensitive zoom bar as well as gravity, proximity and ambient light sensors, the Touch Pro2 is optimized for touch as well as heavy email use.
Introducing HTC Straight Talkä for HTC Touch Pro2
The new HTC Touch Pro2 leverages voice in a new way to create one of the most sophisticated communication experiences found on a mobile phone. HTC's new Straight Talk technology delivers an integrated email, voice and speakerphone experience. Users can transition seamlessly from email to single or multi-party conference calls and turn any location into a conference room.
In addition to the new simplified calling experience, Straight Talk includes an innovative mechanical and acoustic design that features a sophisticated speakerphone experience similar to those found in corporate boardrooms. Straight Talk delivers a high-fidelity voice and sound experience enhanced by asymmetric speakers and advanced noise suppression with full duplex acoustics. When the Touch Pro2 is flipped over it automatically turns into a conference room speakerphone system.
Availability
The HTC Touch Diamond2 will be available to customers across major European and Asian markets in early Q2 2009 with broader global availability coming later in the year. The Touch Pro2 will be available across major global markets beginning in early summer.
About HTC
Founded in 1997, HTC Corporation (HTC) is a global leader in mobile phone innovation and design. Since its establishment, HTC has developed strong R&D capabilities, pioneered many new designs and product innovations and launched state-of-the-art mobile phones for mobile operators and distributors in Europe, the US, Asia and around the world. HTC is one of the fastest growing companies in the mobile device market. The company is listed on the Taiwan Stock Exchange under ticker 2498. For more information about HTC, please visit www.htc.com.
# # #
The names of companies and products mentioned herein may be the trademarks of their respective owners.