It almost feels like we've been here before. Apple launched a new product with almost the exact same exterior look and feel as the previous model, and almost all of the upgrades are buried deep within the device. Why can't Apple make a brand new game-changing form factor every year?! Steve Jobs was the best (even though the people who say this now used to talk shit about him all the time on forums and in blog comments when he was alive) and now that he is gone, Apple is done!













Well, we have been here before — just a few months ago, in fact. But the disappointment from people who get paid to write about tiny spec upgrades in Android tablets and smartphones didn't translate to the consumer as a whole. In fact, Apple's iPhone 4S is the company's fastest-selling smartphone ever, and its launch quarter was the most profitable quarter in history for a technology company. How does the iPhone 4S compare to the company's new iPad?
Apple invented the entire tablet category. I realize there were "tablets" before the iPad, I owned and used practically every single one of them. They were an embarrassment, mostly because of Microsoft's inability to customize Windows to take advantage of a new user input mechanism — a pen/stylus at the time — but also because Windows was constrained and forced to run on these pieces of junk with one-and-a-half hour batteries, fans, heat, and not a single application optimized for a tablet.
Since Apple has introduced the iPad, we have seen only one real competitor, and that competitor isn't even a competitor at this point. Think about this: people are so interested in tablets right now that Amazon has been able to sell a reused hardware design that previously failed in RIM's hands, just because Amazon understands Apple's success and was able to make an entire end-to-end ecosystem, and price it well below the iPad at $199.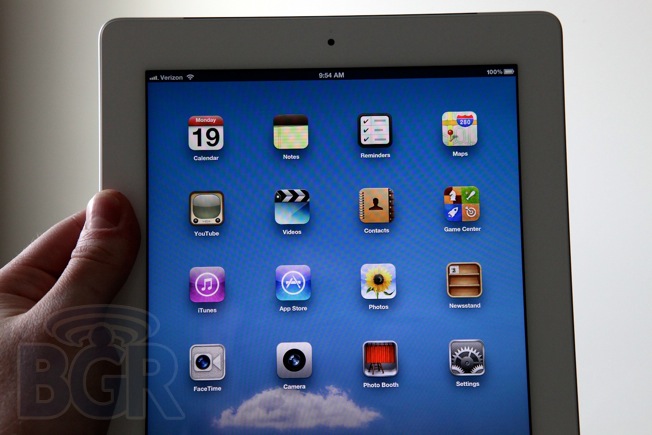 The new iPad is not a radical departure from the iPad 2. It would be difficult for most people to tell them apart by looking at them next to each other. Why is that a bad thing? The iPad 2 is the most successful tablet on the planet, introduced just one year ago in a category that did not exist just a year before that. Here's another way to look at it: the picture frame hasn't changed, but the painting is positively stunning.
As soon as you power on the new iPad, you're greeted by the most beautiful display you have ever seen. It's almost humbling, to be honest. It's the future, lovingly wrapped in a black or white frame with aluminum accents. I have never seen a display so clear, so bright and rich, so print-like. I actually think Apple was able to increase the color reproduction with the iPad's Retina Display compared to the iPhone's. Colors look ever more natural and real — look at the blue highlight color in a row in mail, for instance, and compare that to the same selection on your iPhone and you'll see what I mean.
The Retina Display continues what Apple set out to do with iOS, and that is to let any app transform your device into something completely different, and something you didn't expect. Yes, this includes ridiculous skeuomorphisms like the robot-inspired world in something like Tweetbot, hand-crafted bookshelves in iBooks, and even the tanned cow hide that's stitched together in Find My Friends. This is the essence of the world of iOS that Apple has envisioned ever since the beginning, and the one thing that all of the company's competitors constantly miss — people just want to dive in and go for a swim, they don't want to fiddle with snorkels and fins.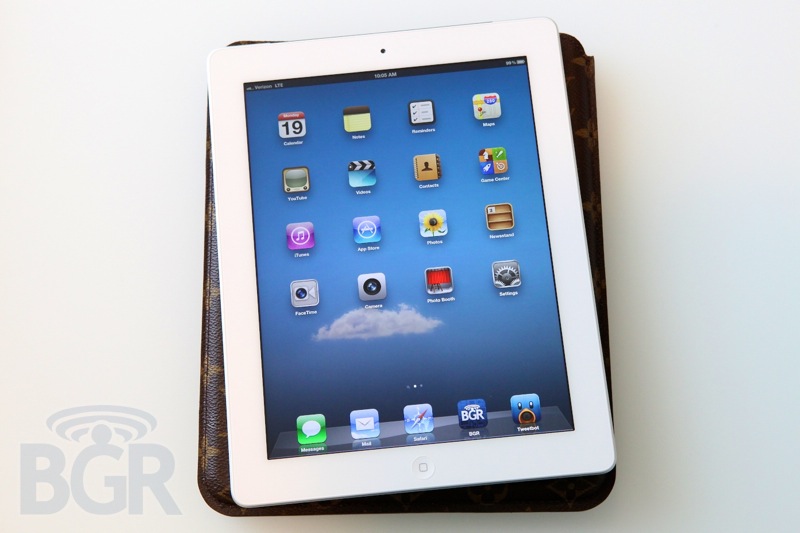 What's so impressive, technically, about the new iPad's display, is that Apple has been able to pack more pixels and a higher resolution than practically any display or TV you've ever used — there are over 3 million pixels in the new iPad's display, and its resolution is 2048 x 1536 pixels — into a screen that measures just 9.7 inches diagonally. To put that into perspective, if you have a 1080p TV in your home, its resolution is 1920 x 1080 pixels. Jumping back, a DVD's resolution is just 720 x 480.
I honestly didn't use the first iPad much at all. I absolutely loathed the iPad case Apple sold. It was impossible to take the tablet in and out of it, but more important, it was just a terrible material and I opted to not use it. This led me to not use my iPad much because I didn't ever have something to help it rest on so I could type. That changed with the iPad 2 and the Smart Cover. With the Smart Cover, I was able to fold it up and type, fold it back, or just rip it off and use the iPad how it's meant to be used — caseless, just in your hands.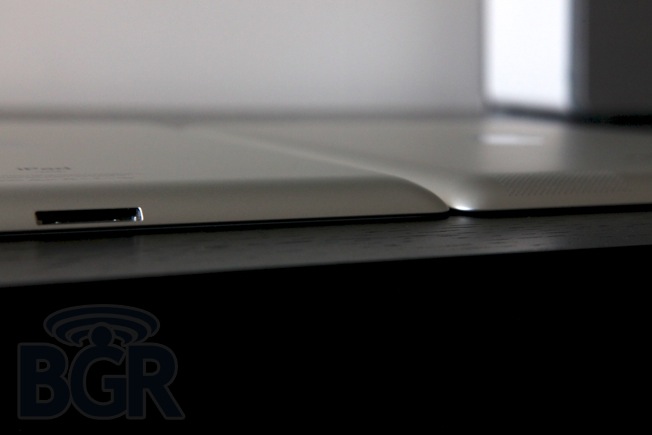 After receiving the new iPad, it took me a couple hours to actually get over the tiny weight and thickness trade-offs. I mean, the iPad 2 was perfect! It was thin! It wasn't heavy! And I was a little bit disappointed when I noticed the thickness and weight increase in the new iPad. After not using my iPad 2 and only using the new iPad though, I can't tell that this is a different tablet anymore. The craziest part is that if you look at the technical differences between the two, it's almost comical — the new model is 0.6 millimeters thicker, and 51 grams heavier. Putting both on a flat surface and looking at them from the side, it puts into perspective how negligible this really is.
While the Retina Display is a huge selling point, 4G LTE and the global aspect of the new iPad is definitely another. For the first time ever, Apple has introduced a device with 4G LTE, and it's a screamer. Thanks in large part to Verizon and AT&T, the new iPad chews up and spits out data faster than most of the world's broadband internet connections.
I have been testing both Verizon Wireless and AT&T LTE iPads, and have seen speeds as fast as 40Mbps on AT&T, and almost 25Mbps on Verizon. I'd recommend going with the Verizon variant because of the carrier's huge lead in terms of LTE coverage, but all new iPads are unlocked and equipped with cellular radios that support all 3G bands.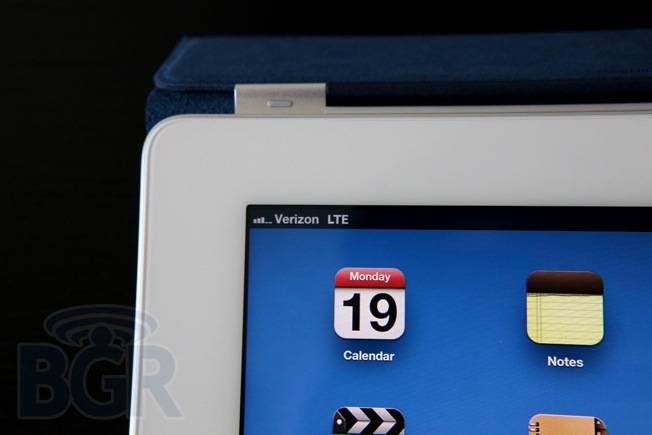 To clarify, the Verizon and AT&T iPads are mostly identical. Even though the Verizon iPad supports LTE and CDMA, it's also a global device, and it supports all standard WCDMA and GSM bands as well. This means you can put an AT&T microSIM card in the Verizon iPad, and use AT&T's 3G network without a problem since all iPads are unlocked.
Additionally, the Verizon iPad lets you connect up to five Wi-Fi devices to it so you can share that insanely fast LTE connection. AT&T's iPad does not support the personal hotspot feature yet, though we assume the carrier will eventually offer it, possibly for a fee.
The new iPad sports the best display in the world and it supports one of the fastest wireless connections available, but there's also a brand new camera. Well, it's not brand new — it's the same exact camera that is found on the iPhone 4. Even though it is more than a year old now, it's actually better than most smartphone cameras due to the optics and software Apple has included. Then again, are you going to be using a 10-inch tablet as a camera regularly? Although, with 1080p HD video capture, I do think we'll start to see more iPads being used to film videos, especially with that big beautiful viewfinder (the display), and the fact that the iPad is larger than an iPhone, and is more easily mountable on a tripod or similar mount.
Another new feature in the new iPad is dictation. Dictation isn't a full-blown Siri experience, it's simply the ability to dictate words and punctuation, and have the iPad translate that into written text. This is available on the iPhone 4S, but guess what? It's even more impressive on the iPad for a number of reasons.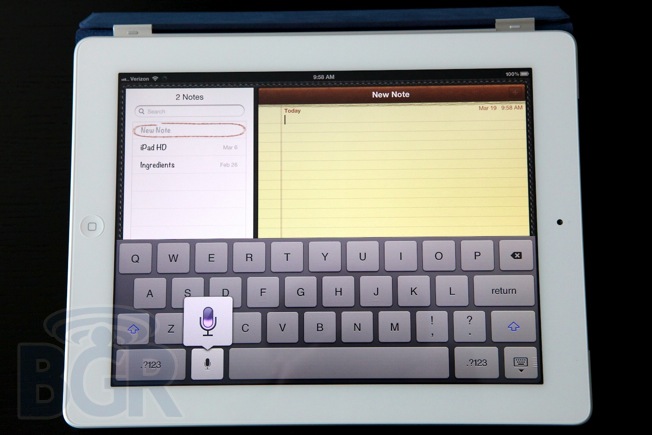 First off, you don't hold the iPad like a phone, speaking into it a few inches from you. This means the microphone and background noise-canceling plus processing the iPad has to do is nothing short of incredible. It has to listen to what you're saying from around a foot away. The most impressive part of dictation is how accurate it is, though. I'd even say it's more accurate than on the iPhone 4S. It makes talking to your iPad an almost fool-proof experience. The times you don't want to type, dictation will work, and that's nothing short of amazing.
Battery life on the new iPad is unbeatable. There isn't a single tablet on the market that can rival the iPad 2 or new iPad in this department, and there probably won't be any time soon. Due to the 70% increase in battery capacity, the new iPad will match the iPad 2 in usage and battery life even with four times the graphics processing, a much higher resolution display and 4G LTE. In fact, the majority of time I've used the new iPad has been in a Wi-Fi signal area, so I have seen better performance with this iPad over the iPad 2 — even with this mind-blowing display, faster graphics processor and more RAM.
Something the new iPad allows because of the increased amount of built-in memory (this isn't storage space, the amount of RAM all new iPad's have is the same regardless of 16GB, 32GB, or 64GB model) is the ability to leave more apps in memory, and more tabs in Safari open. It's just another small touch that makes the iPad not just feel like a secondary product as many people view tablets, but in most scenarios, the iPad is the only option you want, even over your laptop.
Rounding out the new iPad's features are other software pieces like iPhoto and an upgraded iMovie app. These are available for $4.99 each in the App Store and also available on the iPad 2 and iPhone, though they won't run on the original iPad.
Apple's iPhoto software has long been a popular app on the company's computers, though iPhoto has been completely rethought for the iPad, and it makes editing your photos, creating albums and even ordering prints and sharing photos absolutely a breeze. There is a lot in iPhoto, and at first, it can be a bit overwhelming. But after you jump in, there's a good chance you've never been able to edit your photos with this kind of accuracy and detail in so few steps. From little things like changing brightness, saturation, colors, effects, crops and resizing, to a breakthrough new sharing feature called photo journals, iPhoto is my favorite photo editing and management app, period.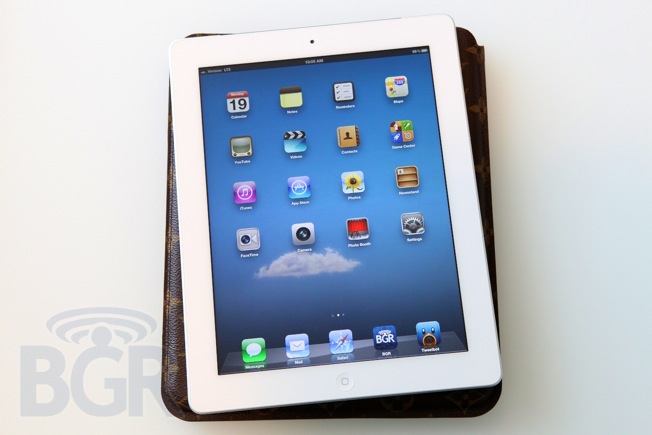 I have been a little misleading, though. At the end of the day, there is a competitor to the iPad. What you might not have expected is that it's not a tablet from Samsung, from HTC, from Motorola, or some waterproof tablet from Pantech. It's the iPad 2. Apple now has two tablets on the market that are best-in-class, and one of them is even less expensive. Starting at $399, the iPad 2 is an excellent choice for someone who wants to take advantage of Apple's incredible library of apps and have the best tablet on the market for web browsing, music playback, video consumption, and much more, but save a little money in the process. Then, starting at $499, the new iPad improves upon the iPad 2 in almost every way, and keeps the iPad family not just one step ahead of every single competitor, but two.