To celebrate the third season of the Apple TV Plus show Ted Lasso, releasing this Wednesday, Nike has announced a partnership with the Emmy award-winning program by introducing an AFC Richmond collection with jerseys, fleeces, scarves, and more.
What's interesting about this Nike x Ted Lasso collection is the number of pieces available. The key item is a two-tone AFC Richmond stadium jersey. There is also merch available in navy, grey, bright blue, and orange. What really sells this crossover is that Nike even included AFC Richmond's fake sponsors, such as the fictional dating app Bantr.
Here's how Nike describes the AFC Richmond jersey:
If the world of sport has taught us anything, it's that this jersey won't make you great. No way. You're gonna do that all on your own. But it can help keep you cool and dry when you're on your way to greatness with … what's that called? Oh yeah, sweat-wicking fabric. What we're trying to say is, we all need a little help getting where we're going. We think this slim-fit jersey is a great place to start.
The products range from $35 to $105 and are available in Nike's official store. This partnership is no surprise, as during the second season of Ted Lasso, it's possible to see Jason Sudeikis in a variety of the company's shoes, such as Air Max 1s, Air Max 90s, and Air Jordan 1s.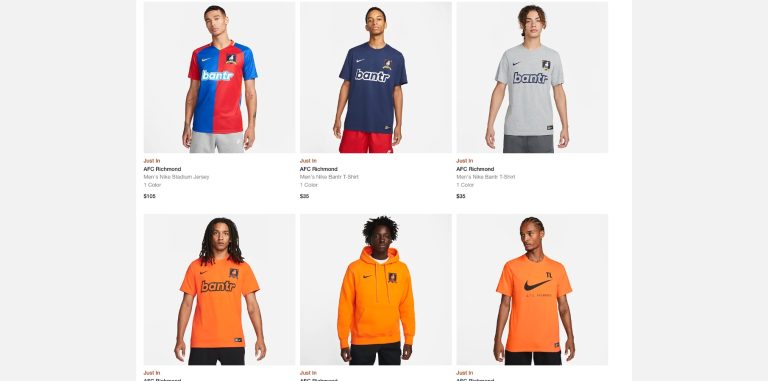 For the third season of Ted Lasso, the newly-promoted AFC Richmond is getting hammered by the press and sports pundits, all of whom are generally ranking the club as last in the Premier League. And as we noted above, Nick Mohammed's "Nate," aka the "wonder kid," has gone to work for Rupert (Anthony Head) at West Ham United
From Apple's summary: "In the wake of Nate's contentious departure from Richmond, Roy Kent (Brett Goldstein) steps up as assistant coach alongside Beard (Brendan Hunt). Meanwhile, while Ted (Jason Sudeikis) deals with pressures at work, he continues to wrestle with his own personal issues back home, Rebecca (Hannah Waddingham) is focused on defeating Rupert, and Keeley (Juno Temple) navigates being the boss of her own PR agency. Things seem to be falling apart both on and off the pitch, but Team Lasso is set to give it their best shot anyway."
You can start streaming the third season of Ted Lasso, which will have a total of 12 episodes, this Wednesday. In fact, this is the first Apple TV Plus show that will have episodes released in the middle of the week, as the streamer expects increased viewership.