Trying to pick the right scary movies to watch throughout October can be overwhelming. If you are looking for a starting point, you might want to visit the home screen of Max. The streaming service added two Top 10 rows to the home screen earlier this year, and on Friday, the row of Top 10 movies is loaded with some fantastic, Halloween-appropriate flicks.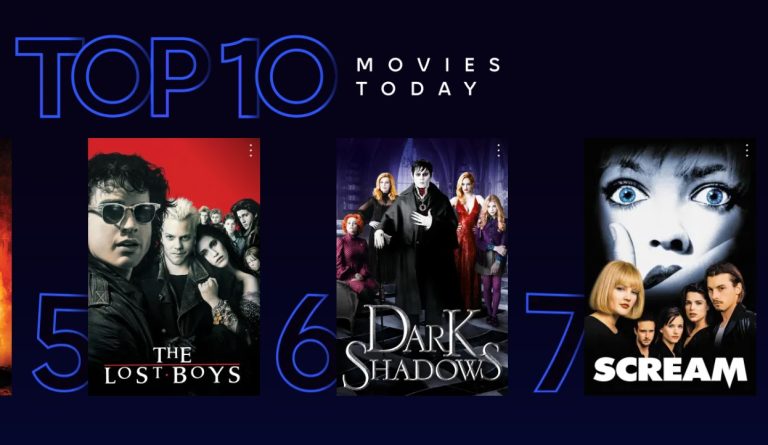 Here's the full selection of Max's Top 10 Movies Today on Friday, October 13:
Meg 2: The Trench
Corpse Bride
Beetlejuice
Trick 'r Treat
The Lost Boys
Dark Shadows
Scream
Fast & Furious 7
The Ringleader: The Case of the Bling Ring
Harold & Kumar Escape from Guantanamo Bay
While the list is bookended by the recently released Jason Statham vehicle Meg 2 and a stoner comedy exemplar, more than half the list is incredibly apt for Friday the 13th.
Up first we have two family-friendly classics in Corpse Bride and Beetlejuice, both of which were directed by Tim Burton nearly two decades apart. Corpse Bride is a stop-motion animated movie about a young man named Victor Van Dort who is dragged to the land of the dead by Emily, the corpse bride, prior to his own wedding. He's in a race against time to get back to the real world before his fiancée, Victoria, marries the evil Barkis Bittern instead.
If you are in the mood for a sillier Burton project, try Beetlejuice instead, starring Michael Keaton in one of his most iconic roles alongside Alec Baldwin, Geena Davis, Catherine O'Hara, Jeffrey Jones, and Winona Ryder in one of her first-ever film roles.
Once the kids have gone to bed, Scream is a great way to dip your toes into horror with a slasher movie that's both scary and self-aware. Dark Shadows, yet another Tim Burton movie, is also mostly comedic but features a host of vampires, witches, and ghosts.
Finally, if you want to watch something that might actually give you a nightmare, look no further than the anthology horror movie Trick 'r Treat. The stories are loosely interwoven, each involving characters failing to follow the "rules" of Halloween and suffering the consequences.
Once you've watched all of the movies on this list that pique your interest, check back in the coming days to see what other scary movies have made the Top 10 on Max.