It's Thursday, March 2nd, which means that the Nintendo Switch comes out in less than 24 hours. If you aren't getting a Switch, you might be looking for something to distract you from all the Facebook posts, tweets and news articles about Nintendo's new console. How about a bunch of free, new iPhone games?
Aliens in Chains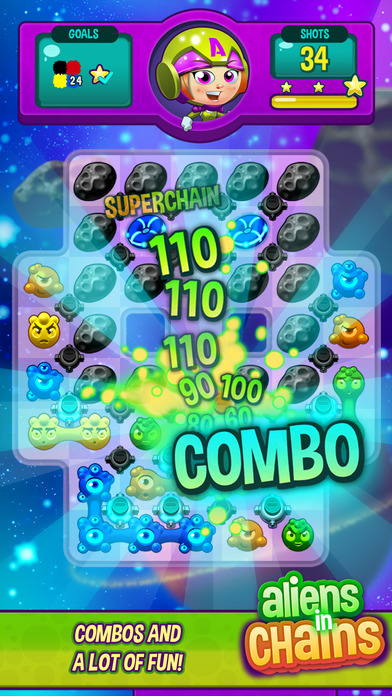 Travel the Galaxy breaking chains of Aliens in this funny casual adventure.

Different and unique, this new puzzle game with new mechanics and funny challenges will amuse you and test your talent. Shoot lasers to cut the chains of Aliens and help our protagonist, cosmonaut Astra, to achieve the objectives of each mission.

Features of Aliens in Chains:

● Amazing graphics and fun. You'll adore our beloved Aliens and you'll love our heroine, Astra.
● Funny and original music will accompany you in your mission.
● Start Combos and cut chains and superchains of Aliens for incredible powerups to help you during your adventure.
● Quick and easy to understand but hard to master, with different challenges that you are not used to.
● Travel the Galaxy through 300 levels and more to come.
● Sign up on your social network and you will not lose your scores if you change your device.
[Download Aliens in Chains free on the App Store]
---
Bravium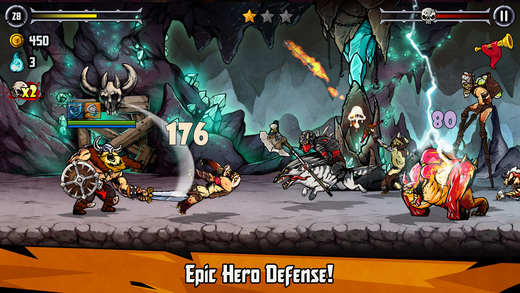 Bravium is an epic RPG saga about adventures in a mysterious fantasy land, enslaved by insidious but charismatic monsters. Fight against enemies, collect powerful artifacts, visit exciting locations! A furious warrior or a mysterious magician will be your guides.
• Heroic adventure story of bounty hunters in a mysterious fantasy world!
• Simple intuitive control system designed for mobile devices.
• Exciting action-packed battles!
• 100+ unique levels in exciting surroundings!
• Lots of various weapons and spells with unique features. Choose the right combination! It is the key to your victory!
• HD graphics, outstanding visual effects optimized for any mobile devices.
[Download Bravium free on the App Store]
---
Heroes of Skyrealm

Heroes of Skyrealm is a team-based mobile game that combines the action of a hack and slash RPG with battle strategy of an RTS. Summon over 30 legendary Heroes, each with unique abilities and play styles. Use powerful attack or support spells, blast your foes from distance with long-range weapons, or hack and slash your enemies with massive swords and melee weapons. The choice is yours!

KEY FEATURES

– Fast-paced, team-based hack and slash action – unlike any other action RPGs, bring three heroes to the fight at the same time!

– Co-op Boss Raid – hack and slash with two friends – up to nine Heroes at once, all in real-time!

– Real-time PvP Battle Arena, with proprietary matchmaking technology

– RTS gameplay – build your base in the sky, collect resources, scout and conquer enemy territories
[Download Heroes of Skyrealm free on the App Store]
---
Krosmaga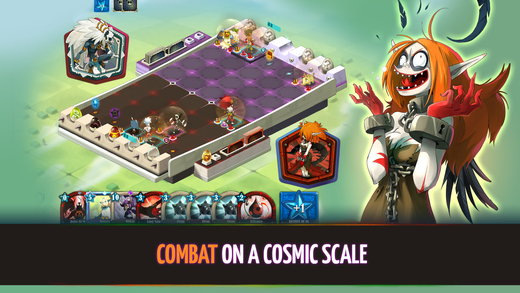 Kosmaga is a game of skill where the Twelve Gods of the Krosmoz universe settle their differences by pitting creatures, mortals, and demi-gods against each other in a battle of truly epic proportions! The game combines the deck-building strategy of a CCG with the excitement and challenge of a tower defense game in a divine setting where the stakes could not be higher.

— CHARACTERISTICS —

• BECOMING A GOD IS EASIER SAID THAN DONE! Play as a god and unleash your powers on the battlefield! The rules of the game are simple enough for mere mortals to understand.

• MASTER YOUR DECK: Use the gods' premade decks or create your own. You're the master of your own strategy!

• CONSTANTLY CHANGING: With hundreds of cards to collect that you can win, buy or craft, you will constantly be upgrading your deck!

• CALL ON ALL THE HEROES OF DOFUS AND WAKFU…AND MAKE THEM BATTLE EACH OTHER! The warriors and creatures you'll play come from all four corners of the Krosmoz, a multiverse rich in myth and legend. Take control of the heroes of video games, books, animated series , and even a movie (DOFUS: Book I – Julith).

• RUTHLESS PVP BATTLES: Challenge friends and players from all over the world. There can be only one god!

• TAKE ON SUPERHUMAN CHALLENGES: To keep things interesting, epic and surprising adventures await you in single player mode…

• TAKE YOUR CARDS WITH YOU: Your card collection is linked to your Ankama account. Switch at any time from your computer to your tablet with ease!

• …EVEN IN YOUR FAMILY ROOM: Get the physical version of the cards and board and take the battle to your family room table. Krosmaga will follow you wherever you go!
[Download Krosmaga free on the App Store]
---
Mudd Masher
Swipe to hop and tap to mash! Journey through 8 colorful lands and reclaim the precious Gems scattered within. Save the world from total muddiness!

Max has been cast into a vexing voxel adventure! Shedding his familiar 2D get-up, Max now faces a new muddy challenge in the soiled dimension of threes.

The mutated muddy foes are turning the world to mudd, and only you can stop them! Hop onto muddy platforms to cleanse them to their former glory, and be sure to mash the malicious mudds before they soil anything else!

Featuring velvety sublime chiptunes from the award-winning Mutant Mudds game series. Mashing mudds never felt so good.