We've known for quite a while that many of the superheroes who turned to dust in Infinity War will be brought back to life somehow. We've also known that time traveling may be involved, as the pieces seem to be lining up perfectly for the story to follow that line. Now we have new evidence that appears to support the time travel theory we've seen dozens of times.
Posted on Reddit, the following retail package for Avengers-branded toys shows two Avengers, including Thor wielding his new hammer and Rocket Raccoon dressed in a particular type of outfit that we've never seen before. In the bottom right corner of the package we also have Captain Marvel and Captain America, but only the latter features similar attire.
These images alone might not mean anything at first sight, until you remember that Hank Pym rocked similar gear when he went to the Quantum Realm. That's a huge clue, as MCU Cosmic explains, which implies that some of the Avengers will venture to the Quantum Realm to travel back in time.
https://www.youtube.com/watch?v=QK-kcNZiTAA
Remember that Doctor Strange has a lot of Quantum Realm lines in Avengers 4. And that Marvel made a point to tell the audience that you might encounter time vortexes in the Realm — that's what Janet Van Dyne said in Ant-Man and the Wasp. Finally, we have other set photos that reveal some scenes will take place during the battle of New York, where two versions of Tony Stark will be seen.
What the retail package art also reveals is that Captain Marvel either doesn't need a special suit to travel to the Quantum Realm, or she won't go there. We do know, however, that Brie Larson shot scenes with Evangeline Lilly and Pom Klementieff for Avengers 4. That's evidence that the Wasp and Mantis will appear in the film, even both characters died after Thanos's snap.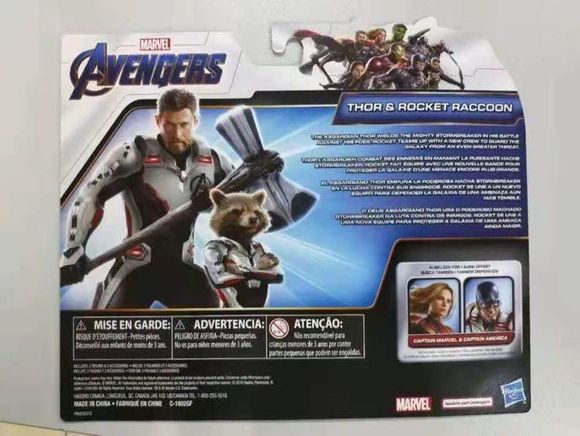 Finally, the photo above also seems to confirm that the Avengers 4 art we saw earlier this summer (see the top right corner), is real.
But wait, we've got more Quantum Realm news for you courtesy of CBR, which sat down with Ant-Man and the Wasp director Payton Reed to talk about the film now that the digital release of the film is out. He confirmed what some of us already suspected, that the Quantum Realm is the home of other beings, including potentially dangerous ones. After all, Janet had to survive in there for quite a while and she did have a weapon when Scott found her. The digital release features a deleted scene that shows one of those creatures:
The scene that you'll see is they're making their way back to Hank's quantum pod, and they have an encounter with a quantum creature. She's able to sort of negotiate a momentary truce by communicating with this creature instead of fighting it or something. We mostly cut it for time and for momentum.

But it was a fun little detail to see kind of a glimpse, you know, she hasn't just been sitting around for 30 years waiting to be rescued. She has a whole life down there, and this is just one little glimpse at an interaction she has with a creature down there. So, it was really sort of finding that line in the final cut of the movie as to how much to reveal about the Quantum Realm itself and her place in it.
This proves that the Quantum Realm is a much more complicated universe than we could have known, something @DanielRPK, a well-known insider, also teased on Twitter a few days ago.
The Quantum realm is the future (of the MCU).

— Daniel Richtman #BlackLivesMatter (@DanielRPK) October 7, 2018
However, Reed could not reveal too many details about Janet's life in the Realm without spoiling Avengers 4. Is Janet a villain? We have no idea, but from the looks of it we'll see more of her in future films. Also, because Janet turned to dust herself, this seems to be more proof that the Infinity War deaths aren't final.
I'll also remind you that Reed did hint in previous interviews that the pieces are set for Ant-Man to return from the Quantum Realm using a time vortex, without actually explaining how things will go down.