Marvel is doing everything it can to prevent Avengers 4 secrets from leaking, but that's a daunting task, especially considering the reach of social media these days. And it's thanks to new social media posts that we can tell you we have even more proof that two more beloved Avengers characters who died at the end of Infinity War will be resurrected in Avengers 4.
They are Mantis (Pom Klementieff) and the Wasp (Evangeline Lilly). Yes, we already knew both of them would return to life since both of them mentioned shooting scenes with Brie Larson, who plays Captain Marvel in the Marvel Cinematic Universe.
Karen Gillan, who plays Nebula in the movies, posted the following image on Instagram a few days ago:
This seems to indicate that the two actresses were getting ready for Avengers 4 reshoots together. And we do know that reshoots are underway in Atlanta right now. Gillan also posted the following image a few days ago (via Digital Spy), which hinted that Nebula will be going after Thanos in Avengers 4.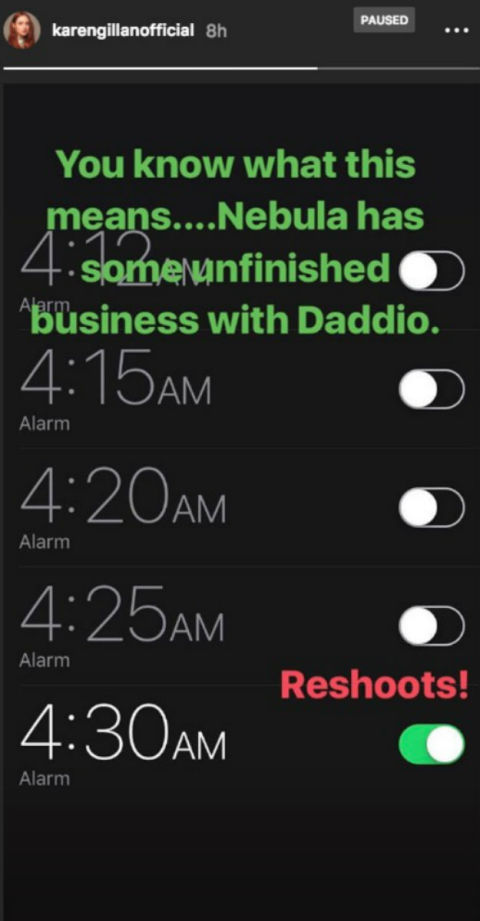 The Mantis post reminded fans of an older Gillan teaser from August, when she said Nebula has a new BFF in Avengers but she couldn't tell us who it is. "I know who her new BFF is and I can't tell you. I can't. But I promise you it's brilliant and unexpected and just so good," she said.
So @karengillan says Nebula has a new BFF in #AvengersInfinityWar & that it's a brilliant choice. Any hints @JamesGunn?? pic.twitter.com/TFk266k1DT

— Erik Davis (@ErikDavis) August 7, 2017
It's not just Gillan who teased that a dead character will return from the dead at some point during Avengers 4. Lilly posted the following image on Instagram, which was taken at the airport, per ComicBook.
She also posted other images of Instagram, teasing that the Wasp may appear in Avengers 4:
The Wasp's death was not shown in Infinity War — but she turned to ashes in the credits scene during Ant-Man and the Wasp. Lilly, like Klementieff, also teased shooting scenes with Larson, which is a clear indication that the Wasp is coming back from the dead. Those remarks were made well before we knew the Wasp would temporarily die.