If you purchase an independently reviewed product or service through a link on our website, we may receive an affiliate commission. Learn more.
If you thought MyQ deals were impressive ahead of the holidays last year, just wait until you see the MyQ Cyber Monday deals for 2022. First and foremost, everyone's favorite smart garage door opener is on sale at its lowest price ever. Then, as if that wasn't enough, you can get an extra $5 Amazon credit with a special promotion!
There are also a few additional MyQ Cyber Monday deals aside from the MyQ smart garage door opener, and we'll run through them all in this guide.
---
Featured deals in this article:
---
Anytime there's a MyQ deal at Amazon, the MyQ smart garage door opener is a best-seller among our readers. It's not difficult to see why. This awesome device lets you control your garage doors from your smartphone no matter where you are.
You can even use Alexa voice commands to open and close your garage, which is so awesome. The MyQ is always very popular at BGR Deals. But when it's discounted, it definitely becomes the hottest smart home deal out there.
Chamberlain's original model and the newer model with Bluetooth both normally sell for $30. But the latter is on sale for just $16.98 right now during Cyber Monday 2022. As we mentioned, that's a new all-time low price.
Additionally, there's also a special promotion that gets you a $5 Amazon credit after your third in-garage delivery using Amazon Key. If you take advantage of the deal, you're basically getting a MyQ for just $11.98!
This is easily one of the best Cyber Monday smart home deals out there right now, so don't miss out.
MyQ Cyber Monday deal 2022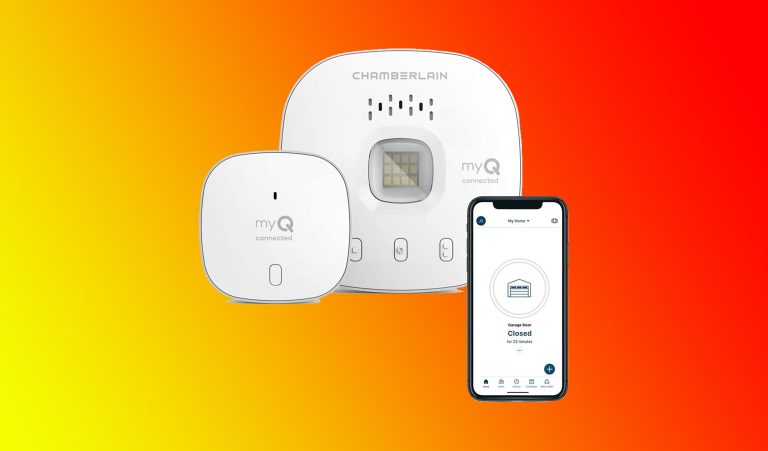 The original MyQ smart garage door opener was first released years ago, and it cost $100 at the time. Even at that price, it was absolutely worth every penny. This awesome device can be installed in about 15 or 20 minutes by anyone. It lets you open and close your garage door using your smartphone.
Or, you can even just your voice thanks to Alexa support!
Maybe you never want to wonder again if you remembered to close your garage door as you rushed to work. Or perhaps you're just sick of dealing with that annoying keypad that never seems to work on the first try.
In either case, the MyQ is an awesome purchase. And that's especially true right now.
Did you miss Amazon's deep discount on Black Friday? Well, don't worry because you're actually in luck. The MyQ smart garage door opener is back on sale for Cyber Monday 2022. And now it's down to $16.98 thanks to a special limited-time deal. That matches the all-time low price!
This great deal has one big caveat, however. The $16.98 price is only good until the end of the day on Cyber Monday, November 28. After that, the MyQ will go back to its regular price.
Also, don't forget the special promotion we mentioned. You can score a $5 Amazon credit after your third in-garage delivery thanks to a limited-time Amazon Key promotion. Just make sure you get all three deliveries done by the end of the year, because this promo expires on December 31.
Chamberlain MyQ key details
There are several great reasons why the MyQ smart garage door opener is one of the most popular smart home gadgets on the market. And now is the perfect time to order one and find out for yourself.
Here are some key details:
Open and close your garage door from inside your home or anywhere else using a simple app on your smartphone
No more fussing with decade-old keypads that never work on the first try
You can also control your garage door with your voice. Compatible with both Amazon Alexa and Google Assistant voice commands
Control two garage doors with one MyQ hub by adding an additional sensor
Wondering if you left your garage door open when you were rushing out of your house in the morning? Now you don't have to guess because MyQ can tell you
Supports Amazon's free in-garage delivery service called Amazon Key
Get a $5 credit the third time you use Amazon Key thanks to Amazon's special promotion (more details can be found at

amazon.com/keypromo

)
Universal compatibility that works with all major garage door brands and all models manufactured after 1993
Integrates with any smart home platform — and l

inking your MyQ account to Google Assistant and IFTTT is free right now for a limited time
Two extra MyQ Cyber Monday sales
In addition to the main deal above, there are also two more MyQ Cyber Monday deals available this year.
To start, the MyQ Smart Garage HD Camera is on sale for $88.99. That's not a huge discount compared to the $100 retail price, but every penny counts. Also, you can pair it with the MyQ smart garage door opener and you'll be able to monitor your garage in addition to just controlling the doors.
Or, instead of combining the MyQ with a camera, you can combine both into a smart garage controller with tons of great features. The Chamberlain B6753T Smart Garage Door Opener has a huge discount this week for Cyber Monday this year!
In addition to smartphone control and conventional controls with a remote or keypad, it also has a built-in camera!
Chamberlain's B6753T retails for $440, but this model is down to $280.45 for Cyber Monday 2022.
---
More Cyber Monday 2022 deals
The Cyber Monday deals we covered in this article are fantastic. But we've barely scratched the surface because there are hundreds of thousands of great deals out there this year.
If you're looking for all the best deals for Cyber Monday 2022, you'll find them in BGR's extensive coverage. We've rounded up all the hottest products on sale ahead of the holidays this year. Plus, you'll find all the deepest discounts from top retailers, including Best Buy, Walmart, and Amazon.
Check out the following Cyber Monday roundups and you won't miss any of the most popular deals of the season!
---
Go here to see this month's best deals online!