If you purchase an independently reviewed product or service through a link on our website, we may receive an affiliate commission. Learn more.
Launched almost a month ago, the Pixel 3 is hardly the best Android phone out there. It does offer one of the best camera experiences available right now, as well as the guarantee that it'll always be among the first devices to get the latest Android release. But the phone is plagued by several issues that Google needs to fix, which are good enough reasons to check out some of the other phones launched in October.
That includes the OnePlus 6T, which is even cheaper than the new Pixel, and the Huawei Mate 20 Pro (if available in your market), which is even more exciting than the Pixel 3. But if you're a Pixel enthusiast looking to purchase the latest Google phone, then you need to check out Best Buy's new deal.
The retailer is bundling the Pixel 3 or Pixel 3 XL with the Nest Cam, which is also a Google product. The indoor surveillance camera is usually priced at $199.99, which means that you're effectively getting a $199.99 discount when buying these two items together.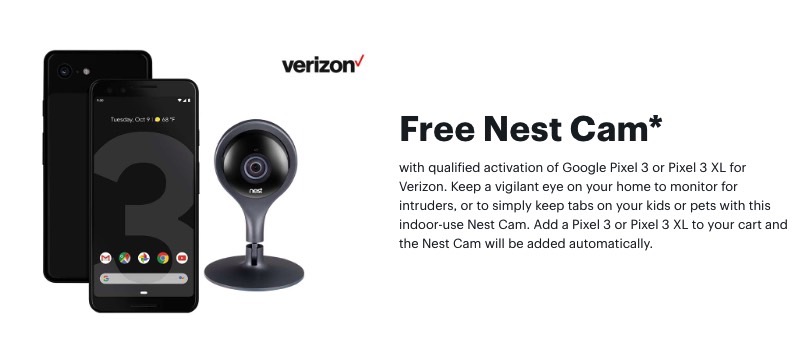 The deal is only appealing if you were planning to install any sort of indoor security system at home — even more so if you were already eyeing Google's security cams.
All you need to do to get the deal is add either the Pixel 3 or Pixel 3 XL to your cart and the Nest Cam will be added automatically. As expected, you'll have to activate your Pixel 3 or Pixel 3 XL with Verizon, according to the deal's page, but you'll still be able to unlock the phone and use it with any other operator.
If you're only shopping for surveillance gear for your home, then you might be better off checking some of the upcoming Black Friday and Cyber Monday deals that will include sales on home security hardware.