If you purchase an independently reviewed product or service through a link on our website, we may receive an affiliate commission. Learn more.
The Amazon Kindle Scribe is the most sophisticated eReader that Amazon has ever released. And today, you can get one for as little as $294.99 thanks to the first Kindle Scribe deal that Amazon has ever offered.
Amazon's Kindle Scribe is unlike any other Kindle you've ever tried, as we explained in our Amazon Kindle Scribe review. And thanks to discounts of up to $60 off depending on which model you choose, today is the perfect day to find out what makes it so special.
There are so many things that set the Kindle Scribe apart from other Kindle models, and most other eReaders in general. Of course, the first thing you'll notice is the size.
This model features a large 10.2-inch screen with a pixel density of 300 ppi. That means it's just as clear as other high-end eBook readers, even though the screen is so much larger. But the size isn't the only thing that makes the Kindle Scribe's display so special.
In addition to having much more room to read, the Scribe also supports writing. It comes with a stylus so you can make notes, highlight text, and more. Plus, the stylus attaches to the side of the Kindle Scribe to recharge, as you can see in the image below.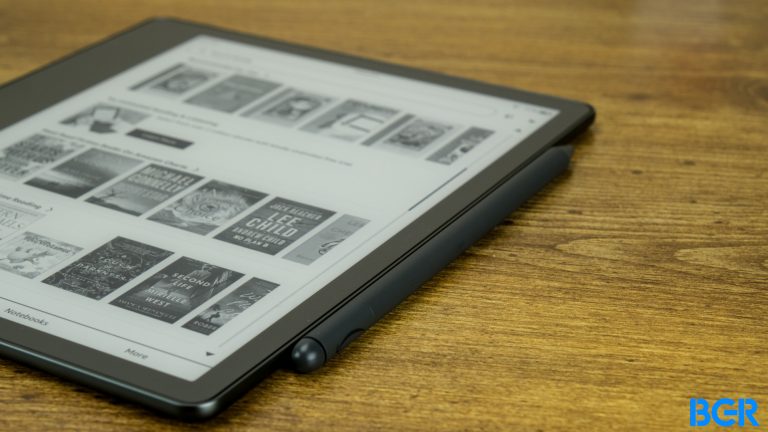 Needless to say, there is one downside to this first-of-its-kind Kindle. With a base price of $339.99 for the 16GB model, it's very expensive. Then, if you want the high-end 64GB version with a premium stylus instead of the basic stylus, the retail price is $419.99.
Right now, Amazon is offering its first Kindle Scribe deals ever. The Kindle Scribe 16GB is down to $294.99, which is a 13% discount. The 32GB model is on sale too, but the biggest price drop can be found on the Kindle Scribe 64GB. It has a $60 discount, cutting your cost to just $359.99 instead of $420.