Don't stroll into this sleek new 19,000-square-foot store that opened yesterday in Chicago thinking they're going to be able to repair your iPhone X here or sell you a new Apple Watch, because — that gorgeous, Apple-y exterior notwithstanding, the main things they sell here include delicious nuggets and hamburgers.
The new McDonald's flagship that just opened in Chicago has been getting a lot of buzz because it looks nothing like a fast food restaurant and more like, well, an Apple store. The company said the restaurant, which features steel and wood timber construction, was inspired by McDonald's "commitment to sustainability and has abundant green spaces and energy saving features."
The new location is also kitted out with new features like self-order kiosks, plus mobile order and payment as well as table service. Here's a look from the inside: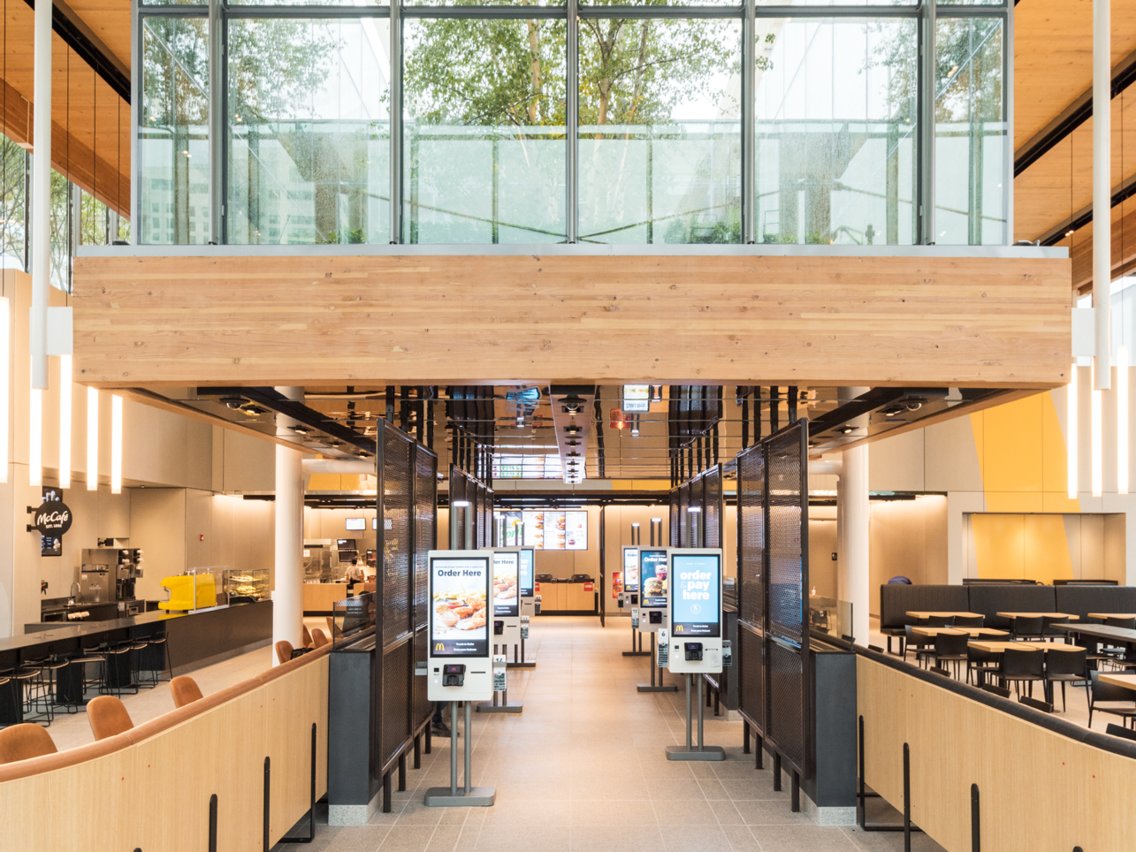 Other similarities between the new location and the Cupertino-based company whose CEO would never be caught dead inside a McDonald's:
There's an "expansive pedestrian-centric space" featuring plazas with outdoor seating and a park area. Which kinds of sound like the tree-heavy design of Apple's Union Square store in San Francisco, and its new Seattle store where flowers are planted on the roof.
Apple, of course, also prides itself on a 100-percent commitment to renewable energy. Likewise, the new Chicago McDonald's includes "enhanced energy performance with an on-site solar panel array for renewable energy collection to offset part of the restaurant's non-renewable energy consumption."
The new location also has interior and exterior LED lighting, plus energy-efficient kitchen and HVAC equipment including energy saving freezer/coolers, low oil fryers, energy efficient fans and more.
McDonald's says the restaurant was designed by Chicago-based Ross Barney Architects, known for their design of Chicago's Riverwalk as well as other projects throughout the U.S. The modern interior including furniture, graphics and layout were designed by Sydney-based Landini Associates, and the restaurant is applying to become LEED (Leadership in Energy and Environmental Design) certified.
Beyond the novelty of looking like an Apple store, this new design gives a hint about the future of one of the most ubiquitous fast-food chains in the U.S. McDonald's calls restaurants with this design its "Experience of the Future" locations, meant to bring more convenience and personalization to the customer experience. Not only do they want most people ordering from the touch kiosks, forgoing cashiers entirely if you're paying with a card, but McDonald's plans to transform most all of its freestanding restaurants to this new format by 2020.
Currently, the chain has 5,000 "Experience of the Future" restaurants in the U.S.