Google Maps long ago stopped being just a simple navigational tool that helps you route a path to get where you want to go. It's a feature-rich app today that helps you do anything from check out pictures of a restaurant's tasty dishes to calling and contacting a business, finding out whatever you need to know about them, sharing your ETA with friends and family and lots more. And Google just announced yet another addition to the app that — inadvertently or not — apes something from one of Google's biggest competitors that should keep you tapping away inside the app for even more of what you need to know.
Google is now giving you a way to "follow" businesses within Maps, the same way you can asymmetrically follow a business' page on Facebook. All you have to do is tap "follow," and then you'll start getting news, details about offers and events, and more in Google Maps' "For You" tab. Google says future businesses will also eventually be able to use this channel to start making potential customers aware of them even before they open.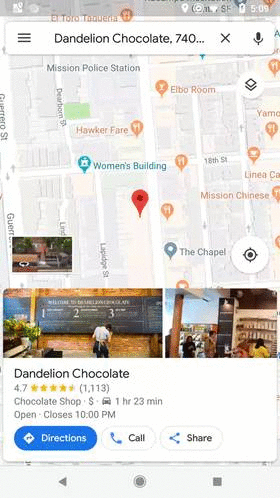 "Places that are opening soon can create a free Business Profile that will appear to people up to 3 months in advance of opening — letting trendsetters know ahead of time to mark their calendars," explains Google Maps project manager Paul Cole in a Google blog post. "The feature is rolling out over the next few weeks and places interested in making sure their coming soon locations are shown on Maps and Search can get started with Google My Business."
Once a business fleshes out their profile, they will then start showing up in searches up to three months before they open to the public.
Google says that more than 150 million places already on Google Maps, meanwhile, will have the new follow feature accessible by users who want to find them. It's rolling out first on Android over the coming weeks, and Google says the "For You" tab is only available in Maps in limited markets at the moment, though more countries are being added soon.
As we've reported previously, this continues a cadence of new features added to Maps recently that includes the ability to share a live ETA of your trip with friends and loved ones.