Google's official YouTube apps for iOS and Android are always wildly popular, but people who pay attention to app store rankings regularly see third-party YouTube apps come and go on the top free app lists. The official YouTube apps are so well-designed and they pack all the great features Google wants YouTube users to have, so why are Android and iOS users so interested in third-party apps? Simply put, people want the ability to save videos for offline playback, and Google's official YouTube apps don't support this key feature.
With a new app from Google called YouTube Go, Google has finally added this great capability. But there's just one teeny, tiny problem: You can't have it.
DON'T MISS: 10 hidden gestures in iOS 10 to help you get the most out of your iPhone
During a press conference in Delhi where the company unveiled several new products for the Indian market, Google took the wraps off of its new app YouTube Go. As you might have surmised, the app is aimed squarely at the mobile market in India, where Google is among a number of companies looking to take advantage of the emerging mobile market in the country.
India is one of many countries where low- and no-income mobile users are constantly on the lookout for tools that will help them get the most of their smartphones while using the least amount of data possible. With that in mind, it's easy to see why Google would roll out its new YouTube Go app with offline video viewing capabilities in India first.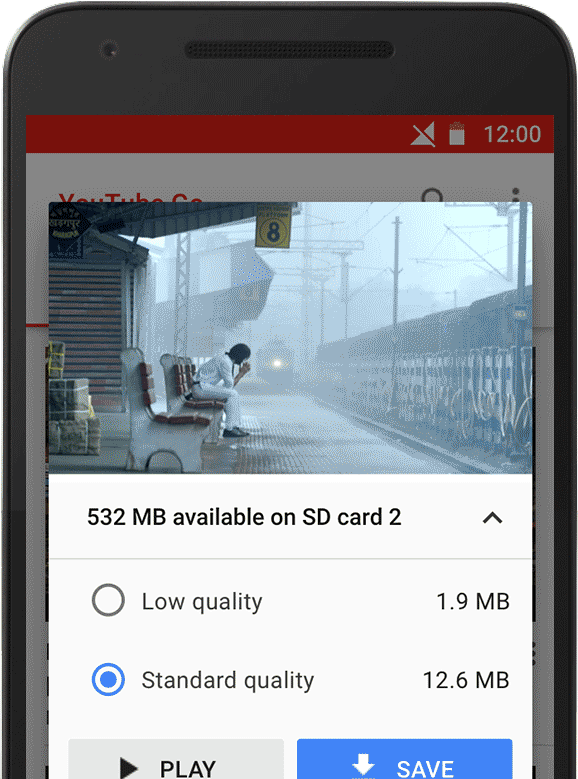 "YouTube Go is a brand new app to help the next generation of users share and enjoy videos," YouTube VP Johanna Wright said. "YouTube Go was designed and built from the ground up with insights from India, in order to bring the power of video to mobile users in a way that is more conscious of their data and connectivity, while still being locally relevant and social."
In addition to offline viewing capabilities, YouTube Go will support other data-friendly features such as video quality controls, previews and even a new sharing feature that will let users transfer videos directly from one phone to another without the need for a cellular data connection.
Users in India can sign up to test YouTube Go at this link, though Google has not yet announced when the app will be released. Google CEO Sundar Pichai did suggest that the app will eventually make its way to markets outside of India, though he didn't give any sort of timeline.