As each of the major US carriers continue to inch ever closer to one another in terms of overall quality, there are still countless ways that we can differentiate the big four from one another. In fact, just this week OpenSignal debuted its mobile video experience test, in which it pits the four major carriers against one another to see which offer the best video quality while streaming over a mobile connection, and the results may surprise you.
Well, some of the results, anyway, as Verizon unsurprisingly came out on top. Verizon managed to score a 50.57 out of 100, followed closely by T-Mobile at 48.15. Sprint trailed behind both at 41.10, and bringing up the reat was AT&T at 40.88. If video streaming is important to you, you now have a way to judge each carrier.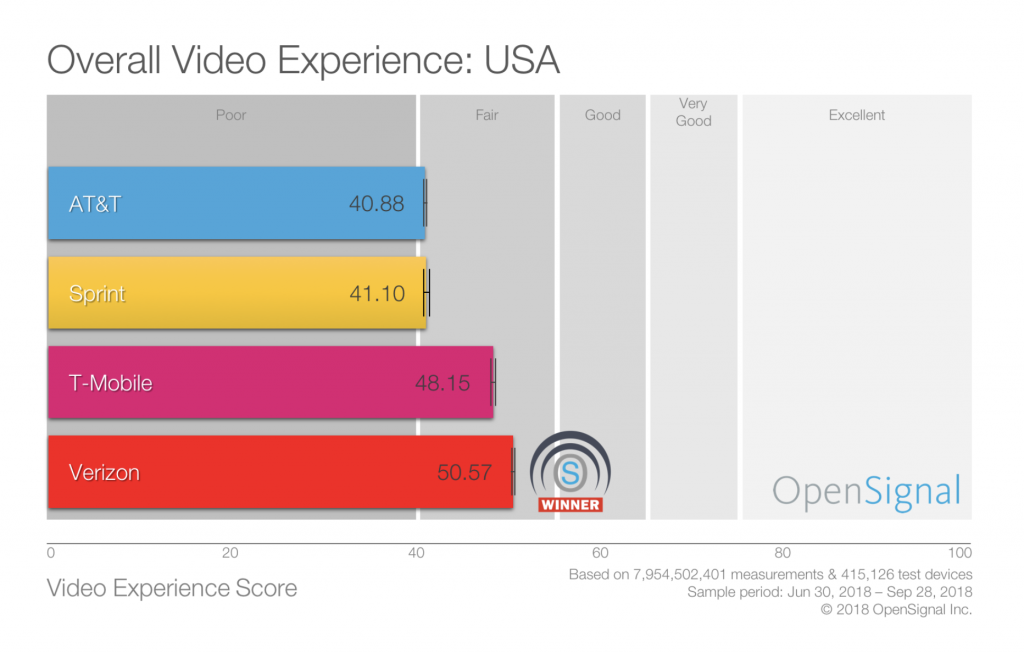 But as you may have noted, a score of 50 out of 100 doesn't really sound all that much better than the 40 and change that AT&T achieved. OpenSignal's Ian Fogg explains how close all four carriers are below:
Despite the gap between the two pairs of operators, all four of them landed within the Fair category of our ratings. Fair means that mobile connections weren't able to support high-resolution video without prolonged stalling and long wait times, but were able to handle low-resolution video with few problems. None of the U.S. operators were even close to achieving a perfect score.
In other words, while Verizon and T-Mobile may technically trump Sprint and AT&T when it comes to video quality, you aren't going to notice a significant difference, regardless of carrier. Until any of the carriers are able to top a score of 55, watching high-resolution video without long loading times and frequent stalling won't be possible.