Welcome to the new normal. On Tuesday morning, Verizon announced that it would be splitting its unlimited data plan into three new plans with some unfortunate caveats. Go Unlimited is the first plan, starting at $75 for a single line, but subscribers could experience reduced speeds any time the network is congested. Up next is the Beyond Unlimited plan, which starts at $85 and only reduces data speeds after the customer has exceeded 22GB. There's also a new Business Unlimited plan that will allow employers to buy unlimited data for as many employees as they want.
But those aren't the reasons everyone is talking about Verizon this morning.
Once these new plans go into effect on Wednesday, August 23rd, the dream of 4K and Full HD video on Verizon smartphones will be dead. Going forward, all video on smartphones will be throttled on Verizon's network, with the Go Unlimited plan limiting customers to 480p and the Beyond Unlimited plan maxing out at 720p. The same is true for tablets on either plan, but at 720p and 1080p instead.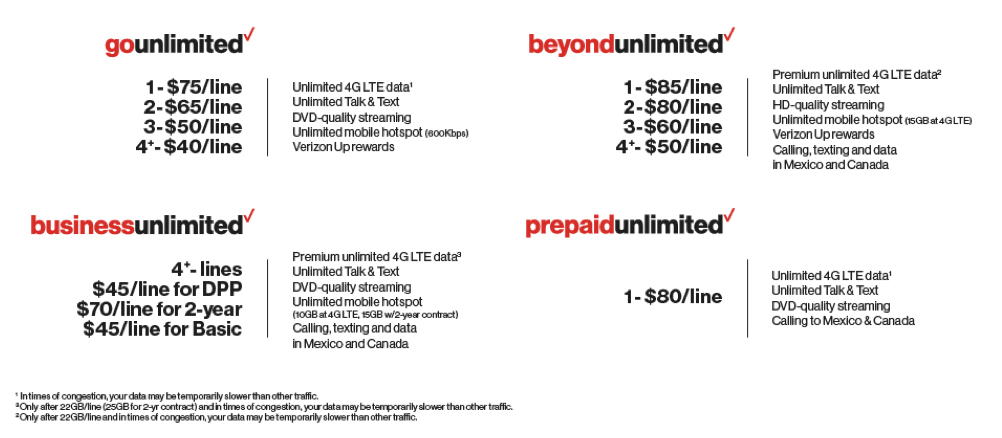 If you already subscribe to the Unlimited plan that Verizon launched earlier this year, you'll be able to stay on that plan if you so choose. Verizon is even offering those customers an additional 5GB allowance for LTE hotspot usage, bringing the total from 10GB to 15GB. Anyone on an even older plan will be able to stay on it as well, but regardless of which plan you're on, you will be affected by video throttling.
"Moving forward, HD video on all legacy plans will also match Beyond Unlimited's HD quality," Verizon said on Wednesday. Unless something changes, you'll never see 1080p video on your phone again.
This move comes just weeks after Verizon was caught intentionally capping video streaming speeds on Netflix and YouTube. Verizon explained that the 10Mbps speed cap was nothing more than a "network test" to "optimize the performance of video applications," but now we know the full story.
A Verizon spokesperson did not immediately respond to a request for comment.