During the Super Bowl, Verizon aired a one-minute ad highlighting a series of remarkable stories from first responders and the people they rescued. The ad was thoughtful, well put-together, and drew attention to the sacrifice and courage of first responders in a most excellent way. The spot ended with a flawless Verizon plug: "They answer the call. Our job is to make sure they can get it."
Unfortunately, as noted by a local radio station for one of the towns featured in the ad, the very first story featured clearly had nothing to do with Verizon. Despite the network's promise to "make sure they can get" the call, the town of Quincy, IL is a total black spot for Verizon. Regardless of the ad's fine intentions, Verizon ended up trading on the feel-goods of a town it doesn't even cover.
Brands attaching themselves to groups or ideas isn't new at all. You probably noticed that Dodge garnered some negative attention this weekend from its use of Martin Luther King's speech to promote Ram trucks. Every advert is about planting an idea; in Verizon's case, it was trying to attach the concepts of loyalty, sacrifice, and duty no matter the cost to its brand.
That's all fine. Verizon pays more than lip service to first responders: it supports response teams in natural disaster zones, supplies communications gear to wilderness firefighters, and has hosted demo days for first responders showing how technology like drones, remote telemedicine, and 360 degree video can help in real-world disaster simulations. Right now, it's matching up to $2.5 million in donations to the American Red Cross.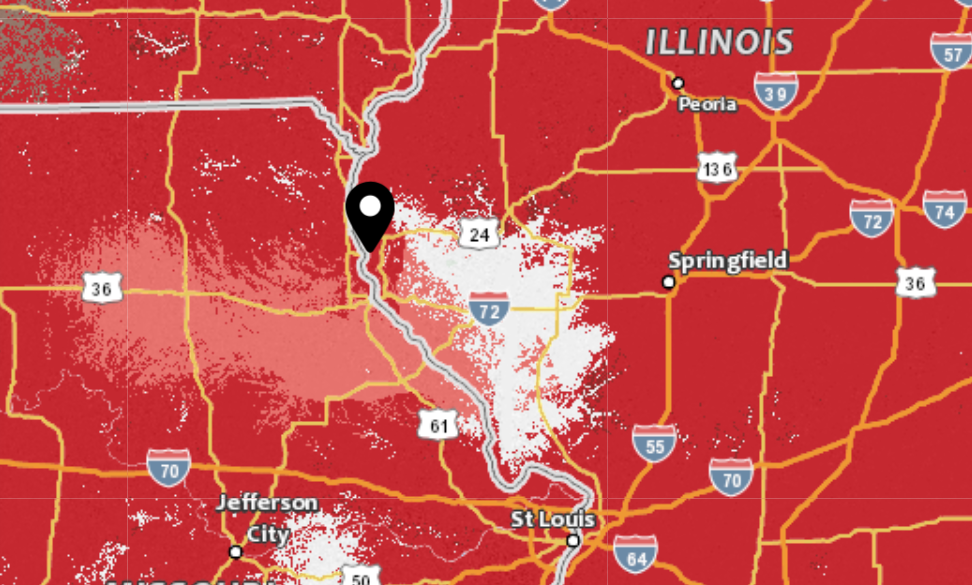 But in this instance, Verizon went a little further than just saying "We like first responders and generally support their mission." It used recorded phone conversations between first responders and victims — there's that telecoms tie-in! — to tell a handful of very specific stories, before ending with "our job is to make sure they can get [the call]."
If that particular first responder couldn't actually get the call, because they use a Verizon cell phone, that's more than a little disingenous. Regardless of the ad's good intent, you don't get to paint an implicit picture of a story that can never be true, because your product just won't work in the very particular circumstances described by the ad.
Brodie Woodward, the KickFM writer who first spotted the Verizon ad, puts it best. "They are exploiting this tragedy and our emotions, to get you to switch from whatever carrier you currently have to them. The problem is we can't. The people in the community where the tragedy they featured happened can't use the product they're selling."
We contacted Verizon to check that the network's coverage map — which shows a giant dead zone all around Quincy — is accurate, and that nothing has changed in coverage since 2012, when the story Verizon uses in the ad takes place. The network responded with a statement, saying "our Super Bowl ad spotlights the amazing work first responders do all over the country, every day. We're honored to have used the Super Bowl to thank police officers, firefighters, paramedics, EMTs, 911 operators and other first responders for their dedicated service."