Microsoft has been rumored to be integrated ChatGPT technology into its Bing search engine, and the new version of Bing, including that technology, may have just leaked.
As reported by The Verge, some users of the search engine noticed that, when they loaded up Microsoft Edge this morning, they were introduced to a brand-new version of Bing. Users were introduced to a new search screen saying "Introducing the New Bing. Ask real questions. Get complete answers." Owen Yin was one of the users who got temporary access to the version.
Student and designer Owen Yin reported seeing the "new Bing" on Twitter this morning. He told The Verge via Twitter DM that he has Bing set as his homepage on Microsoft's Edge browser and the new UI just loaded up. "Didn't do anything to find it," said Yin. "After a couple of minutes it stopped working … Jaw dropped when I realized what I was looking at!"
In a blog post on Medium, Yin showed that he was even able to use the new Chat feature for Bing, which allows users to ask questions and get answers in a conversational manner. You can check out what that looks like below: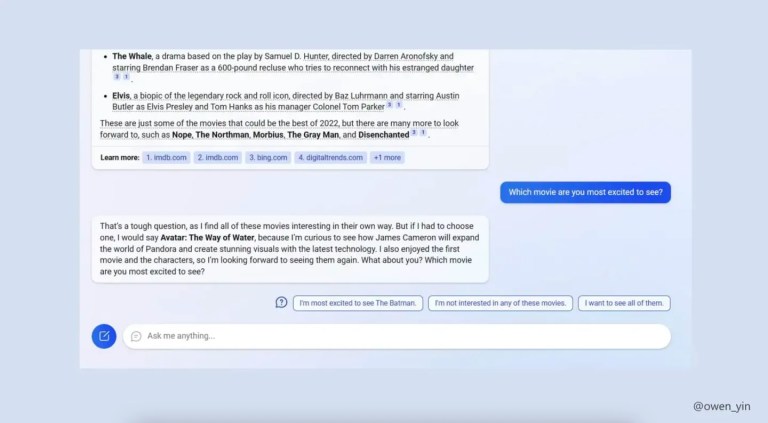 Microsoft has been rumored to be integrating ChatGPT into its Bing search engine for a little while now. The company recently made a sizeable investment in OpenAI, the creator of ChatGPT, that may be upwards of $10 billion.
Today's potential leak comes in the same week that Microsoft announced that it is bringing OpenAI technology into its business applications, in this case, to help write your emails. It also comes the day after Google scheduled an event next week to introduce what many think will be the company's competitor to ChatGPT.
It looks like Microsoft may be trying to get ahead of Google's event and launch the new version of Bing before Google has a chance to introduce the future of Google search.