When Tesla first introduced the Model 3 last year, the response was immediate and immense. Reservations quickly began to skyrocket, besting even the most optimistic of analyst projections in the process. Even Tesla CEO Elon Musk was taken aback by the massive interest in the company's mass market EV. With Model 3 mass production slated to begin in just a few weeks, it's believed that the current tally of Model 3 reservations is somewhere in the 400,000 range.
That said, the original Model 3 introduction wasn't a final showing. On the contrary, Tesla maintained that the car remained a work in progress, a statement which was self-evident based on the sparse interior Tesla showed off. While Tesla interiors — even on the top of the line Model S –have never been able to match the fit and finish we see on rival cars from the likes of BMW, the original Model 3 interior we saw was shockingly barren, as evidenced by the two photos below.
Even for a $35,000 car, that's a pretty sparse interior design. Truth be told, you can find much more elaborate and thoughtfully designed interiors on cars that cost a whole lot less. Not to worry, it appears that the shipping version of the Model 3 will be, at the very least, a tad more elegant.
Not only has Elon Musk promised that the steering wheel controls will be akin to a spaceship, but recent photos of the Model 3 out on the open road show that Tesla has been taking steps to spruce up the fit and finish on the Model 3.
Recently, a clear and crisp photo of the Model 3 surfaced online, providing us with our best look yet at what we imagine may be the standard design when the car launches later this year.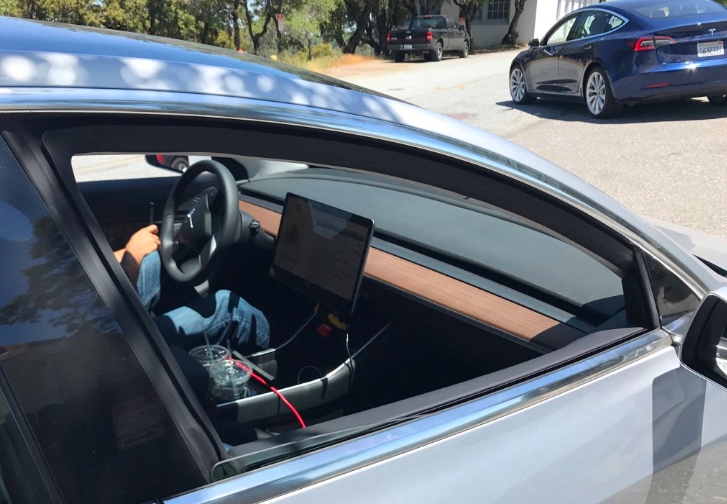 So while Tesla critics might understandably still find fault with the Model 3 interior design, the photo above at the very least shows that the shipping version will be a step-up from the prototype we saw last year.
For what it's worth, Elon Musk has all but confirmed that the Model 3 dashboard will not be the futuristic work of art that some folks initially dreamed it would be, which is to say there will be no HUD or instrument cluster. From Tesla's perspective, when a car is able to drive itself, a traditional instrument cluster becomes less of an imperative.
The more autonomous a car is, the less dash info you need. How often do you look at the instrument panel when being driven in a taxi?

— Elon Musk (@elonmusk) March 24, 2017
As for when Tesla will show off the final version of the Model 3, Musk ahs said that an event is planned for July.