In a story we've seen repeat itself countless times, a recent promotional tweet for a Samsung smartphone was embarrassingly sent from an iPhone. Now usually, these types of blunders typically happen when Samsung pays an iPhone-owning celebrity a boatload of cash to promote the brand. In this particular example, though, the tweet came from an official Samsung Twitter account.
Originally spotted by Marques Brownlee over the weekend, the official Twitter account of Samsung Mobile in Nigeria about a week ago fired off a tweet highlighting the Galaxy Note 9's Super AMOLED infinity display with an accompanying video. It all sounds innocent enough, but whoever was managing the social media account in question is apparently something of an iPhone fan.
A screenshot of the tweet can be seen below.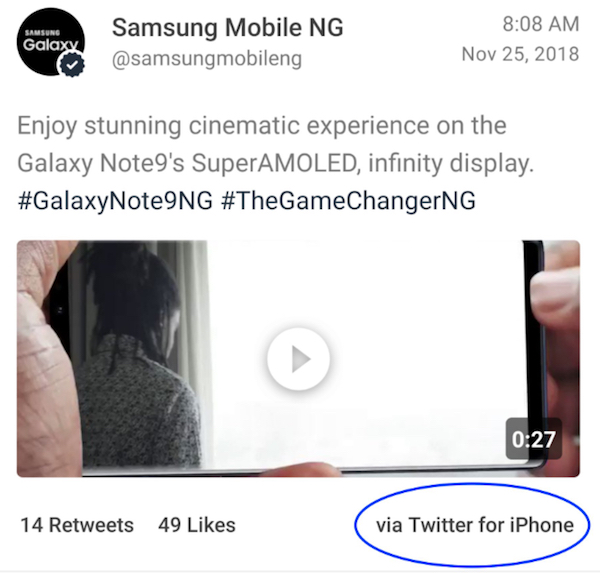 Now is this a big deal? Not by any stretch of the imagination. Still, it's funny that this type of mistake keeps on popping up year after year.
As for other botched marketing efforts from Samsung, you might recall that the South Korean tech giant a few years ago hired supermodel Kate Upton to promote the launch of the Galaxy Note 10. Everything was going according to plan until Upton was photographed using her personal iPhone at the event.
And just a few weeks ago, Samsung brand ambassador Ksenia Sobchak was caught using an iPhone X during a television interview. Consequently, word surfaced that Samsung was keen on suing Sobchak to the tune of $1.6 million for reneging on her contractual obligations, a contract which of course included a stipulation not to use a competitor's product out in the open, let alone on TV.