It's been an exceedingly busy morning for Apple. As anticipated, the company earlier today released a range of new devices and accessories; and while the rumored 10.5-inch iPad didn't make an appearance, there's still a whole a lot to like about everything Apple introduced just a few short hours ago.
To help you make sense out of everything, we've put together a short but sweet list which highlights every new item that hit Apple's online store earlier this morning. Whether you're curious about the company's new iPad models or the company's new video editing app, we've got you covered.
New iPad
First up, Apple announced a brand new 9.7-inch iPad that will replace the venerable iPad Air 2. Priced affordably at just $329 — for the entry-level model — Apple's new iPad comes equipped with a 64-bit A9 processor and is available in 32 and 128GB storage configurations. The Wi-Fi + Cellular equipped models start at $459 for the 32GB model and $559 for the 128GB model.
Second, Apple today introduced some welcome changes to its iPad Mini 4 by upping the available storage options and keeping the price point the same. For $399, consumers can now pick up an iPad Mini 4 with 128GB of storage, a nice bump from the previous 32GB model which retailed for the same price. If you want to add cellular connectivity into the mix, the price gets bumped up to $529.
As for availability, the revamped iPad Mini 4 is available today while the brand new 9.7-inch iPad will open up for pre-orders on March 24.
New iPhone 7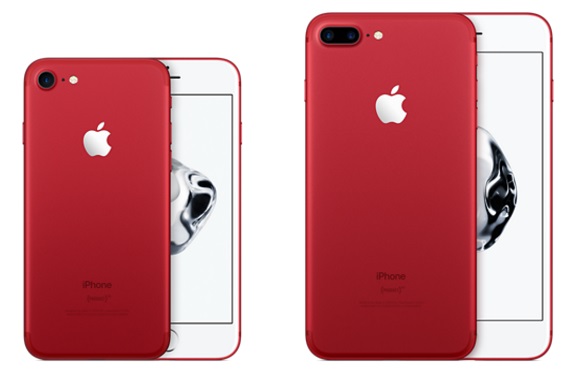 It may not be earth shattering, but if you're been looking for an iPhone 7 model that just pops a little bit more, Apple's brand new iPhone 7 will likely fit the bill. Introduced under the (PRODUCT) RED line, both the iPhone 7 and iPhone 7 Plus are now available in a sleek new red color option. As noted on Apple's website, every (PRODUCT) RED purchase "contributes to the Global Fund to support HIV/AIDS programs and help deliver an AIDS-free generation."
The new iPhone 7 will be available for purchase online and in Apple retail stores worldwide on Friday, March 24.
New 'Clips' app for mobile video editing on the fly
In something of a surprise, Apple today also announced a new video editing app called Clips. The app promises to let users quickly create short videos with all sorts of fun effects, including photo filters, overlayed emoji and speech bubbles, animated captions and more. Even though Apple is coming to the game late here, it's nice to see the company effectively admit that most users have no interest in creating fun videos by slogging through the iMovie editing process.
Indeed, Apple's press release touts Clips' lack of a traditional video editing environment as a perk.
"Clips lets users create multi-clip videos on iPhone or iPad without timelines, tracks or complicated editing tools," Apple says. "Touch and hold a single button to shoot live video and photos, or add them from the Photo Library. Then add artistic filters, speech bubbles, shapes or emoji. Users can also add full-screen posters with animated backgrounds and customizable text. Clips has dozens of music soundtracks to choose from, and they automatically adjust to match the length of a video."
iPhone SE storage bump
Apple's compact iPhone SE also received a small but welcome update this morning, with Apple doubling the storage capacity for both of its SE models. With the 16GB model phased out, the iPhone SE is now available in 64GB and 128GB configurations. The pricing will remain the same, with the entry-level model retailing for $399. Both models will be available on March 24.
New Apple Watch bands
Apple Watch wearers will be glad to know that there are a number of new watch band designs available.
New nylon bands come in the following colors: Berry, Tahoe Blue, Orange, Red, Pollen and Midnight Blue. New Sport bands are available in the following colors: Pebble, Azure and Camellia. The Classic Buckle band, meanwhile, has a subtle new redesign and is available in Sapphire, Berry, and Taupe. Bands available under the Nike Sport Band banner now include Volt/Black, Pure Platinum/White and Anthracite/Black.
If you're looking for something a bit more elegant, there are some new Hermes band options available as well, including Fauve Barenia Leather Double Tour and Bleu Zéphyr Epsom Leather Double Tour designs. Additional colors include Lime and Colvert.
You can check out all of Apple's brand new band designs over here.
New iPhone cases
Alongside its new (PRODUCT) RED iPhone 7, Apple today also rolled out a handful of new iPhone 7 cases, including three new silicone cases available in the following colors, "azure", "camellia" and "pebble." Additionally, Apple introduced a trio of new leather iPhone 7 cases available in the following colors: taupe, sapphire and berry. There's also a new "Saddle Brown" leather case option for the iPhone SE. You can check out all of Apple's new iPhone 7 cases over here. Or, if you want something a little more unique, we've got just what the doctor ordered.