Not long ago, streaming video games live online was little more than a curious pastime. Today, it's a booming industry where self-made internet celebrities draw crowds of tens of thousands of live viewers and millions and millions of views. Twitch, the premiere streaming site on the whole of the internet, is a top-50 worldwide web destination, and it has been growing at a breakneck pace for years. So, when veteran gaming hardware company Razer decided it wanted to create a pair of high-end accessories for up-and-coming broadcasters and content creators, it should be no surprise that it chose TwitchCon as the venue to announce them.
Today, the company is officially launching the Razer Kiyo webcam and Razer Seiren X microphone, both of which are designed to be plug-and-play upgrades for any streamer who wants to make their content that much better. I recently got the opportunity to take the new accessories for a spin, and if you know Razer, you can probably guess what I'm about to tell you.
Razer has been serving the needs of gamers for over a decade, and they haven't made it this far just because they have a cool logo. The company's hardware is typically rock solid, and that tradition continues with the Kiyo and Seiren X.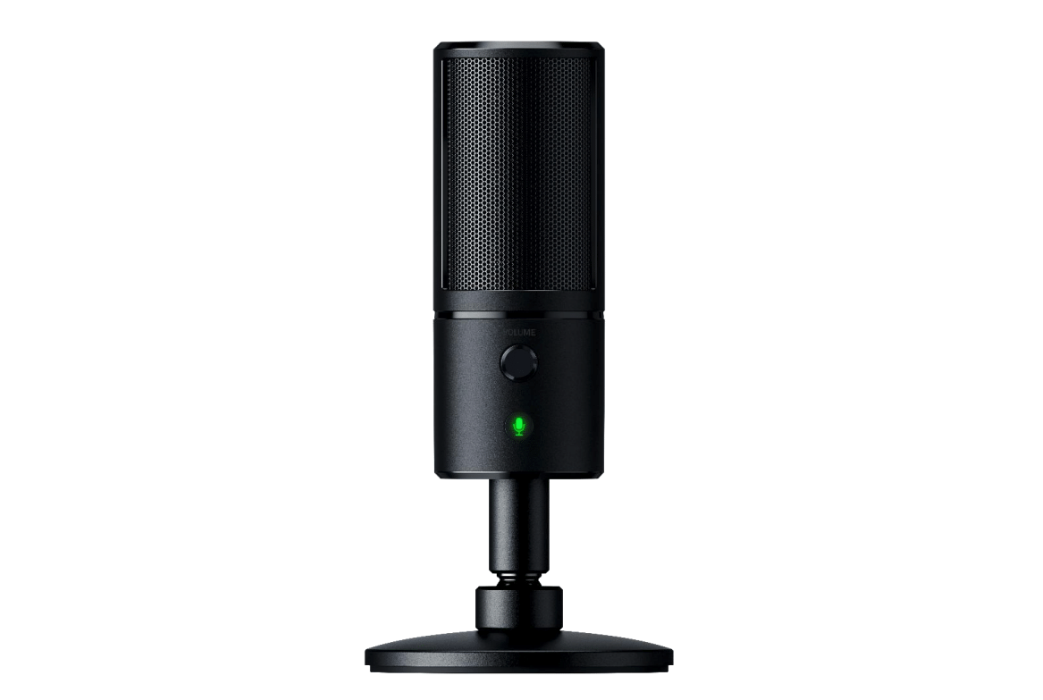 Razer refers to the Seiren X as a "professional-grade" microphone, and while that label is pretty vague, it's definitely on the premium end of the spectrum. It's a USB condenser microphone with a very minimalistic design, but that modest appearance belies some pretty neat tech. Rather than requiring an external shock mount to prevent nasty noise artifacts when moving the mic, the Seiren X has a shock mount build inside of it, dampening any vibrations from your desk or microphone arm.
The Seiren X is also incredibly compact. Compared to the Blue Yeti — which has become the go-to for streamers who want decent sound on a reasonable budget — Razer's microphone is about half the overall size. It comes with a swivel desk stand, but can also be mounted to a microphone arm if you want. Either way, it doesn't take up much room, which is a welcome change from most of the premium USB microphones on the market.
The Razer Kiyo webcam is, likewise, a solidly-built, attractive piece of streaming gear. Webcams — which, if I'm being honest, I typically abhor because they're a mess of garbage hardware and even worse software — are usually a total pain for streamers. I can't even count the number of times I've had to reboot a webcam in the middle of a stream because the third party software froze, some weird white balancing issue turned me into a snowman, or it fell out of focus all on its own. So, as you can see, the Kiyo had a pretty steep hill to climb to convince me not to just toss it in the gadget graveyard underneath my desk.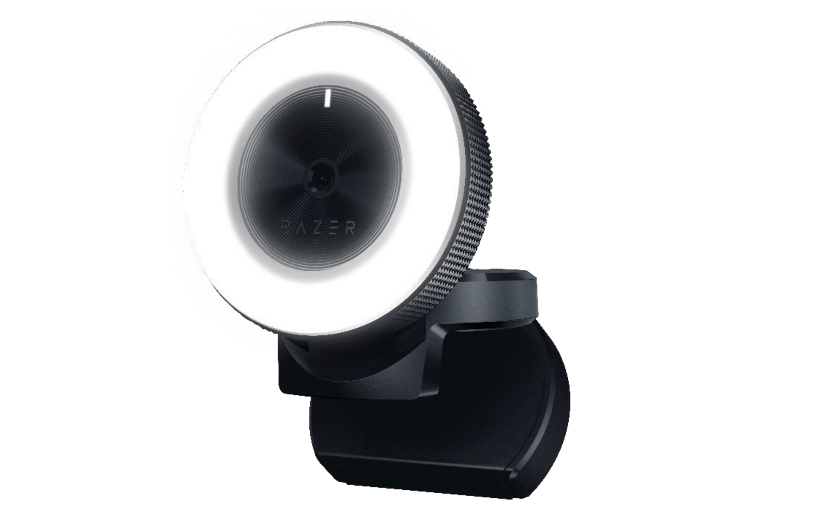 The best compliment I could give any webcam is that it makes me forget that it's there — by not throwing a wrench in the flow of the stream. In my hands-on time, the Kiyo managed to do that, which might honestly be a miracle. The Kiyo, which outputs at 720p @60fps or 1080p @30fps, depending on what you prefer, does more by doing less. I plugged it in, Windows said "Hey, you got a webcam here… okay it's ready!" in about five seconds, and that was it. Freedom from bad third party software is heaven. You can play around with a bunch of more advanced settings within the streaming software of your choice (both the Kiyo and Seiren X work with OBS and XSplit) but you don't even really have to, because it looks pretty darn good right out of the box.
Kiyo's marquee feature is the prominent light ring surrounding the lens, which features a dozen adjustable levels of brightness that can be tweaked simply by turning the plastic ring that encases it. For streamers who don't have the room (or the funds) to install professional ambient lighting, the light ring will does a good job to ensure your face cam remains a consistent brightness. It produces light at 5600K color temperature, which is considered "daylight," and wont' give you a weird hue.
The Kiyo and Seiren X are priced at $99.99 each, which is actually below what you'd expect to pay for either a high-end webcam or microphone, and will be available on Razer's website for order, with worldwide availability coming shortly thereafter.