We've seen it happen a thousand times: Android device makers hire stars to promote their latest devices, and those influencers tweet their endorsements from the device they actually use, which is Apple's iPhone. But when it happens to Google's latest Pixel, and when it involves photography, which is one of the best things about the Pixel, it's the ultimate humiliation for Android as a whole.
In a matter of weeks, Google will unveil the Pixel 3 series and the phones' photography skills will be put on display. Both the Pixel 3 and Pixel 3 XL will feature dual-lens selfie cams, and single-lens main cameras, which already has us puzzled. Google will surely explain its camera decisions, and will probably tell us how the new Pixels will deliver a camera experience that's unparalleled.
In the meantime, Google is still promoting the Pixel 2 XL around the world, with Bollywood star Anushka Sharma having inked a Pixel advertising contract for India. She posted the following images on Twitter making sure the message that those pictures were taken with the Pixel is clear. Just check out all the Google and Pixel hashtags. Little did she know that well-known tech reviewer Marquess Brownlee will catch the fact that the tweet was posted from an iPhone:
Ok I don't even want to know how this keeps happening but it's hilarious pic.twitter.com/sUuHVh4exw

— Marques Brownlee (@MKBHD) September 4, 2018
The tweet implies those pics were taken with a Pixel 2 XL, but the fact an iPhone was used to share them on Twitter seems to contradict that. The implication just changed: Shot on iPhone? Shot on iPhone, of course, is Apple iconic iPhone ad campaign focused on the phone's camera.
Of course, the easiest explanation is that Sharma's crew took those pictures with a Pixel phone, then shared them with the person in charge of the Twitter handle, who posted them on an iPhone. It's possible, but it doesn't look good for Sharma or Google. Why not do it directly from the Pixel? Is it too much to use the Twitter app for Android, or the web app, to upload those pics?
Yeah deleted and retweeted but just scroll down a bit for more Pixel ads from an iPhone lol

— Marques Brownlee (@MKBHD) September 4, 2018
The actress deleted the pics and retweeted, but the harm was already done. Not to mention that there's no indication the pics were actually taken with a Pixel phone, just look at the files yourself.
https://twitter.com/AnushkaSharma/status/1036982931502362624
Furthermore, she retweeted from "Twitter Web Client," which means it may still be an iPhone running that web client. Maybe installing apps on the Pixel is really that hard.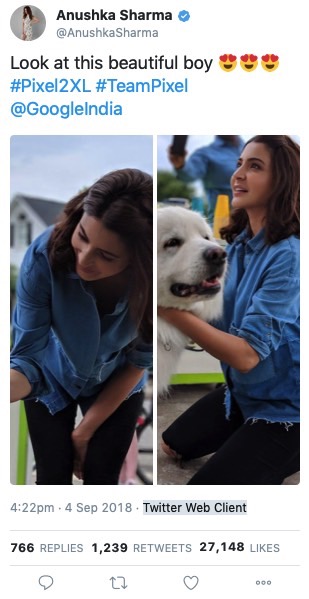 While they're paid to promote products, celebrities can choose whatever devices they desire for personal use. But the subliminal sad truth is that people don't want Pixels as badly as they want iPhones. Or else, this kind of accident would happen the other way around too.
With all this in mind, maybe Google should hire Apple directly to shoot some Pixel ads directly on iPhone.