OnePlus will unveil a brand new flagship phone this month. On Monday, OnePlus finally confirmed the date for the OnePlus 6T press event. Previous reports suggested that the keynote would take place on October 17th, but instead, OnePlus will stream the OnePlus 6T announcement from New York on October 30th.
OnePlus took to Twitter early on Monday to announce the date for the OnePlus 6T press conference, revealing that the entire event will be streamed online at 11 AM ET on Tuesday, October 30th:
The #OnePlus6T is coming. Unlock The Speed on October 30. https://t.co/LuPoTr8ZyF pic.twitter.com/s8OfmZuXdX

— OnePlus (@oneplus) October 8, 2018
Earlier, MySmartPrice discovered an Amazon India listing which suggests the OnePlus 6T preorder period will end on October 30th, prompting speculation that October 30th will actually be the release date of the new handset. The listing also notes that buyers will get free USB-C Bullets earphones, as well as Amazon Pay credit worth Rs. 500.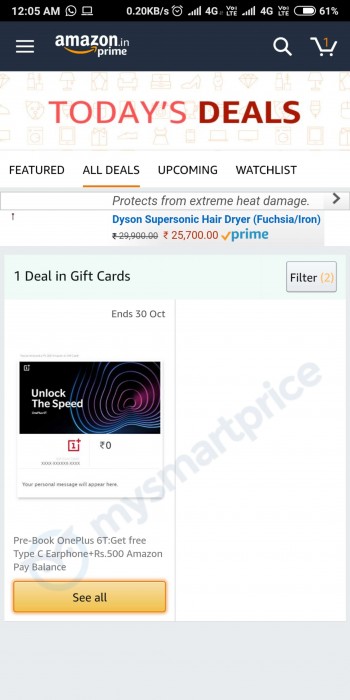 However, in light of OnePlus' tweet, October 30th can't be the date when the phone ships. Preorders should start after the October 30th press conference, and the phone will reach buyers in the weeks after that.
OnePlus confirmed in previous weeks that the handset will feature an in-display fingerprint sensor and that it won't have a traditional headphone jack. Both the new sensor and the removal of the 3.5mm audio jack are firsts for the Chinese smartphone maker. The removal of the headphone jack is related to the addition of the in-display fingerprint sensor. OnePlus had to free up space inside the phone to accommodate the new sensor, a report revealed recently.
The new technology would also explain a higher entry price for the OnePlus 6T, which is now expected to cost $550.
On the front, the OnePlus 6T will have a new notch design, similar to the Oppo R17 Pro. Under the hood, aside from the fingerprint sensor, we expect the same high-end components found inside the OnePlus 6, including a Snapdragon 845 processor, at least 6GB of RAM, and at least 64GB of storage.