The annual Mobile World Congress trade show isn't just about smartphones, though that used to be the case not too long ago. It's also about tablets and laptops now. As long as a product is smart, portable, and fits with our mobile way of life, that product is welcome at MWC.
In previous years, Lenovo unveiled new Lenovo and Motorola branded smartphones, as well as new tablets, and new laptops at the show. This year, however, Lenovo is focusing solely on computers of the notebook variety — we'll have to wait a while longer for new Lenovo smartphones and tablets. Don't despair though, because Lenovo still has some impressive devices on display at MWC 2018. In fact, one of these new Lenovo computers costs just $219 and can take a serious beating.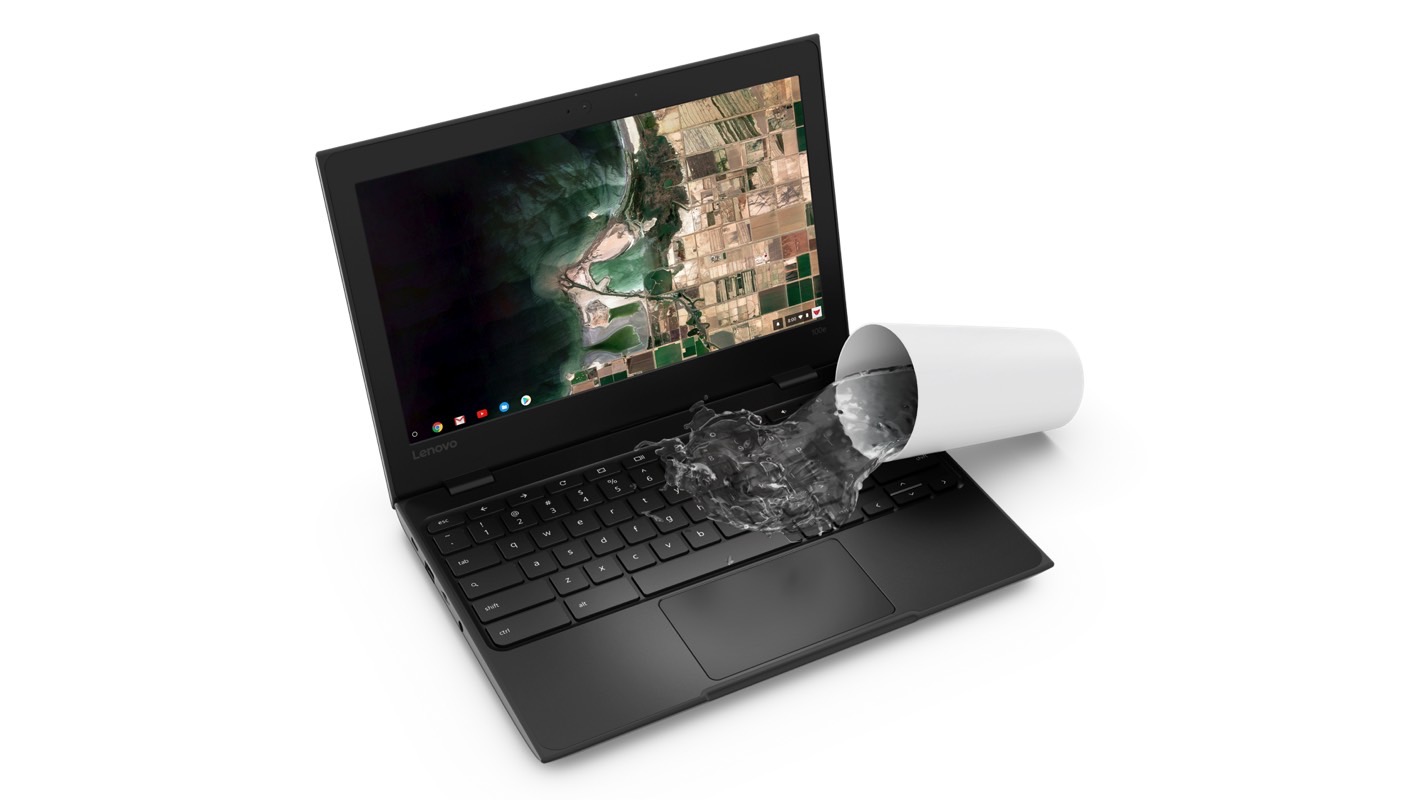 The Lenovo 100e Chromebook isn't a head turner like the Pixelbook, but then again, it doesn't cost $1,000 either. Instead, the laptop is meant to be a device that can deal with the chaos of a classroom. The 100e may very well be the first computer you buy your kid, knowing that it won't break easily. It's got a ruggedized design with reinforced ports and hinges, a spill-resistant keyboard, and it can withstand drops of up to two and a half feet.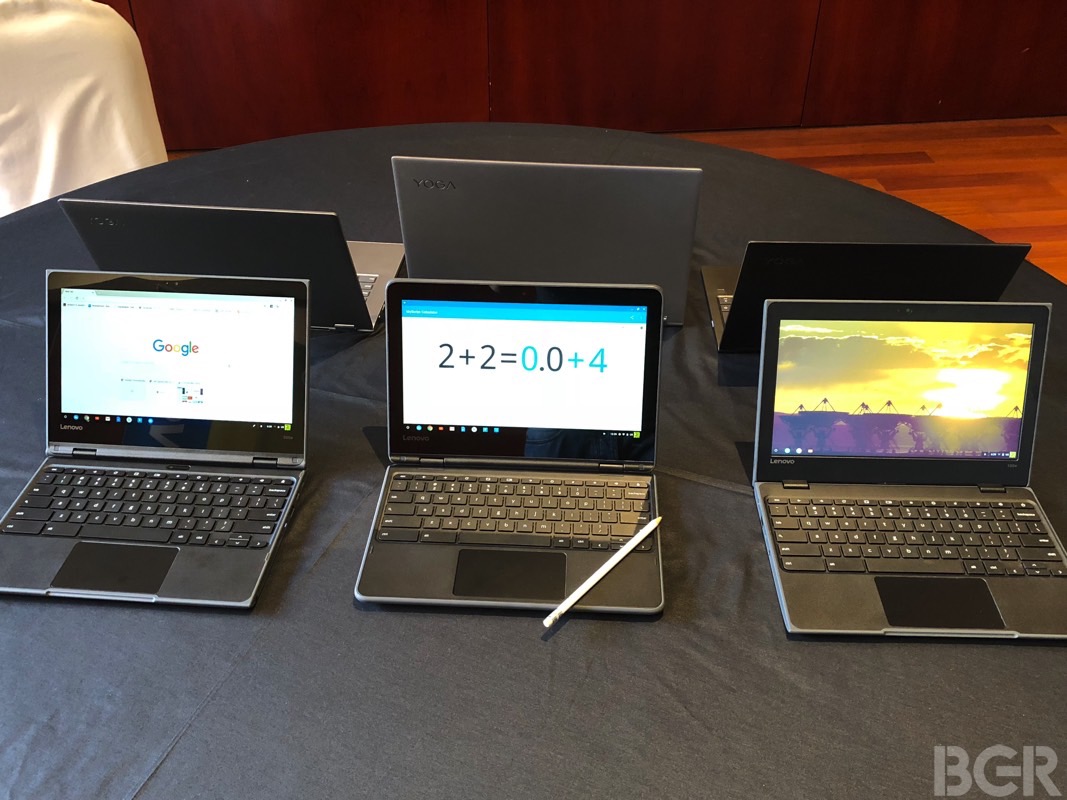 Specs-wise, the 100e Chromebook features an 11.6-inch HD anti-glare display with 1366 x 768 resolution, Intel Celeron processor, 4GB of RAM, 32GB of storage, and a bunch of ports including USB-C and a microSD reader. It's not the most sophisticated Chromebook out there, but at $219 you're getting a pretty sturdy PC. The laptop launches in March in various markets.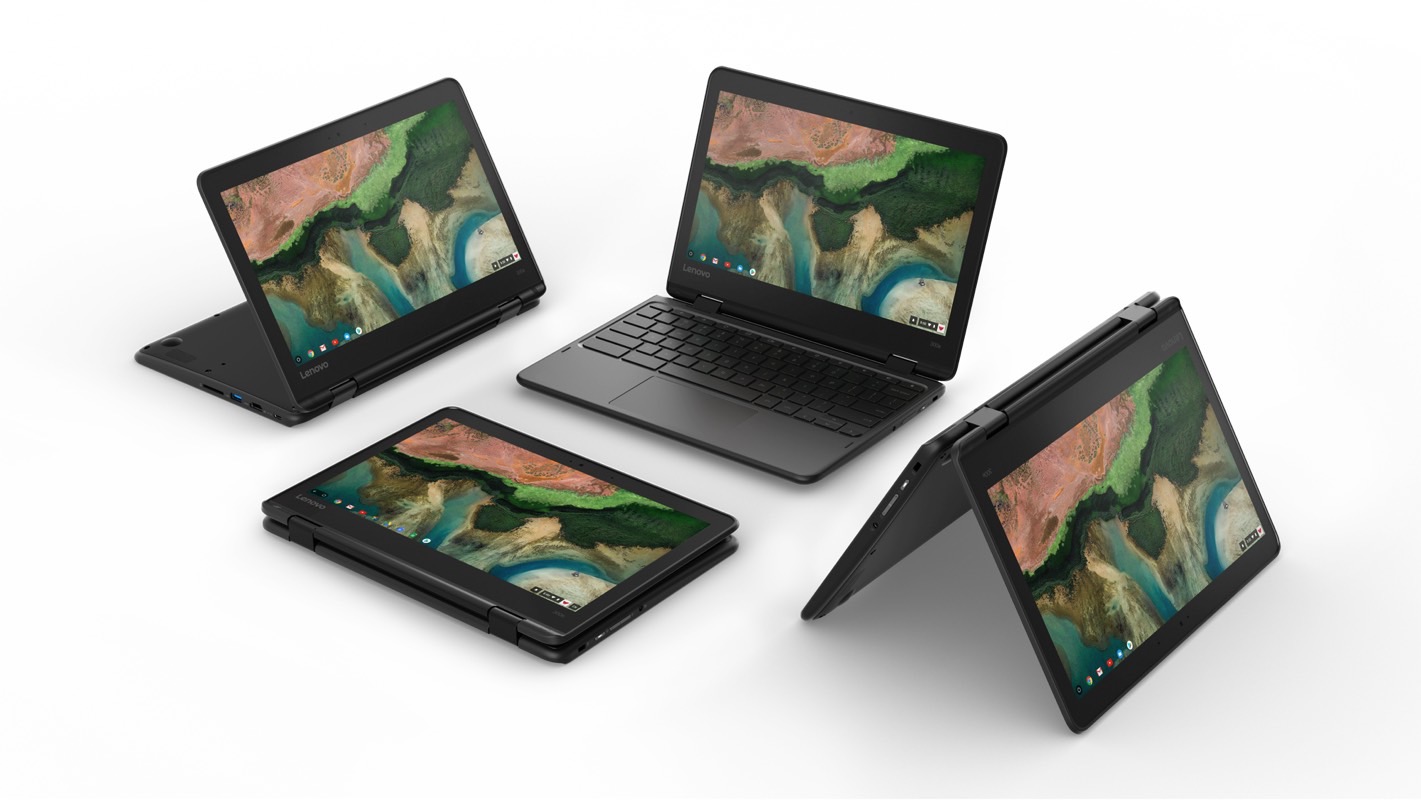 If you want to spend more money on similarly rugged Chromebooks, you should check out the 300e and 500e, which retail for $279 and $349, respectively. They come with a couple of advantages over the 100e, including multi-mode form factors. They also have those nifty Lenovo hinges that let you switch between laptop mode and tablet mode, as well as touch support.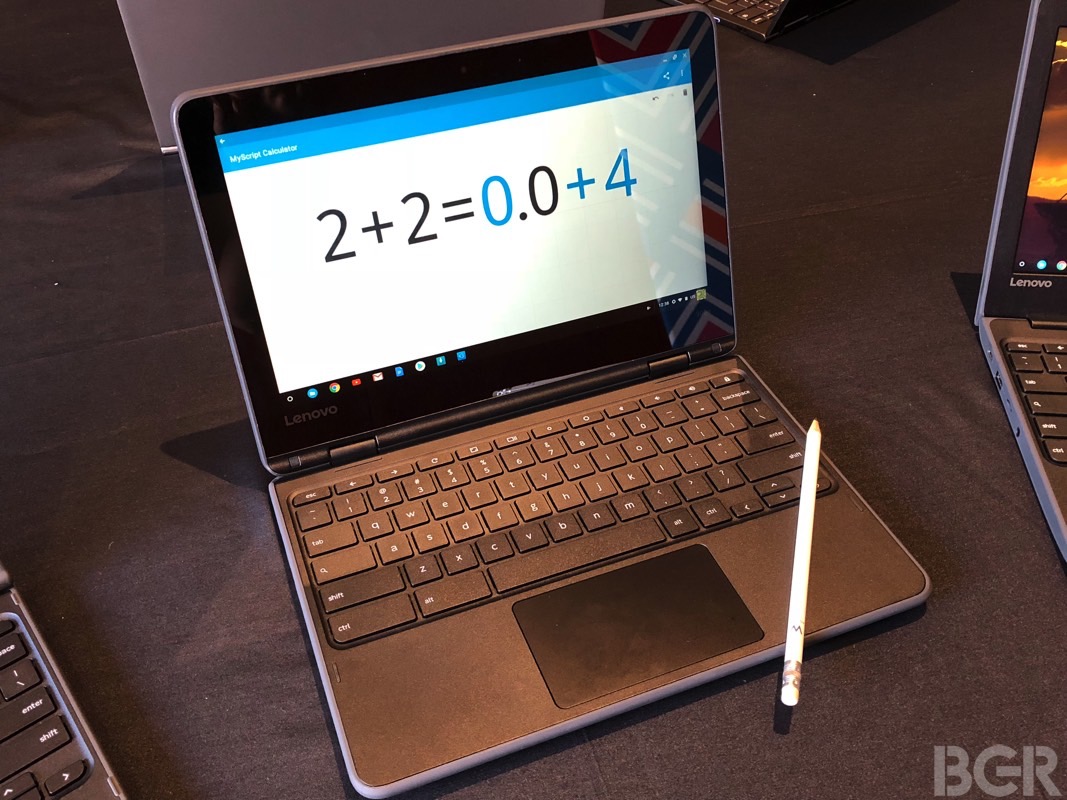 That's Enhanced Touch on the 300e, which allows you to write with any kind of stylus on display, be it a regular pencil or an actual stylus.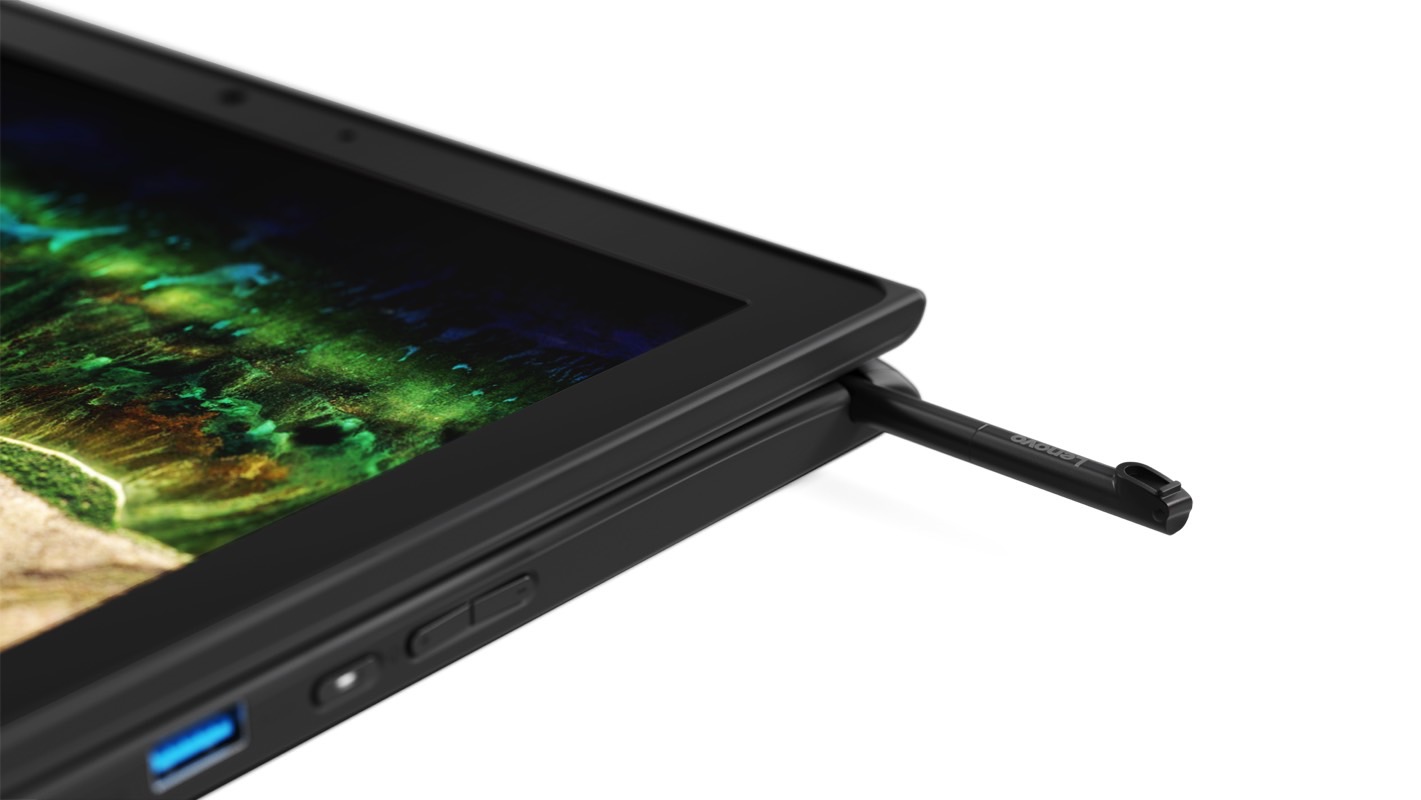 The 500e actually packs a stylus of its own and comes with Google's stylus tech. 
Writing and sketching has almost no noticeable latency, and from my brief experience with the 500e, it really is impressive. Just press the stylus against the display, and it'll respond immediately. If there's any lag between thought and action, I haven't noticed it. Lenovo says Google's using machine learning technology and algorithms to try to predict where your pen is going, so it can eliminate lag.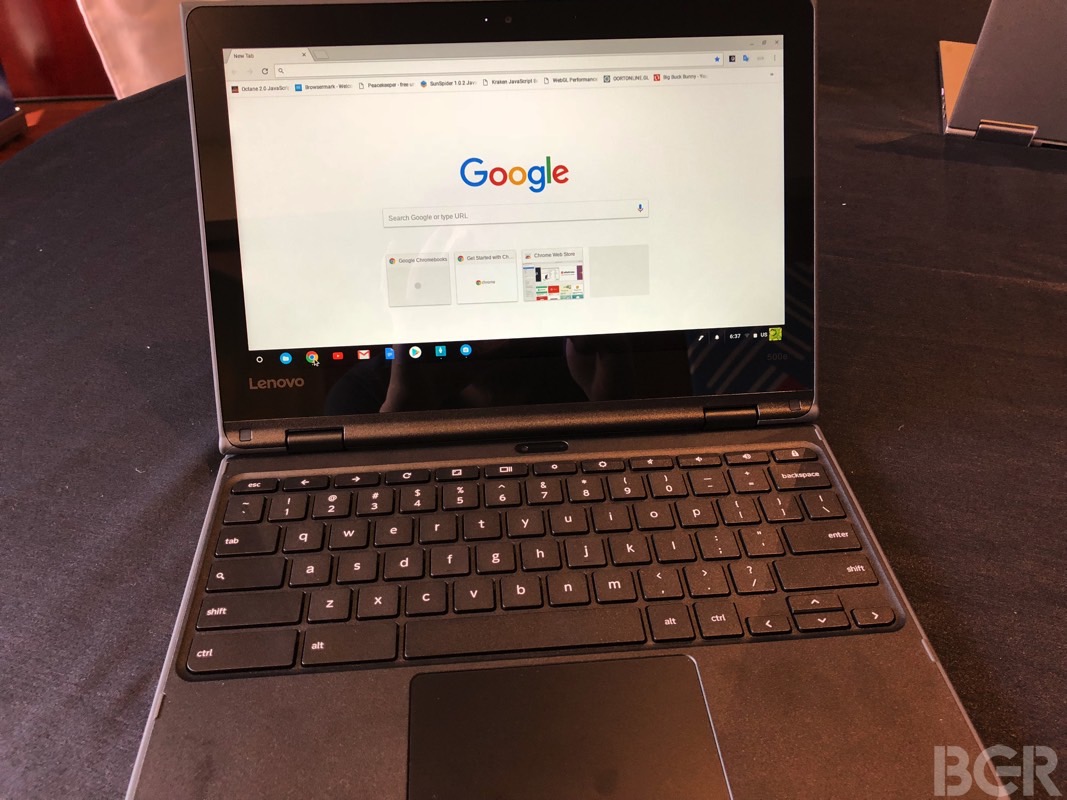 Both the 300e and the 500e have 11.6-inch HD displays and a bunch of ports, including USB-C, USB-3.0, and HDMI (on the 300e). They even feature volume rockers on the side. The 300e Chromebook's chipset and integrated graphics come from MediaTek, and the laptops pack 4GB of RAM and 32GB of storage. The 500e, meanwhile, has an Intel Celeron chip and Intel graphics under the hood, up to 8GB of RAM, and up to 64GB of storage.